---
Last month I got started processing the Paraoanui Kauri log, with the help of my three boys.
Although I have milled logs in the past, it has been done with modern saw-mill techniques. However, because this particular log was such a unique find, I wanted to maximise the yield for soundboards and so decided to use the old traditional method of splitting it into billets with a froe. Besides, it sounded like a lot of fun!
We have documented the entire process with a small video camera which will be put up in due course; but for now, we have a few pictures for you.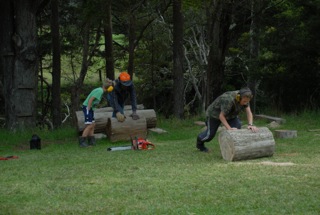 The log was first cut into smaller manageable sections called bolts, the length of which was based on what instrument soundboards I thought I might be able to get out of each particular bolt. From the larger diameter sections I hoped to get a few billets that could be used for my acoustic guitars, while the smaller diameter bolts would give me mandolin and violin billets.
As with all milling, you never really know what is inside a log until you actually cut into it and I won't say I wasn't nervous as we began the process; there is so much that can go wrong and I really didn't know if I would get any large enough for guitar tops.
A log will commonly have a main shake (large split) running along and through the pith, and this log was no exception. The shake in this log was restricted to one fairly straight radial line. This was good news because it meant there was little waste when we put the chainsaw through the shake creating two half round logs ready for splitting.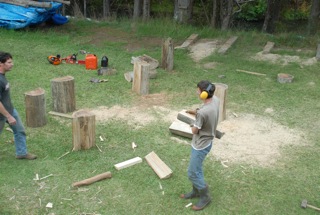 Splitting the bolts into billets was accomplished with the froe and, well .... a big stick really. The kauri split reasonably well but not, I guess, as easily as spruce.
Working our way through each bolt, selectively splitting to maximise the billets, took a couple of days hard work. Most billets were small but there was sufficient size in the two larger bolts to yield billets for guitar-size tops. Actually, this was really due to the fact that the pith was off centre, creating a larger radius on one side of the tree. I had been pinning my hopes squarely on this particular fact.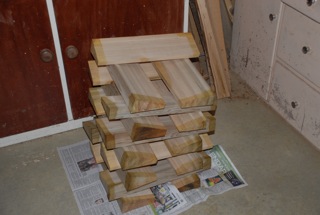 All the billets were then cleaned up with the planer in the workshop and you can see here some of the wedge shaped billets, with waxed ends, stacked. These will be for violins and mandolins.
The splitting and cleaning up the billets ready for drying has taken just over a week but I have now processed the log completely into billets and while most of the timber will be used for the carved top instruments, I do have several large billets that should yield around twenty to thirty guitar soundboards; although I will not have an accurate tally until I have cut these larger billets into actual top sets on the bandsaw.
The grain is clean and straight. The tree was a very slow growing tree, curiously enough, although this does not correspond to the same tonal characteristics as with a species like spruce. Interestingly, kauri can produce two growth rings every season in the north, and those growth phases do not produce the same hard and soft wood characteristics like spruce or cedar.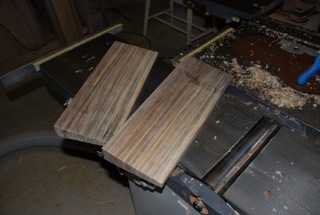 But the samples I have tested indicate very similar tonal properties to the Waingarara kauri I am currently using. And that is very encouraging...
The colour of this salvaged log varies from light and clean with virtually no colouration, all the way through to pieces filled with the colour shown here at right.
There are going to be some very distinctive instrument tops from this Paraoanui Kauri!