---
Beautiful Neck Wood

Honduran mahogany has been the wood of choice for most acoustic guitar necks, along with spanish cedar (mainly used on flamenco instruments), but over the years, as honduran mahogany has become scarcer and consequently more expensive, luthiers have used the term mahogany to describe a host of different timbers that pass for Honduran mahogany, and are now used as a matter of course without players any the wiser.
This is not a bad thing, it is the luthier's way of introducing something that might be just as good, or even better, without offending his clients. This covert introduction of new species is made necessary because of the often fanatical zeal with which guitar players have come to hold beliefs in what is, and isn't, the best guitar wood to use.
How I wish we could get past this childish notion of "the best".
How many of you like good wine? I bet most of you don't think of one type of wine as the best, I bet you have many favourites and that they each have good and perhaps not so good points. In many ways, it is the nuanced differences that make them more appealing.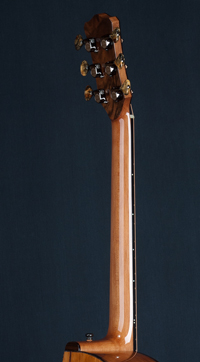 I have been using non-traditional woods since the day I began building and one thing I can tell you is no two pieces have ever been the same.

Times are changing and it is encouraging to see that the northern hemisphere builders are also beginning to experiment more with new and exciting alternatives. There really is a lot we can use that is just as good as what was used a hundred years ago.

Take a look at the neck to the right. What do you think it is? Go on, have a guess...
...well, it is actually a New Zealand native timber called Totara.
Totara is very stable and carves well and is actually a bit lighter than Honduran mahogany, so that is pretty good all round. It even has that red brown mahogany colour so what's not to like? It is a bit tricky to finish because it is an oily wood but with the proper preparation this is not an issue.

Of course, along with most New Zealand species, it is not available in large quantities but then, I don't need large quantities. My source of totara comes from salvaged logs from NZ rivers, old logs that sunk or got stuck on the way to the sawmill generations ago. It is a nice way to use these logs.

"Ah yes", I hear you say, "but how does it sound?"
That brings me to Simon Fox.....

Simon Fox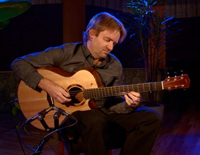 Simon Fox is a unique voice in the acoustic guitar world. With a fluid and dynamic style, Simon brings elements of Celtic and Bluegrass music to his own melodic approach to the steel-string guitar.
Australian born, Simon is currently based in Vancouver Canada. In 2006, 2008 and 2009 Simon toured with the Guitar Heaven Quartet, holding down the fingerstyle corner in front of theatre audiences across Australia. A regular performer at folk festivals in Australia and recently in Canada, Simon's performance is a rare blend of uplifting melodies, dark aires and a tinge of blues delivered always with a wry sense of humour.

Simon has been playing a Williams Tui model for a couple of years now and has recently released a 2 hour Instructional DVD, Audio CD, Data CD with new tabs, DAAEAE tuning charts. This was all recorded on his Tui and offers a high quality sampling of the guitar.
Simon has kindly agreed to allow a download of one of his new tunes, Shallow Sea. It is a gentle melodic piece that I am sure you will all enjoy.

Shallow Sea

For more information about Simon and his music CDs and instructional material please visit his website.
Take care,
Laurie

P.S. Simon has a totara guitar neck ;-)

Email : williams@guitars.co.nz
Website: LaurieWilliams Guitars