Hi ,
I know it's not November yet but I thought I would get something done early for a change. This E-newsletter is all about ukulele but don't be put off if you don"t play, I think you will enjoy the visual beauty of the wood in and of itself....
.......and you might get an idea for that guitar you want built someday.
---
​New Woods

There is a new Hihi gallery up on my site. There are 18 different instruments that you can view and discover some of the woods that I have been building with lately. A lot of these woods are available for other instruments.
Of particular note are the grafted pistachio and grafted walnut instruments. These are timbers from plantation trees that are no longer productive. They have been grafted on to root stock and the timber from the graft area can yield unique grain and colour.
The gallery can be found here.

Anniversary Hihi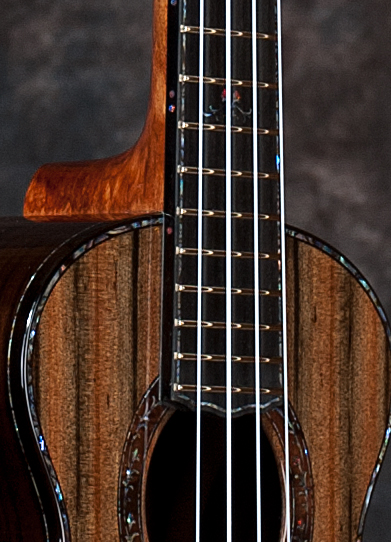 I have built a Tui 20th anniversary model (you can see it on my website) and I have three other anniversary instruments that will be coming along soon. The first of these is the Hihi (Tenor Ukulele). You will notice the soundboard, it is a rare sinker kauri that a friend of mine found and the colours are quite amazing.
This log was discovered in a tidal estuary resulting in a regular interchange of fresh and salt water. The resulting effect on the log is spectacular.
Note that this log is not ancient kauri, it is a true sinker that is perhaps only a hundred or so years old.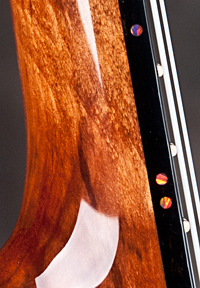 I have used a similar design for the rosette that was used on the anniversary tui with the addition of a new synthetic opal material. The opal is chatoyant and has predominant flashes of red but you really need to see this with movement instead of static pictures; suffice to say it is stunning.
For a slideshow click here.

This instrument is available for purchase now.
And Three More!
Three more tenor ukuleles available here. One of which is the grafted walnut model mentioned above.
As always, I invite your comments... so drop me an email and let me know what you think. Please forward this email to someone you think might be interested.
Regards,
Laurie

Email : williams@guitars.co.nz
Website: LaurieWilliams Guitars