Hi ,

Time has flown by and it seems I haven't put out a newsletter since February 2015!
...and why not, we are all busy and I prefer not to put them out just for the sake of it. But while I have not been busy writing newsletters I have been busy building and also developing new ideas and designs.
One of the biggest steps forward over the last year is the redesign of my guitar necks. More stable, more sustain and volume, and more variety. What do I mean by variety? More on that later.
Perhaps the most important benefit in redesigning the necks has resulted in an improved string action that is more even up the neck and able to be set lower for a super smooth feel.
But that is all technical stuff and what I intended for this newsletter was to introduce you to the new back and side sets of NZ Taraire that I have been air drying for...I don't know, maybe 15 years. I have cut up some very nice coloured pieces into back and sides sets and you can see the first of them in the Kiwi model I feature below.
---
​New Zealand Taraire


Taraire is a New Zealand species of the Lauraceae family. It is a hardwood and the wood itself is usually a light brown colour like the sample right.
The log my stock came from had some very nice colour and dark streaks in the grain so I bought up a reasonable quantity of it and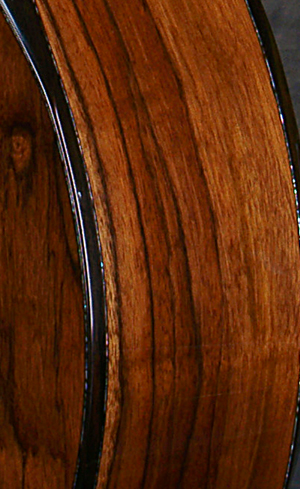 stored it away. With all the beautiful ancient kauri I work with it has been a bit neglected so I thought I would show it off a little bit on a new instrument. The guitar is a Kiwi model with macassar ebony binding among other features, including an inlay of a kingfisher.

Combined with the new neck design this guitar is bright and loud with the familiar nuances of the kauri top.
If you are partial to unique woods then Taraire may be worth looking into.

Click on the pictures to see more or if you would like to see some hi res images email me.




If you are interested in commissioning a taraire instrument contact me and I will be able to show you the actual set I will be building with and discuss all other options.
Signature Re-launch
If you have been drooling over a Williams Signature for years then this is a teaser for the next newsletter that will feature two of what will be my new Signature range going forward. It has been at least two years in development and was the impetus behind my neck re-design so that I can incorporate the same fantastically figured ancient kauri into the necks of these instruments as well as the back and sides. This would not be possible without a new supply of high grade whitebait ancient kauri and that is exactly what I have been able to procure. More about this in the next issue but what I will say is that I have sufficient quantities that enable me to also use it for the necks and perhaps best of all, the new Signature series will be available at significantly lower prices starting at $18k


Hoffee Cases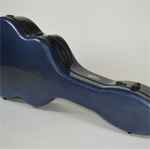 Lastly, I am pleased to announce that all guitars and mandolins will now be supplied, as standard, with custom fitted carbon fibre Hoffee cases. These are superbly built and, being carbon, they are remarkably light compared to the Ameritage cases I have used previously. An added benefit for the customer is the ability to choose from all the Hoffee range of colours for both exterior and interior. All extra options such as case cover, twist latches, straps etc. can all be ordered but will incur an additional charge.
Some of you have been asking for years for an alternative to the heavy Ameritage case and may be wondering why the change now. Simply put, it is made possible by a regulation change by NZ Post which increased their maximum size allowance. This and the great support from Jeff at Hoffee Cases enables us to have them posted in a timely fashion on a "per order" basis.


Well, that's it for now. Don't forget to check out the new taraire guitar. Let me know if you would like more information or pictures and keep you eyes out for the next newsletter featuring the re-launch of my Signature series.

Please forward this email to someone you think might be interested.
Regards,
Laurie

Email : williams@guitars.kiwi
Website: LaurieWilliams Guitars