Hi ,
We are well into the year and, in case you are wondering if you missed any, this is the first newsletter for 2013. It has been busy and there is much to do with the Healdsburg show coming up fast in August.
---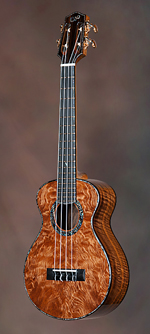 I have nine new Hihi (pronounced "hee hee") tenor ukulele models finished with 2 more reserved for the Healdsburg festival. They are deluxe models with slotted headstock, Waverly tuners and paua pufling. All employ different combinations of wonderful tone woods which make each one unique. Seven of the nine have already sold but I have two still available and I offer them first to my subscribers.
The first is a rewarewa/kauri combination with purple heart binding and the second features curly Claro walnut with a salvaged redwood top bound with macassar ebony.
You can see a slide show of all the ukes at my website here. Some larger pictures of the two available ukes can be viewed by following the links below:
I have been invited to exhibit at this year's Healdsburg Guitar Festival and after a few years off I have decided to accept this year and go back to the sunny climes of California.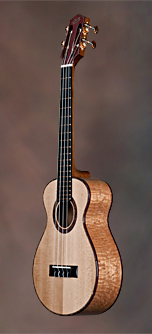 I will be taking two new Hihi tenor ukulele along with a Tui steel string or two.
Along with these I am hoping to unveil my newly redesigned F5 mandolins. Apart from the stunning tonewoods you will have to look closely to see some of the external changes which are largely to do wil the scroll area and how I bind the instrument. The F5 is such a classic design I do not want to mess with the shapes at all but I do like to refine things where I can.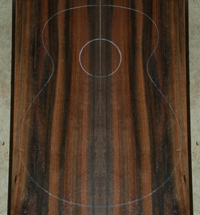 This will also be the first time I will be using some sinker kauri that you can see here (left). It will be used on both a ukulele and a mandolin. Unfortunately the small widths of the stock will mean I cannot use it in my guitar models.
The wood has been patiently drying for a couple of years now and is ready to go.

That's all for now. I will try and get another update out in a month or two before I fly out for Healdsburg so until then...

Take care,
Laurie

Email : williams@guitars.co.nz
Website: LaurieWilliams Guitars