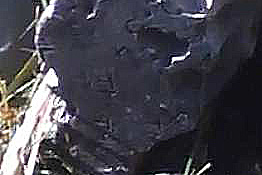 L
ast month, I shared the discovery of a mystery log that was found by myself and one of my boys, on the banks of the Oruaiti river where I live, here in the Paraoanui Valley. At that stage, I left you all wondering whether it really was a kauri log, as I hadn't had time to properly investigate some samples that I cut from it.
I can now reveal that I have done some tests and cut some more samples and I am satisfied that the log is definitely kauri!
But the really exciting part right now, is that the samples I have tested are indicating it is not only kauri, but that it is very similar to the Waingarara kauri I am now using for my instrument tops. It will make excellent tonewood!
However, this log will be very different visually, from the Waingarara kauri, as it has significant staining and colour differences from having been buried in the mud for so long. I will hopefully be able to show you more next month.

I would have liked to be well into processing this log into billets by now but the festival preparations have delayed this somewhat. But I have taken some video footage starting with the discovery and on to the salvaging of this log, and will continue to document the different stages of processing along the way to the first instrument (is anyone interested in commisioning something special for the first one?). I will eventually be able to share this footage with you all.
Lastly, I will be referring to this kauri as Paraoanui kauri from now on, as it was found in the Paraoanui valley where we live.