---
I have been wanting to do this for some time but this year I finally got round to re-designing a new classical model. I was not out to re-invent it, rather to bring the look more inline with my other instruments and give it a more contemporary feel.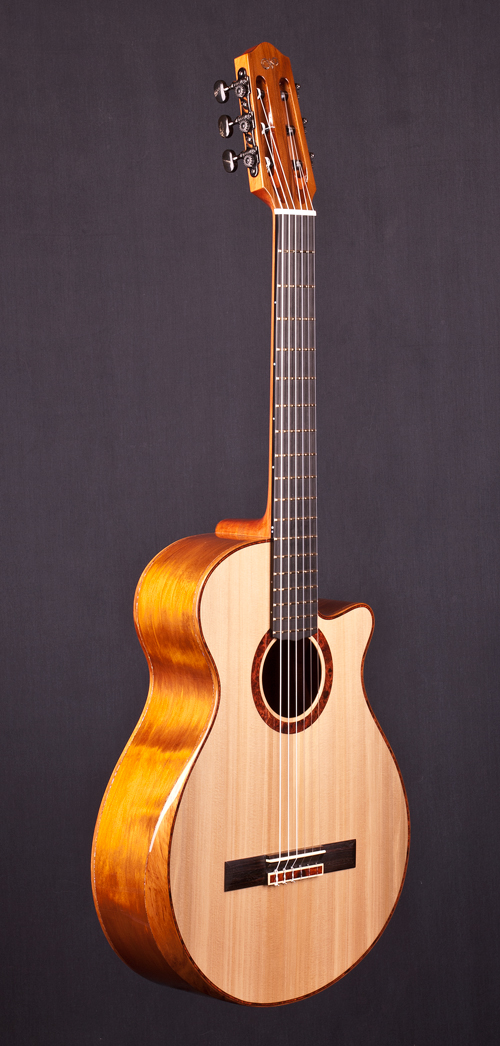 To this end I have given it a new shape and added my low profile, sculpted heel-to-body join with a cutaway version as well as adding the bevel on the top.
The neck has a classical size and feel with just a slight fingerboard curvature for a super comfortable and slick neck.
On the one seen here I have used a solid wood burl called "amboyna" for the rosette as well as the purfling around the soundboard, giving the guitar an elegant look yet modern look.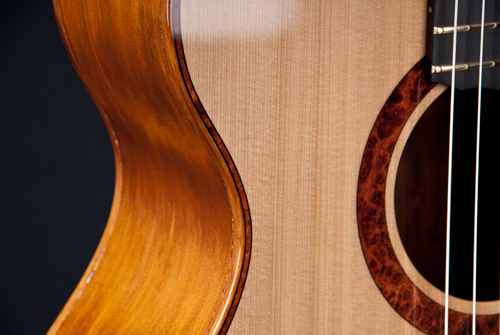 I built two instruments and took the opportunity to use some of my Paraoanui kauri (seen on the pictures here) for the first time and compare it with the Waingarara kauri that I harvested five years ago. The results are impressive with the guitars sounding very similar in tone colour but the Paraoanui giving a little more volume. It is also a bit brighter than my Waingarara kauri.
The Paraoanui kauri log was very small and most of the salvaged timber will be used for smaller instruments (mandolins and violins). Still, I have enough larger pieces for perhaps a score of guitars.

The above guitar is for sale. Contact me for more information.
For more information and pictures of the other Classical (SOLD) please see website under classical guitar.

Performance Series

I have recently finished a group of four Performance Series Tui models, two with top bevels. They sound great and are already getting attention with one of the bevelled models already sold. At US$4200 (NZ$5625) and US$4600 (NZ$6200) respectively, they are priced to sell. Let me know if you are interested. More information on the performance series can be found at my website, or you can contact me directly for a chat.
I wish you all well for the Christmas season.

Best wishes,
Laurie
LaurieWilliams Guitars