Hi there,
Welcome to the November E-newsletter.
It has been a busy few months for me and we are rapidly coming to the end of another year. Looking ahead, I have some interesting projects starting to fill my schedule for next year. While most of these projects will be new builds, I do occasionally get involved with restoration work and I have taken on a special restoration project for next year that involves a 100 year old Mesopotamian tambura. I will share some details in this news letter but first I will give a brief update on the release of the documentary film
Song of the Kauri.
Song of the Kauri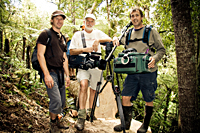 The launch of the film has been a great success. So much positive feedback and great reviews.
If you would like to check some out you can follow on Facebook or check out the
SOK website
.
The film has also premiered in the Hot Springs Documentary Festival in Arkansas USA.
And for those of you who missed the screenings during the NZ Film festival, you now have a second chance as the film begins its Cinematic release throughout New Zealand. See the
SOK website
for screenings as they become available and make the effort to see the film that has impressed so many.
More international film festivals are being planned and I have also been told a DVD will be coming out in due course. I will keep you posted.
Thanks for all the kind words from those who have seen the film.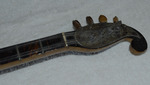 A tambura is a cousin of the Russian balalaika and the Italian mandolin. It has been said that Leo Fender got his idea for the pegheads of his electric guitars when he saw a tambura. There are several communities here in NZ that keep this music alive, in fact we have a strong community up where I live. The instrument I will be restoring is quite unique in the sense that it is one a an early line with particular design features that it has been called a Mesopotamian tambura. In my research for this project I managed to track down a very similar instrument to the one I will be restoring. Shown here (right), you can see it is an excellent example of a well maintained instrument. It is owned by a lady in Mangonui, just about 20 mins away, who was kind enough to allow me to view it and take some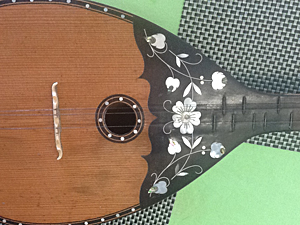 pictures. Her husband played in a local cultural band until fairly recently and it has had plenty of use and just shows what is possible with proper care and maintenance.
Sadly, the tambura I will be restoring is not in the best shape, and has suffered abuse to the point of being unplayable, and has lain idle for many years but it too has been played extensively over its lifetime of over 100 yearsNevertheless, both instruments hold a special place in the hearts of the families who own them.
My brief is to restore the instrument to "as new" condition but I have also been asked to give it an upgrade, with some inlay work in character with the period in which it was built (similar to what you see here), to elevate its status among tambura generally and give it even more significance as a treasure for the family.
This is why I took the project on, it is more about restoring it as a sense of pride in the family. For me it is also a chance to honour the craftsman who originally built this instrument and to give it life for the next generations.

So here is what I have to start with....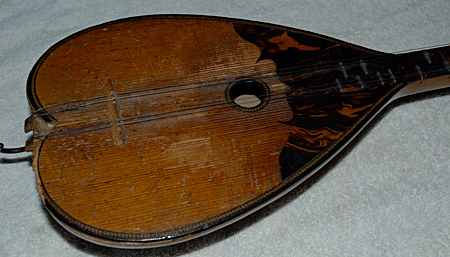 The top has separated from the body, and is severely worn in places, the tailpiece and bridge have been lost, and the list goes on!
I will take some photos of this project and put them on my website for those who would like to follow the restoration. It is going to be an exciting and rewarding journey.





If I don't get another newsletter out this year let me wish you all a relaxing, and reflective Christmas and a great start to the new year.

Laurie

P.S. My build schedule is starting to fill up for next year and it looks like it is not slacking at all. So if you have been thinking about ordering it is probably a good time because you know what might be coming if I get too busy...
...just saying.