---
This year marks my 20th year as a professional luthier.
At the beginning of the year, when I was thinking about what I could do to commemorate this milestone, I went through my tonewood stock and realised I have had wood sitting there for just about that long for some pieces. So I thought it might be nice to use some of the different tonewoods that have been accumulating over the years. Bearclaw sitka, engleman, and swiss master grade spruce tops as well as some Maccassar ebony, are some tonewoods that I will be building with this year as well as kauri, both old and new.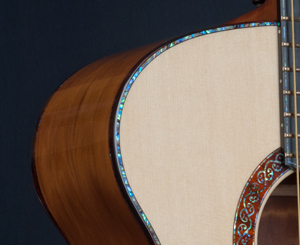 It is now May, and many of these instruments are well under way or even finished like the guitar with a swiss spruce top shown here.

I also thought I would like to do some more inlay work so some of these instruments will feature inlays as well.
One inlay on a Tui I am currently finishing is the iconic Kiwi landmark One Tree Hill. This is a volcanic cone in Auckland, NZ where I grew up. It is also the inspiration for the U2 song by the same name. It has a kauri top with macassar ebony back and sides. This guitar should be finished by the end of this month, if you are interested and would like more information, send me an email.

I will also be building a couple of very special instruments, one with brazillian rosewood back and sides and one with my signature williams whitebait. They will have a different inlay for each but with a similar theme (still in design phase). They will also introduce a new purfling option that I have been working on and I will be introducing these as the first my new Signature range towards the end of the year.

More Sinker Kauri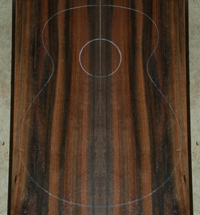 I have just processed another sinker kauri log with stunning dark colours. The log was found in a semi-tidle river which may have been responsible for the dark colours but whatever the case, it is quite extraordinary. Most of the wood is too small for guitars and I have cut it up into sets for smaller instruments; ukulele, mandolin and yes, violins! But there is some large enough for guitars, I just need to figure out what back and sides will go with it. Any ideas?


Take care,
Laurie

Email : williams@guitars.co.nz
Website: LaurieWilliams Guitars