April 2010

Hello again, and welcome to the Williams Guitars E-newsletter for April. I have had a few people, who have recently signed up, asking if they can catch up by reading some of the back issues, especially regarding the new kauri sinker, so I will make them available as an archive on my website shortly.


I have been building a couple more Tui models that I have finished ready for the Newport Guitar Festival. I promised some photos of the new instruments last time, so I have some of the new ones here and will get some more photos when I get back from the show.


In this Issue:
I am just about to embark on the long flight to the Newport Guitar Festival with my wife, Wendy. We will be breaking up the travel a little with a few days in LA where we will be staying with our good friends, Kevin and Barbara Ryan, of Ryan Guitars.
At the show, I will have three Tui models as well as three of my new Hihi tenor ukes (they make really good travel instruments compared to the guitars!) so the table will be full.
Of the Tui models there will be two with different grades of ancient kauri back and sides, and I will be introducing some new tone woods with the third Tui featuring some figured Totara as well as Rewarewa. All of the instruments feature the latest soundboards from my exclusive supply of Waingarara kauri, with it's own distinctive tone and colour.

There will be three small 20 min mini concerts, one on each day at the show, where you will have an opportunity to hear some truly great players playing the Tui models. My performers this year will be Michael Chapdelaine along with Simon Fox, who will be playing his own personal Tui model.
Of course, the instruments will also be available during the show for you to play privately, in a quiet room, so you can evaluate them yourself and have a chat with myself about the instruments.

I will offer a special discount to any of those who are on this E-newsletter list, and who place an order, or purchase, at the show. But you have to introduce yourself, and you have to be on the list!
---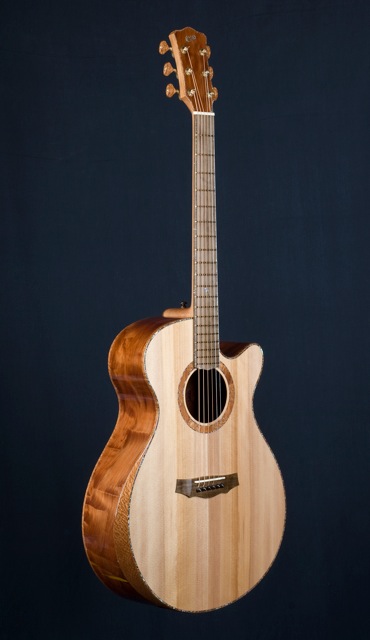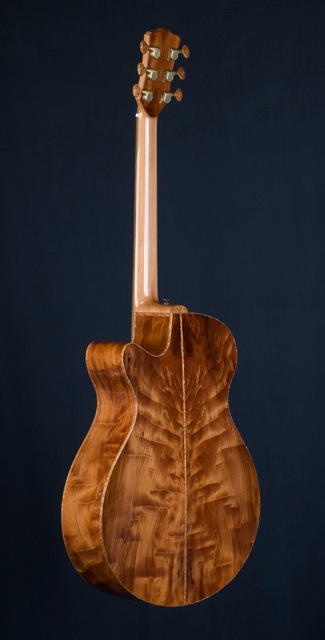 One of the Tui models I will be bringing to the show is the guitar pictured here. The back and sides are a New Zealand native podocarp called Totara. This particular piece is striking for its high degree of figure in the grain. It comes from a piece of salvaged totara that I found while rummaging through a timber rack in a lumber yard a while ago. As with many of these discoveries, it was hidden away in a dusty corner; actually this was found in the forgotten space on top of some 3m high timber racks. I don't know how long it had been there but I bet it had been long forgotten about!
The guitar also features some NZ Honeysuckle or Rewarewa. A very decorative timber with large flecks in the grain similar to australian Silky Oak, I have used it for the binding and also in the rosette and the tuner buttons. The fingerboard and bridge are NZ Puriri so this guitar is all native. I have also made the bridge pins and strap buttons from puriri as well.
And the sound of Totara? I have said this many times and no doubt I will be saying it again many more times at the show in Miami; the soundboard is the main driving factor in my instruments and that comes from the subtle flavours of my Waingarara kauri.
But you don't have to take my word for it; you can come and hear for yourself if you would like to compare them at the show!
---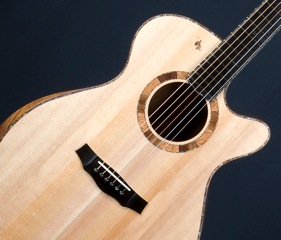 For several years I have listened (and played) Simon's beautifully melodic tunes, and if you haven't heard him, you might like to check out his website and listen to some music. One of my personal favourite acoustic guitarists, his music is simply a joy to listen to.
So it is with great pleasure that I can now be a small part of his music by building him his own Williams Tui. Simon will be playing one of my mini concerts at the show for the first time on this instrument..... although it has already been loosened up with some of his tunes here in the workshop.
Enjoy Simon!
You can go to his website here.
---
Well, that's it for now. I've got a plane to catch!.....
Laurie