Hi ,
This is the second, and final newsletter for 2013, it has been an especially busy year with two guitar shows and the anniversary model to complete. Orders are steady with the waiting list out to 15 months. Next year promises some new instruments and new incredible tone woods. Note that January will also see price increases of the base prices so this is your advance notice to get in before the increases take effect.
Just a reminder that if you know someone who might be interested, please forward them this newsletter.
---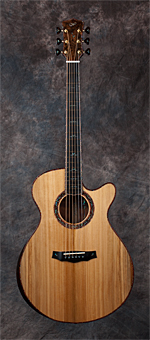 Robin Weber at Guitar Gallery commissioned a commemorative model to celebrate 20 years of building.
This is a one-only edition and I wanted to do something that reflected those years with some of the special tone woods that I have sourced and which have become part of the Williams Guitars story.
Of course, the Williams Signature Whitebait was a given as well as the salvaged totara that has become standard in my necks. The surprise in this instrument is the use of my Paraoanui Sinker tone wood for the sound board, which gives the instrument a lovely antique, heirloom quality visually.
This was the log that was found on our property after a flood went through in 2010. We thought it might have been a small kauri and we were initially disappointed to find out it was not. We still don't really know for certain what it is beyond a few guesses but it has a tight, straight grain and a clear, crisp tap tone.
The kids and I salvaged this log on our property and it was one of the most memorable projects I have been involved in. We made a video and I invite you to view it either on my website or on YouTube.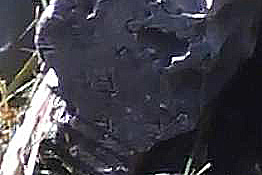 The log was felled between 1850 and 1950. We know this from the identification marks still plain to see on the butt. The fact that it was exposed right where we are situated in 2010 is serendipitous to say the least, and I like to think it was providential.
Most of the salvaged timber was too small for guitars but there is enough for maybe a dozen if we are lucky. The rest I cut into stock for mandolins and violins.

We had a great reception at the Healdsburg Show this year and it was good to see that this show is becoming a truly international event. I lost count of the different countries represented and the atmosphere was buoyant and productive.
I met an Aussie at the show and in conversation I learned about the Melbourne Guitar Festival and decided we should hop over the ditch and give it a go. We were not disappointed, I took orders and met some other talented luthiers.
It was the first time the Aussies have had a chance to try out some of the Williams' flavour and they were not disappointed.
It was a treat to have Simon Fox fly in and play a concert that showed off the Tui's, and his own, musicality.
The festival organisers put on two screenings of the Song of the Kauri and all who saw it were suitably impressed, mentioning similar issues with forestry in Australia.

Aussie Tone Woods
As you may have expected I saw some pretty amazing Aussie tone woods when I was at the festival and I took the chance to fly down to Tasmania and check out some timber at the source. I found some real gems and with some Aussie clients on board you can expect to see some Oz flavoured guitars appearing starting next year.


Merry Christmas and have a safe and happy New Year!
Laurie

Email : williams@guitars.co.nz
Website: LaurieWilliams Guitars