Hi ,
Welcome to the first letter of the new year. This year already has some exciting new developments and in the next months I will be sharing them all in due course. This month I want to share some new instruments with you that have been built with some Aussie woods.
---
​Tasmanian Blackwood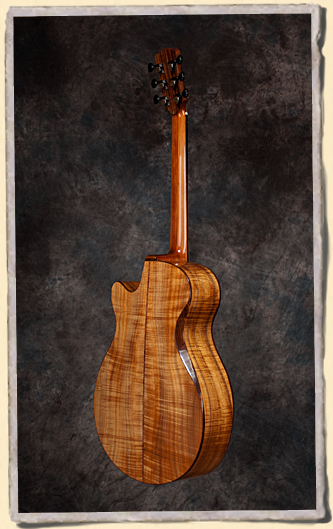 Two years ago I had the pleasure of flying down to Tasmania and meeting the good folk at Distinctive Timbers. I was able to search through all the nooks and crannies in search of some special tone woods and they were very accommodating, I came away with some real treats. Traveling with me was an Australian client and we enjoyed selecting a pair of back and sides together for his newly commissioned Tui model.
It is now complete (along with two others) and is shown here. If you click on the image you will be taken to a slideshow with larger images to better appreciate some of the unique timbers on this instrument. What you won't guess is the binding which has another, more obscure timber called Wodjil. If that doesn't sound Australian, nothing does!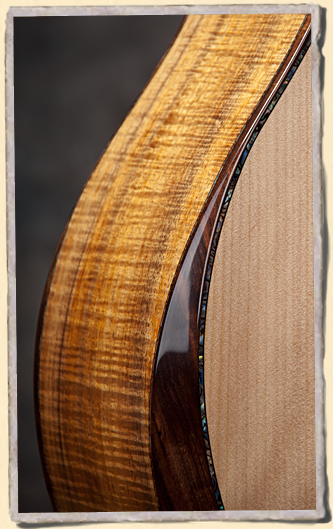 Hard as nails, and difficult to bend, it is not for the timid and I confess it had me a little nervous at times and I did break a few pieces before I figured out how to coax it to cooperate. The colours could be described a bit like rosewood and cocobolo rolled into one, its grain is smooth and unlike either of the afore mentioned, has a subtle chatoyance that makes it a little different and altogether a beautiful wood to compliment the Tasmanian blackwood.
For those of you who work with wood, you will know that every wood has its own smell when cut. Sometimes the smell is pleasant, sometimes not, and sometimes it can really get up your nose and irritate.
Zebrawood is often thought to be called so because of its light and dark stripes but those who have worked with it may be left wondering if it wasn't the smell that gave it its name....whew!!

But wodjil is a pleasant surprise and you may find it interesting to know that the wood, when cut, has a deliciously pleasant sweet, citrus smell that reminds me of the "sour" lollies that my kids like to eat....
.....alas, it does still taste just like wood.

You can click on the pictures and be taken to a slideshow of this, and other recent, instruments with larger pictures.

Simon Fox
Many of you are fans of Simon's melodic music and will know that Simon allows me to play some of his tunes on my website. You can hear more at Simon's website.

Simon has recently launched a Kickstarter campaign to help finance his next CD. It has been my priviledge to be able to support Simon's music and I invite you to click on the link where you can find out more about this project for yourself. There is a video presentation where you will also see Simon playing his Williams Tui model.
https://www.kickstarter.com/projects/2105675488/simon-fox-acoustic-guitar-album
Melbourne Guitar Festival
On the 10th and 11th of October this year I will once again be attending the Melbourne Guitar Makers Festival. It was a great show last time round and I am looking forward to showing some great guitars, ukulele, and mandolins again this year.
Please forward this email to someone you think might be interested.
Regards,
Laurie

Email : williams@guitars.co.nz
Website: LaurieWilliams Guitars