---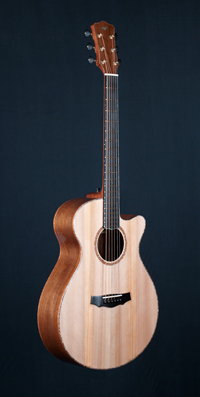 I have spoken with many professional musicians in my 18 years of luthiery and one topic that often comes up in conversation is that my instruments are not affordable for the average working musician.
I am not without all sympathy, but the solution is not as easy as simply halving prices. Understand that if I did that, I would have been out of business a decade ago, and then no-one would be playing a Williams! Neither is the solution to start mass-producing my instruments, that would inevitably lead to huge compromise in construction and tone. It has never been an option that I have seriously considered.
But the emails keep coming in from time to time, so what is a luthier to do?
Well I would like to introduce to you the new Performance Series Tui model. It is designed specifically to meet this challenge with uncompromised tone and playability at the lowest price point possible.

To achieve these ends I have gone with a simple understated, yet elegant solid wood binding without side purfling or paua embellishments.
I have also used NZ taraire for the back and sides instead of the rarer, more expensive, timbers like ancient kauri.
For those of you who are unfamiliar with taraire (I know, pretty much everyone), it is well suited to the task and has a density that falls in the same range as brazillian rosewood. Enough said.

I have a large stock of taraire, which I sourced over 12 years ago, and has been air drying since that time in my shed. It is ready to be put to good use.
To maintain the finest tone, I have retained the use of my Waingarara kauri for the soundboard. There is nothing else that comes close and it is the tonewood that defines and sets my instruments apart.
I have also included the same quality hardware and identical construction that goes into all my higher priced Tui models.

The price for this model is US$4,200 and the only way I can offer this price is to make them in small batches of 1/2 a dozen or so.

So if you have been unable to get your hands on a second hand Tui. Here is your chance to own the latest sound of the New Generation model at a fraction of the cost. At this price, you might even consider ordering one of these as a companion instrument to your high-end model. You can take with you on the road and keep your "studio" Tui safe at home.

So for all you who have asked, I will commit to building 12 of these instruments and we will see where we go from there. First come, first served.
Also, for the first two Enewsletter subscribers who order the new Performance Series Tui, I will add the upgrade of NZ paua purfling for the top! So don't wait.....Email or call me to secure your new Tui now!

Standard features:
Model: Tui cutaway
Soundboard: Waingarara kauri
Back/sides: NZ taraire
Fingerboard/bridge: Ebony or NZ puriri
Machine heads: Gotoh 510 series
Hardshell case included

The Performance Series on my website


"Williams" Whitebait Ancient Kauri

Ancient kauri varies considerably in colour and grain patterns, as well as density. More importantly, it varies in its suitability for musical instruments and care must be taken in selection. It is not your normal wood.
Having pioneered the use of ancient kauri and shown that it can be used successfully in the manufacture of concert quality instruments, there are more people who are also now experimenting with this timber. In fact it is now being exported internationally and is now even listed in the catalogues of major luthier supply stores. This is all good because it now allows a comparison with my personal collection of ancient kauri that, I have claimed, represents the finest grades to be found anywhere.
I invite you to check out my new YouTube (Yes I have just discovered video!) movie of my finest "williams" whitebait ancient kauri. Be sure to compare it with other ancient kauri movies you will find on line and let me know what you think.
Please take a moment to view the video and don't forget to share it with your friends.


Best wishes,
Laurie
LaurieWilliams Guitars