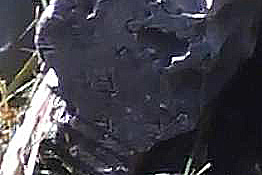 A
couple of weeks ago we were taking some of the neighbours' cattle home and happened upon a log that had been jammed up against a tree on the river bank during a flood. There is nothing unusual about that except in this case the log looked like it had been felled, not ripped up by the river. I became more interested when I recognised that this log was weathered and old. It had been cut many years before. The real excitement began when I noticed letters and numbers stamped into the butt end (see right).
This was a practice of the sawmillers in New Zealand from the mid 1800's to mid 1900's. Logs would be cut by several different contractors, collected together, and driven down rivers to be floated down to Whangarei, or even to Auckland, by sea. The markings were a means of identifying the logs with the contractor who felled them. The letters were the contractor's initials, and there would also be numbers designating the sawmill they were going to.
This is a log from that era and is therefore between 60 and 160 years old!
I found myself wondering what story lies behind its sudden appearance right on my door step.
I think this log is far too small to have been targeted directly. It was probably cut to make way for the extraction of larger kauri logs, or it was knocked over by a larger log being cut down close to it. Still good timber, it was stamped and collected with the other larger logs for the drive down river. They did this by means of damming the river and then releasing the water which caught up all the waiting logs in the deluge. It must have been exciting, if not a little terrifying at the same time. Imagine logs the size of houses rampaging through narrow gorges!
But this particular log must have got stuck during one of these drives (again, not an uncommon event). Because of its relatively small size, it was probably not worth the effort to dislodge it so it was simply abandoned. Over time the river has buried or silted over it, and there it has remained until the big floods of recent years. They must have uncovered and dislodged it, finally sending it down river a century later to be found by, of all people, a luthier who specialises in kauri soundboards! ......what are the odds?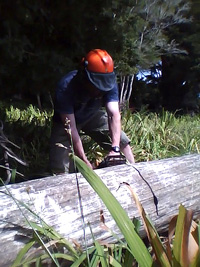 So is it kauri?
I have taken a small sample and at this point I am almost certain it is. But there is still an element of doubt because the colour of the wood has been stained ( which could make for some very unique and striking tops!) by years in the river, but the grain structure and general physical properties all point to kauri.
I won't know more until I have cut along the length into the heart, but I don't want to waste anything so I will be doing this the old fashioned way by splitting with a froe.
Until then I have cut it into manageable lengths and brought it home in preparation for cutting into bolts and subsequent splitting into billets.
A new adventure begins....