G3ict Special Sessions @ CSUN 2012
27th Annual International Technology & Persons with Disabilities Conference
San Diego, California | February 29 & March 1, 2012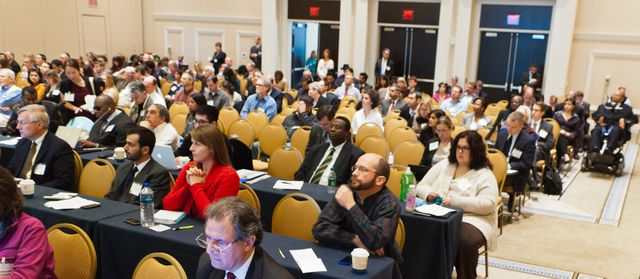 If you're planning to attend the CSUN 2012 Conference in San Diego
next week, don't miss these special presentations!
M-Enabling: New Paradigm & PWDs

Wednesday, February 29, 8:00 AM till

9:00 AM PST Location: Elizabeth B, 2nd Floor
A review of the latest mobile accessible and assistive technologies, applications and services for persons with disabilities and of their implementation around the world.
Read more
. Limited seating.
Register today!
Tari Hartman Squire

, EIN SOF Communications, Inc.

Axel Leblois

, G3ict


Francesca Cesa Bianchi

, G3ict

Susan Mazrui

, AT&T Services, Inc.


Mike May

, Sendero Group

Steve Jacobs

, Ideal Group, Inc.

Public Forum: AT Centers Leadership Network


A G3ict session, hosted by IBM

Wednesday, February 29, 4:20 PM till 5:20 PM PST

Location: Elizabeth Ballroom, Room F (IBM Showcase Suite)


If you are responsible for an Assistive Technology (AT) Center anywhere in the world, come to learn about the AT Leadership Network and share your experiences in promoting innovations, good practices and supportive public policies and programs!

Read more

. Limited seating.

Register today!

Phil Jenkins

, IBM Research, HA&AC

Axel Leblois

, G3ict

David Rojas

, The Trust for the Americas, OAS

David Dikter

, ATIA

Sandy Hanebrink

, Touch the Future, Inc.

Royson Poh

, Society for the Physical Disabled (Singapore)

Lou Orslene

, U.S. DOL /JAN Job Network Accommodation


Accessible ICTs & Personalized Learning

A G3ict session with UNESCO's participation, hosted by Microsoft

Thursday, March 1, 8:00 AM till 9:00 AM PST Location: Elizabeth A, 2nd Floor (Microsoft Showcase Suite)


Recently UNESCO and Microsoft hosted a dialogue on promoting personalized learning and accessible technology in classrooms. This panel explores the important themes of that event.

Read more

. Limited seating.

Register today!

James Thurston

, Global Policy & Standards, Microsoft


Gary Moulton

,

Accessibility Business Unit, Microsoft


Amy Goldman

, Institute on Disabilities,Temple University

Cynthia Feist

, Loudoun County Public Schools

Axel Leblois

, G3ict

Irmgarda Kasinskaite

, UNESCO (in video conference)

Dónal Rice

, NDA- Ireland (in video conference)



Progress on Article 9 of the CRPD

A G3ict session, hosted by Microsoft

Thursday, March 1, 9:20 AM till 10:20 AM PST Location: Elizabeth A, 2nd Floor (Microsoft Showcase Suite)

Article 9 of the Convention on the Rights of Persons with Disabilities deals with ICT accessibility. This panel will explore global trends in implementing it.

Read more

. Limited seating.

Register today!

James Thurston

, Global Policy & Standards, Microsoft


Axel Leblois

, G3ict

David Rojas

, The Trust for the Americas, OAS

Fouad Hassoun

, Medialog Accessibilities

Kyoungsoon Hon

, NIA (Republic of Korea)

George Kerscher

, DAISY Consortium

Klaus Miesenberger

, University of Linz, and ICCHP (Austria)