Sponsors
Cash Contributions
$50,000
UPS/UPS Foundation

$26,000
Delta Air Lines, Inc.

$25,000
The Coca-Cola Foundation

$20,000
American Family Insurance



$10, 000


Bank of America

$8,000
Verizon Wireless

$6,000
AGL Resources/AGL Resources Private Foundation
Georgia –Pacific Foundation, Inc.
Hunton & Williams LLP
Kaiser Permanente
King & Spalding, LLP
Turner Broadcasting System, Inc.

$3,000
Greenberg Traurig, LLP
Kilpatrick Townsend, LLP



$2,000


EPIC Scholarship, LEAD Class of 2012



$1,000


Seyfarth Shaw Charitable Foundation


---

2013 IN-KIND CONTRIBUTIONS

Delta Air Lines, Inc.
Estate, A Legendary Event
J.W. Marriott Atlanta Buckhead
Leapfrog Services, Inc.
Federal Reserve Bank of Atlanta
Atlanta Business Chronicle
RightPath Resources, Inc.
Alston & Bird, LLP
Georgia Power
Southern Company
Troutman Sanders LLP
Womble Carlyle Sandridge & Rice, PLLC
Arnall Golden Gregory LLP
Morehouse School of Medicine
The Home Depot
Newell Rubbermaid
The Commerce Club
Verizon Wireless
Coca-Cola Refreshments
Cox Enterprises, Inc
United Distributions

---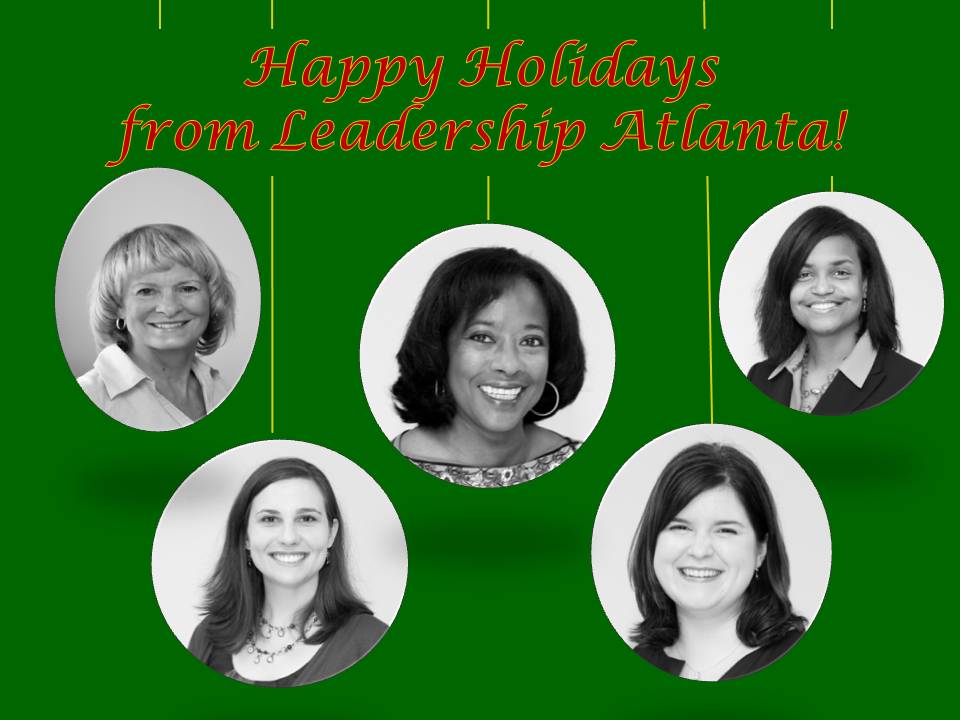 Top Row: Sandra Kirkpatrick, Pat Upshaw-Monteith '84, Audrea Rease
Bottom Row: Elaine Hudson, Megan Sparks

Wishing you a warm Holiday Season and a New Year filled with Peace and Joy!
---
Leadership Atlanta - Answering the Call to Action!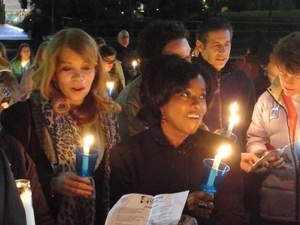 (Pictured: L-R): Kim Turner '12, Pat Upshaw-Monteith '84, Ben Deutsch '12,
Martha Brooks '10

There are almost 1,000 homeless youth on the streets of Atlanta. Until recently, the Covenant House of Georgia could offer only 15 beds to those in need. However, a Leadership Atlanta Class of 2012 Project Group led the charge to change that and impact the lives of young people forever. Partnering with Covenant House Georgia and calling on their vast network of classmates and friends, the Class of '12 helped Covenant House Georgia obtain a new facility with the capacity to house 100 homeless youth!

---

Sign-Up for 2013 Alumni Events!
>>Click to Register<< or call Audrea Rease (404) 876-4770 ext. 101
---
Time to Apply for Leadership Atlanta Class of 2014!
Leadership Atlanta is accepting applications for the Class of 2014! Please encourage nominees to submit them by the deadline of January 8, 2013.
---
The Perfect Gift - Membership Renewal!
You can still renew your membership for 2012-2013 and receive its many benefits! To renew simply call our office at 404.876.4770 ext. 100 .
---
2012-13 Alumni Members
(Current as of December 20, 2012)
Thank you to all of our renewing members! Your support enables us to continue providing high quality programs that impact our region's leaders.
$2,500 VIP Leaders

Kimberley Euston
David Panton
Babette Henagan
Palmer Proctor

$2,000 VIP Leaders

Renee Allain-Stockton
Melanie Platt
Roxanne Douglas

$1,500 Platinum Plus Leaders

Susan Grant

$1,200 Platinum Plus Leaders

Brantley Barrow
Wab Kadaba
Peter Berg
David Kirk
John Berry
Joe Krygiel
Rodney Bullard
Xia Liu
Ben Deutsch
Mary Long
Kara Finley
David Long-Daniels
Marty Fleischmann
Andy Much
Sandy Gordon
Mollye Rhea
Glenn Hendrix
Michael Robinson
Jo Ann Herold
Nandan Sheth
Jennifer Hightower
Loretta Walker
Dionysia Johnson-Massie
Dennis White

$1,100 Platinum Leaders

John Chandler
Jo Kirchner
Carol Clark
Jackie Parker
$1,000 Platinum Leaders
Erika Alexander
Richard Hays
Joel Arogeti
Dave Lishness
Ashish Bahl
Marilyn Midyette
Ken Bernhardt
Kurt Powell
Denise Billups
Ashley Preisinger
Marquette Chester
Sheryl Sellaway
Tom Cook
Bernard Taylor
Larry Cooper
Terri Theisen
A.D. Frazier
$600 Gold Members
Ann Cramer
Beverly Thomas

$500 Gold Members

Brent Adams
Charles S. Johnson
Judy Anderson
Milton Jones
Andrea Arena
Sharon James Jordan
Yum Arnold
Rena Kilgannon
Dawn Bading
Mitchell King
Lilicia Bailey
Katie Kirkpatrick
Barbara Balser
Ellen Dracos Lemming
Katy Barksdale Pattillo
John Lewis
Jacquee Belcher
Steve Lewis
Candy Berman
Helene Lollis
Steve Berman
Dennis Love
Becky Blalock
Sally McDaniel
Joseph Blanco
Betty Morgan
Linda Blount
Tony Oglesby
Renay Blumenthal
Phaedra Parks
Kathy Bremer
Rita Parks
Elaine Carlisle
Leslie Patterson
Jeff Cross
Glenn Pearson
Jennifer Dangar
Dave Peterson
Cari Dawson
Mike Pons
Pat Donald
Erica Qualls
Missy Dugan
Terry Russell
Yelena Epova
Emily Sanders
Andy Ghertner
Rita Sheffey
Duncan Gibbs
Gerald Shirk
Jodie Guest
Frank Ski
Jan Harralson
Belinda Stinson-Head
Jeff Hines
Michael Terry
Sivan Hines
Henrie Treadwell
Doug Hooker
Dexter Warrior
Holly Hughes
Benjamin White
Tad Hutcheson
Patricia Williams
Walter Jackson
Bob Yancy
Bob Jimenez

$360 Leadership Champion

Mark Weinstein
$300 Leadership Champion
Yolanda Adrean
Brian Leary
Bill Alexander
Cathy Lewis
Elaine Alexander
Pat Lottier
Ellen Arnovitz
John Maupin
Kathy Ashe
Wes McDowell
Tom Asher
Karen Mills
Tracey Atwater
Glenda Minkin
Ed Baker
Jackie Montag
Tami Barron
John Montag
Renee Bentley Rice
Clair Muller
Jay Bernath
Thomas Muller
Dianne Bernez
Vir Nanda
Marifred Cilella
Susan O'Farrell
Del Clark
Donald Palmisano
Johnnie Clark
Egbert Perry
Ann Curry
Tara Perry
Sallie Adams Daniel
Gregory Pierce
Janet Day
Mary Portman
Kathie Day
Shirley Powell
Richard Deane
Becky Powhatan Kelley
Mable Densler
Kim Scholes
Rene Diaz
Cathy Selig
Charlotte Dixon
Linda Selig
Gail Evans
Scott Selig
Aida Flamm
Steve Selig
Lisa Gordon
Maurice Sholas
Samuel Gude
Neil Shorthouse
Tim Gunter
Misty Skedgell
Jo Ann Haden-Miller
Christine St.Clare
Robert Hahn
Bud Stumbaugh
Cynthia Hale
Deborah Sudbury
Vicki Hamilton
Geri Thomas
Cathy Hampton
Kim Turner
Russ Hardin
Daphne Walker
Carol Henderson
Libby Wanamaker
Charles Huddleston
David Ware
Lynn Jarrett-Gude
Sue Wieland
$250 Leadership Circle
Ada Lee Correll
Jovita Moore
John Eaves
Ken Richards
Necole Merritt
Tracey Scott
$225 Leadership Circle
Gail Morales
$200 Leadership Circle
Kimberly Esmond Adams
Allegra Lawrence-Hardy
Kent Alexander
Hank Linginfelter
Douglas Ander
Alonzo Llorens
Joe Arnold
Bryan Long
Eliot Arnovitz
Bari Love
Mary Lou Austin
Russell Love
Laura Balser
Joe Bankoff
Saundra Maass-Robinson
Benjamin Bao
Rhonda Matheison
Constance Barkley-Lewis
John McColl
Leslie Breland
Peggy McCormick
Lisa Brill
Milford McGuirt
Moses Brown
Mal McSwain
Rhonda Brown
Reggie Mebane
Donna Buchanan
Terri Montague
Candace Byrd
David Moody
Alice Cannon
Candy Moore
Norman Carmichael
Charles Moore
Joseph Chapman
Michael Morris
Bill Cheeks
Sandye Mullins
Ken Chestnut
John O'Kane
Lorri Christopher
Cathy O'Neil
Patrick Davis
John O'Neill
Clark Dean
Stephen Opler
Robin DeAndrade
Lizz Patrick
Fabian DeRozario
Monica Pearson
Morris Dillard
Patty Pflum
Sally Dorn
Marian Pittman
Tommy Dortch
Reggie Prime
Karen Duckett
Stan Pritchett
Charles Edwards
Nancy Rafuse
Tracy Elliott
Shyam Reddy
Michael Elting
Josephine Reed-Taylor
Julia Emmons
Bob Reiser
Ricki Fairley-Brown
Margaret Reiser
Pat Falotico
Kirk Rich
Peter Fellman
Mark Riley
Ed Fisher
Bill Roach
Danny Flanigan
Mark Roberts
Peter Fozzard
Josh Rowan
Charlie Frew
Michael Russell
Anne Game
Beth Schapiro
Sandeep Gauba
Bill Seto
Gayle Gellerstedt
John Sherrill
Roosevelt Giles
Joyce Shlesinger
Virginia Gorday
Mike Siegel
John Gordon
Richard Sinkfield
Ernest Greer
Jane Smith
Patrice Greer
Steve Smith
Daryll Griffin
Rob Smulian
Stuart Gulley
Donna Smythe
Leon Haley
Jesse Spikes
Chandra Hall
Ann Stallard
Howard Halpern
John Staton
Lynne Halpern
Angela Strickland
Judy Hanenkrat
Belinda Srubblefield
Avarita Hanson
Judy Tabb
Marc Harrigan
Josephine Tan
Jack Harris
Judith Taylor
Oscar Harris
Alvetta Thomas
Beverly Harvard
Geri Thomas
Cathy Hill
Jana Thomas
Sharon Hill
Judi Thompkins
Deva Hirsch
Joe Vella
Chuck Hodges
Philip Verre
Audrey Jacobs
Sheila Weidman-Farley
Mary James
Sidney Welch
Maurice Jenkins
Harry West
Weyman Johnson
Vicki Wilbon
Jack Kelly
Charlotte Wilen
Jennifer Kelly
Neil Williams
John Kelley
Betty Willis
Rob Kight
Lani Wong
Glenn Kurtz
Tal Wright
Dorothy Cowser Yancy
Sandra Young
$150 Supporting Members
Dub Anderson
Yvonne Gloster
$100 Supporting Members
Kevin Abel
Alicia Ivy
Bill Adams
John Izard
Jeff Adams
John Jackson
Joanna Adams
Mark Jacobson
Ashley Agard
Sumi Jayaraman
Judy Agerton
Leonard Jenkins
Ani Agnihotri
George Johnson
Steve Alexander
John Johnson
Vernon Allwood
Malcolm Johnson
Nancy Almquist
Marsha Johnson
Jason Anavitarte
Rafer Johnson
Andre Anderson
Rob Johnson
Mike Anderson
Tobe Johnson
Rock Anderson
Craig Jones
Shirlene Anderson
Deborah Jones
Myrna Anderson-Fuller
Richard Jones
Dwight Andrews
Shawn Jones
Carole Angel
Terrie Jones
Wiley Ansley
Harold Jordan
David Apple
Pat Jordan
Robbie Ashe
Walter Jospin
Joe Ashkouti
Mark Kaiser
Clara Axam
Subodh Karnik
Melissa Babb
Henry Kelly
Terri Badour Duckett
Jewel Kennedy
Maria Balais
Andjela Kessler
Steve Baldwin
Walter Kimbrough
Marcia Bansley
Lonnie King
Chuck Barlow
Raymond King
Anne Elizabeth Barnes
Linda Klein
Gale Barnett
Danica Kombol
Deirdre Barrett
Raymond Kotwicki
Donna Barwick
Lewis Kravitz
Michael Baskin
Robert Kronley
Bryan Batson
Alexandra Kuo
Bobbie Battista
Carrie Kurlander
Dan Bauer
Laura Kurlander-Nagel
John Beane
Jeanney Kutner
Joe Beck
Shawn LaGrua
Josh Belinfante
Mike Lammons
Eldrin Bell
Joy Lampley Fortson
James Bell
Steven Landuyt
Marcus Bell
Cheryl Lee
Jay Berkelhamer
Marisa Lee
Julia Bernath
Martin Lehfeldt
BJ Bernstein
Dana Lemon
Carol Bernstein
Jeff Lesesne
Rudy Beserra
Charlie Lester
Dennis Betz
Liane Levetan
Paula Bevington
Elaine Levin
Aparna Bhattacharyya
Ralph Levy
Paul Bianchi
David Lewis
Myra Bierria
Rengin Li
Veronica Biggins
Larry Liebross
Lori Billingsley
Jeannie Lin
Mindy Binderman
Ellen Lindemann
Stan Blackburn
Milton Little
Juliet Blackburn-Beamon
Nancy Liu
Isaac Blythers
Dennis Lockhart
Barbara Boardman-Phillipps
Mary Long
Suzanne Boas
Larry Lord
Bill Bolling
Beverly Losman
Merritt Bond
Kaneta Lott
Jim Borders
Tim Lowe
Lynne Borsuk
Felicia Mabuza-Suttle
Ben Boswell
Shelia Maddox
JP Boulee
Meghan Magruder
Brian Boutte
Roberta Malavenda
Janine Bowen
Bentley Marance
Bob Bowman
Chris Marquardt
Dennis Boyden
Deborah Marshall
Zee Bradford Brown
Carol Martel
Amy Brady
Judy Marx
Brenda Branch
Cheryl McAfee-Mitchell
Freda Brazle
Jim McAlpin
Jim Breedlove
Leonardo McCarty
Garry Bridgeman
Frank McCloskey
M. Gino Brogdon
Melody McCloud
Matt Bronfman
Michael McConnell
Don Brooks
Bobbie McCrackin
Martha Brooks
Allen McDaniel
Jackye Brown
Jim McKee
Joe Brown
Miranda McKenzie
Marjorie Brown
Robert McMahan
Stephen Michael Brown
Teri McMahon
Emerson Bryant
Carl McNair
Henry Bryant
Pete Meadows
Tarby Bryant Johnson
Linda Meir
Jami Buck-Vance
Ken Menendez
Coleman Budd
Edward Menifee
Patricia Budd
Bruce Merrill
Ila Burdette
Lynn Merrill
Collie Burnett
Vikki Millender-Morrow
Lee Burrows
Beth Miller
Sunny Burrows
Chris Miller
Kip Buss
Tracye Miller
Cassius Butts
Adrienne Mims
Gwendolyn Campbell
Karen Minyard
Imara Canady
Marjorie Mitchell
Samuel Candler
Shirley Mitchell
Mark Carlson
Hala Moddelmog
Tom Carroll
Ernest Moore
Jim Carson
Gloria Moore
Glenn Cartledge
Mitzi Moore
Carolyn Cartwright
Wanda Morganstern
Carolina Casares
Jane Morrison
Lenn Chandler
Marvin Moss
Lisa Chang
Alton Moultrie
Don Chapman
Judy Mozen
Susana Maria Chavez
Brenda Muhammad
Cindy Cheatham
Elizabeth Murry Chadwick
Han Choi
Navneet Narula
Sam Choy
Tamara Nash
William Clarkson
Elizabeth Noe
Steve Clay
Nancy Nolan
Bob Clayton
Roy Norman
Bill Clement
Paulette Norvel-Lewis
Willie Clemons
Mary Ann Oakley
Bobbi Cleveland
Sarah O'Brien
Milton Clipper
Barbara O'Connor
Rosemary Cloud
Jen Odom
Evelyn Coats
Linda Odom-Vega
Dianne Cohen
Elisabeth Omilami
Richard Cohen
Nan Orrock
Kathy Colbenson
Marshall Orson
Brenda Cole
Christina Pak
Mark Cole
Betty Palmer
Thomas Cole
Ruth Parker
Elizabeth Colt
Stephanie Parker
Cecil Conlee
Jay Constantz
Reinaldo Pascual
Tony Conway
Larry Patrick
Mary Carole Cooney
Solon Patterson
Carol Cooper
Lynn Pattillo
Alyse Lucas
Shelly Patton
Richard Courts
Kevin Perry
Harold Craig
Linda Perry
Charlie Crawford
Lisa Perry-Gilkes
Lisa Cremin
Franzelle Pertilla
Delores Crockett
Mike Petrik
Regina Crothers
Sam Pettway
Delores Crowell
Mike Petrik
Kecia Cunningham
Alicia Philipp
Sandy Cuttler
Kip Plowman
Beverly Dabney
Alan Plummer
Wendell Dallas
Al Pond
Hal Daniel
Patsy Porter
Bettye Davis
Carl Powell
C.J. Davis
Edward Powers
Myrtle Davis
Scarlet Pressley-Brown
Stephanie Davis
Gary Price
Tread Davis
Mike Proctor
Tony De Feria
Jill Pryor
Ofelia de La Valette
Pamela Pryor
Anne DeBeer
Doris Quiros
Dara DeHaven
Steve Rabb
Allan DeNiro
Tyrone Rachal
Robert Di Vito
Bill Ragland
Everette Doffermyre
Trey Ragsdale
Robbie Dokson
Wole Ralph
Suzanne Donner
Janet Rechtman
Don Doran
Beth Reese
Hattie Dorsey
Meridith Rentz
Jocelyn Dorsey
Robert Rhodes
Sally Dorsey
Clare Richardson
Carole Dortch
Deborah Richardson
Curley Dossman
Steve Riddell
Elaine Draeger
Jennifer Rigby
Mike Dreaden
Mark Rinder
Carter Drew
Eric Robbins
Tammy Driggers
A.J. Robinson
Mike Dulan
Marcia Robinson
Bill Dunaway
Michelle Robinson
Denis Duncan
Scott Robinson
Fleetwood Dunston
John Robitscher
Diane Durgin
Peggy Roth
Betty Edge
Arnie Rubenstein
Donya Edler
David Rubenstein
Belinda Edwards
Teya Ryan
Monte Edwards
Janice Rys
Ralph Edwards
Guido Sacchi
Kathy Egan
Ann Salo
Dean Eisner
Juan Sanchez
Emily Ellison
Jackie Saylor
Diana Ellsworth
Murray Saylor
Stephen Elmore
William Schafer
Ilene Engel
Alexis Scott
Mark Engel
Karen See
Annette Engram
Lynne Gellatly Segall
Randy Evans
Barron Segar
Rita Evans
Shelley Senterfitt
R. Keegan Federal
Steve Shepherd
Andrew Feiler
Wendy Snoob
John Fenton
Gina Simpson
Ed Fielder
David Sjoquist
Beth Finnerty
Herman Sloan
Darrell Fitzgerald
Helen Sloat
Diane Flannery
Bobby Smith
Andy Fleming
Candace Smith
Ted Florence
Carmen Smith
Lisa Flowers-Daniels
Carter Smith
Sandra Font
Nathaniel Smith
John Ford
Paul Smith
Susan Forsling
Tim Smith
Kweku Forstall
Rodney Smothers
Bill Fowler
Scott Sorrels
Lois Frank
Mike Skrynecki
Cheryl Franklin
Bo Spalding
Robert Franklin
Anne-Marie Sparrow
Ronald Freeman
Cathy Spraetz
Murray Friedman
William Stanley
Sam Friedman
Ricky Steele
Tiffany Friesen
Cathy Steinberg
Ron Frieson
John Stephenson
Alison Fussell
Linda Stephenson
Angelo Fuster
Anne Sterchi
Edward Gadsden
Jules Stine
Joan Garner
Connie Stokes
MaryAnne Gaunt
James Stokes
Sharon Gay
Suzanna Stribling
Ira Genser
Beth Sugarman
Sajan George
Tisha Tallman
Kathryn Gerrick
Jeffrey Tapia
Sharon Watts Giles
Peter Tartikoff
Ural Glanville
Beverly Daniel Tatum
Kevin Glass
David Tatum
Fay Gold
Chuck Taylor
Jerry Gonzalez
Virginia Taylor
Vicki Gordon
Susan Thigpen
Fay Grady
Anita Thomas
Thomas Graf
Annita Stokes Thomas
Leslie Graitcer
Alicia Thompson
Charles Green
Daniel Thompson
Robert Greenage
Craig Tindall
Todd Greene
Sara Totonchi
Martha Greenway
Patty Tucker
Johnny Gresham
Althea Turk
Vida Gude
Pat Upshaw-Monteith
Maria Guerra-Stoll
Ronnie van Gelder
Richard Guthman
Gregory Vaughn
Llew Haden
Vic Verma
Yvette Hagins
Robert Voyles
Christopher Hagy
Lyndon Wade
Sheffield Hale
Thomas Wade
Kwanza Hall
Kathy Wages
Jack Halpern
Lauren Waits
John Hammond
Lynda Walker
Rodney Hammond
Maria Walker
Milano Harden
Ronit Walker
Bill Hargett
Sonny Walker
Garry Harris
Van Dyke Walker
Lisa Harris
Alex Wan
James Harrison
Charmaine Ward
Ellen Hartman
Isaac Washington
Jennifer Hartz
Che Watkins
Jerry Hassebroek
Clyde Watkins
Helen Hatch
Harriette Watkins
Sharmeen Hawkins
Rene Webb Pennington
John Helms
Brooke Weinmann
Charlie Henn
Phyllis Weiss
Robin Hensley
Kenneth Welch
Sheryl Heron
Cathy Wilson
David Herskovits
Talley Wells
Darryl Hicks
Howard Wertheimer
Nina Hickson
Mel Westmoreland
Robert Highsmith
Richard White
Michal Hillman
Alphonso Whitfield
Tommy Hills
K Whitner
Eric Hilton
John Wieland
Bob Hishon
Pat Wildman
Susan Hite
Dave Wilkinson
Helen Ho
Felita Williams
Mike Hobbs
Sam Williams
Bill Hoffman
Carolyn Lee Wills
Eve Hoffman
Donna Willis
Brian Hogg
Cathy Wilson
Mara Holley
Eric Wilson
Richard Holmes
Ronald Wilson
David Houser
Lynette Wilson-Phillips
Jackie Howard
Jeremy Wing
John Howard
David Wing
Barbara Howell
Abe Wong
Melba Hughes
Bobby Woo
Anna Belle Illien
Mary Yates
Sharon Young
Charles Zimmerman
$75 Out of Area Members
Angela Gittens

$50 Out of Area Members

Eula Adams
Scott Greene
Mark Bernstein
Dick Hodges
Dowdell Brown
Carol Jackson
Andrew Broy
David Jackson
Bill Bugg
Pam Jenkins
Stephen Burnett
Dennis Kelly
Bonnie Carlson
Reed Kimbrough
Bob Carper
Jon McGavin
Joan Cates
Teresa Rivero
Allen Chan
Craig Robinson
Elaine Clarkson
Reemberto Rodriguez
Marcia Cohn
Jane Shivers
Patty Crone
Bentina Terry
Ken Crooks
"T" Thompson
Rebecca Ellenburg-Dees
Linda Torrence
Venus Gines
Oliver Welch
Belinda Grant-Anderson
Linda Wind