In this Issue:
The Dalits - First Bamboo College - Tibet News - Interview with our Tibetan Medicine Doctor - Meet the Village Coordinators -Training in Hyderabad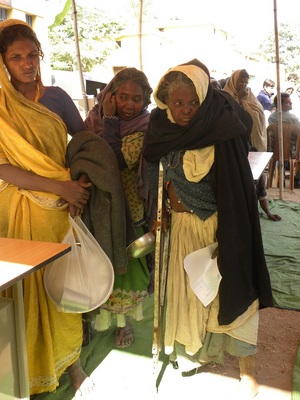 Bodhgaya, India. The place of the Buddha's enlightenment, a favorite destination for pilgrims from around the world, is also home to India's poorest of the poor, the dalits,* the beggars, the neediest. Shechen Clinic, located a few kilometers from town, serves these people at no charge in an atmosphere of respect and kindness.

Last month the clinic's outreach program held a one-day medical camp near the Bodhitree in the heart of the city. The camp (organized by our medical director, Shilpa Sinha) was conducted in partnership with the Public Health Center. Men, women, and children of all ages lined up throughout the day to be evaluated, examined by the doctor, and receive basic medications.

In three hours, two doctors, three village coordinators, and a nurse helped 254 people. This was the first in a series of camps planned by Karuna-Shechen. We will conduct the next one in February. It will be equipped with medicines for 500 people. There is so much need and poverty in the area - this is just one small step, but it is a step, toward bringing compassion and care to these forgotten people.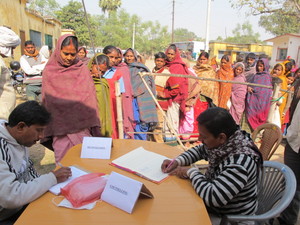 Coordinators registering new patients
(*The word "dalit" comes from the Sanskrit root " dal" and means "broken, ground-down, downtrodden, or oppressed." Those people previously known as Untouchables, and Harijans are today increasingly adopting the term "Dalit" as a name for themselves. Dalits constitute nearly 15 percent of Bihar's population of 83 million and regularly face discrimination and violence that prevent them from enjoying the basic human rights and dignity promised to all citizens of India.)
Construction of the Jorpati College started in Nepal in September and, as of now, the building is halfway finished. Karuna-Shechen is funding the entire project through two generous donors.

Why build a college? In 2001, the first bamboo school of the Samata Shiksha Niketan project opened its doors in Jorpati. This school provides education to over 2,000 students from kindergarten to class ten. At the end of their studies, students pass a national exam to receive the "School Leaving Certificate" (SLC).

Students need an additional two years of study to be eligible for university. Therefore, Uttam Sanjel, in partnership with Karuna-Shechen, is building this college to offer students the opportunity to study for classes eleven and twelve.

The college is situated in a good location within the overcrowded suburbs of Jorpati and Baudhanath. It will enable hundreds of young people (graduates of the bamboo schools and students from other schools) to attend college and prepare for university.




Building in progress

The school's long-time goal is to offer classes for 2,000 students in the morning and to a second group in the afternoon. Students will be able to study part-time while also working so that they can contribute to their families' support.




The first soil test will be done in April to check the quality of the site chosen for the new earthquake-resistance Shechen School in eastern Tibet. Architectural plans are being drawn-up and many creative ideas for this innovative boarding school for nomad children are being considered. Updates will follow in the next newsletter.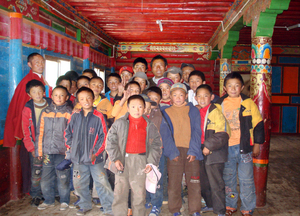 In Yushu, Tibet, Karuna-Shechen is once again working with our local partner "Jinpa" to assist 1,800 survivors get through the harsh winter. We provide warm winter clothing and food for the most disadvantaged groups. Many people lost family members and, sadly, many elderly were left behind without any one to take care of them.

With "Jinpa" we plan to help about 400 to 500 destitute families, elderly people, and single parent families by providing Tibetan food and financial support for their medical care. These poor and disabled people urgently need medical help, but without financial support there is no chance of getting treatment for them. Funds are needed as soon as possible.
Interview with Dr. (Amchi) Ngawang Part I
From an interview with Dr. Ngawang Thinley, Head of the Tibetan Medicine division of Shechen Clinic, Nepal:


"I was born in east Bhutan in 1975. My parents and brother are ardent Buddhist practitioners. I always wanted to become a doctor. My mother urged me to study Tibetan Medicine as it is a great healing art that needs to be kept alive.

In 1991 I went to study with the great Tibetan doctor and lama Trogawa Rinpoche at the Chakpori Medical College that he founded in Darjeeling, India. It was named after the oldest medical college in Tibet, started in the 7th http://www.shechen.orgcentury. It was destroyed in 1959 during the invasion.


"Dilgo Khyentse
Rinpoche, the beloved 20th century Tibetan Buddhist master, always wished to build a center for Tibetan medicine, led by Dr. Trogawa, near Shechen Monastery in Nepal. As Dr. Trogawa was quite old when the clinic was being built, he asked me to go in his stead once my theoretical and clinical studies were finished.

"That year I was asked to go to the Monlam in Bodhgaya to join two other doctors and we treated thousands of people during a four-month period. I learned alot and it was quite an experience! On an invitation from Croatian friends I went to Europe, where I treated many illnesses including stress and depression.



"In 2000, I began my work at the newly built Shechen Clinic. I see patients, supervise the manufacture of Tibetan medicine, and do research. Most of the patients I see suffer from chronic diseases, bronchitis, malnutrition, and so on. I work closely with the allopathic and homeopathic doctors and my patients are Nepali, Tibetan, and people from all over the world.


"What is the difference between a Tibetan Medicine practitioner and a "regular" doctor? In order to practice Tibetan medicine properly it is essential to feel compassion and love for the patient. If the doctor has a kind heart and compassion the patients feel it and, in turn, have more confidence in a possible cure. A doctor who feels loving-kindness for his patients can better diagnose the problem and help the healing process. He or she must never discriminate between rich and poor.

"We started our Tibetan Medicine Pharmacy in 2002. We make our own medicines (104 kinds) and harvest the herbs from all over the Himalayas."

For more on Tibetan Medicine, please see Part II in our spring newsletter.
Meet the Village Coordinators
In February 2010, Shechen Clinic and Mobile Clinic in India initiated a health education outreach program in the twelve villages visited by the clinic. Three coordinators, assisted by village women (motivators) teach the villagers hygiene, basic health care, sanitation, methods to use clean water, and counsel them on health issues.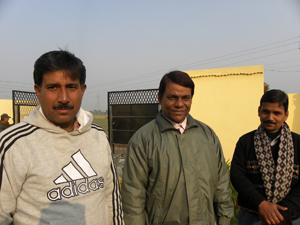 Our three village coordinators, Arwind Prasal Kumar, Niraj Kumar Sinha, and Ravindra Kumar are good-hearted and dedicated people. They all have bachelor degrees from Indian universities. Before he joined K-S, Arwind worked on numerous social health projects throughout India, especially in flood regions. He is experienced in emergency health care. Niraj was a program coordinator in a resource development and management organization in Bihar, with an emphasis on women and children's health. Ravindra worked with polio patients for several years for UNICEF.

The coordinators each take care of four villages and visit every day. They travel on motorbikes - not easy in Bihar where the temperature can go down to 2°C in January and climb up to 47° in May or June, and when a dry and harsh wind, called the "loo," is blowing in the vast Indian plains!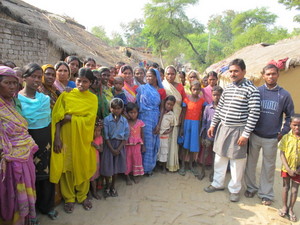 They recently discussed their commitment to Karuna-Shechen:
"In the past, we worked with organizations that had much larger projects in the field, so we could not be very much in touch with the population. We had too many villages (Ravindra had to supervise eighty-two villages) to cover so we could never really form a relationship with the villagers; many of them are wary of help. Time is needed to develop trust and form a strong bond.

"We feel really good about our work with Shechen because we have only four villages each. There are around 3000 to 4000 persons to get in contact with. This is a manageable number. We feel that we are really touching the reality of their poverty, and can gain their trust. They are using what they learn from us in their daily lives because of this frequent, personal, and repeated contact."

The number of new patients in our twelve villages had increased by 56% after the first ten months of the program. This indicates that people are feeling more empowered and hopeful about improving their lives and seeing that they do have options. We are grateful to our coordinators for their heart-felt work.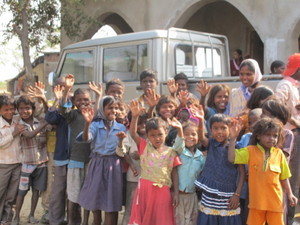 Village children and the Mobile Clinic

In November, Dani Laigret (Director of Shechen Clinic, Nepal), Shilpa Sinha (Director of Shechen Clinic, India), and Geraldine de Vries (Nepal Education Program Coordinator) traveled to Hyderabad, India to attend a project management-training course developed by the Foundation Bridderlech Deelen in Luxemburg for partner NGOs.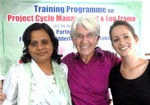 The course was on Project Cycle Management, focusing on the "Logical Framework" approach. The aim was to provide the participants with the tools to apply PCM principles, particularly for projects in need of funding. It was led by trainers from a main subsidiary of India's National Bank of Agriculture and Rural Development.

Geraldine de Vries: "This program will be very useful for planning and implementing our development projects in the field."
---------------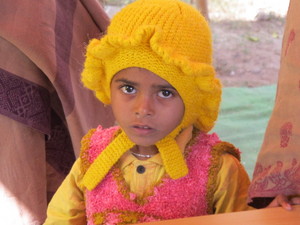 One of the many children K-S donors help in India.
Please join us.
Coming in the Spring Newsletter: Part II on Tibetan Medicine, Village grandmothers return as solar engineers, and more.