The Illinois Division of United Way of Greater St. Louis welcomed Employment Connection and three other United Way partner agencies with newly funded programming to the community on August 13, with a ribbon cutting celebration.
This new funding will allow Employment Connection to expand the "Back to Health, Back to Work" behavioral health program, which assists individuals with undiagnosed and untreated disorders in overcoming their barriers to employment, and ultimately achieving self-sufficiency.
"The program is a value-added component of our Competitive Employment Program, helping those with additional behavioral health barriers to identify and treat these disorders through counseling and supportive services," said David Kessel, Employment Connection's Chief Operating Officer. "We are grateful to the United Way for the opportunity to expand these services into Illinois.Seed funding and six years of continued support by the
St. Louis Mental Health Board
helped us to develop the program, and made this expansion possible."
The United Way's Illinois Division funds more than 30 health and human service agencies out of the more than 170 agencies funded overall by United Way of Greater St. Louis. The Illinois Division serves the counties of Clinton, Monroe, Randolph and St. Clair, helping more than 100,000 people each year throughout these four counties.
---
This summer, Employment Connection was proud to partner with
ARCHS
, the
Lutheran Foundation of St. Louis
, and
St. Louis Community College
on ARCHS' Culinary Arts Program. 12 female ex-offenders graduated during a ceremony on July 23, after they completing the eight-week class at St. Louis Community College - Forest Park.
Participants in the program were currently under state or federal supervision with probation and parole officers in St. Louis City or County. They received academic culinary training leading to "ServSafe" certification. They also received job training from St. Louis Community College and wrap-around social services support, life skills preparation, and career placement from Employment Connection.
ARCHS' program allowed female participants access to traditionally male career paths such as chef, head cook, line cook, institutional cook, and more in the culinary field. According to a National Institute of Corrections Report, the number of incarcerated women has skyrocketed, at rates exceeding men.
"This unique partnership is a crucial component to decreasing recidivism rates for these participants," said Les Johnson, ARCHS' Vice President of Family and Community Programs. "Having access to training by a nationally accredited and recognized culinary arts school will assist them with a second chance."
---
Dedicated Career Specialist Pat Brown Retires
Career Specialist Pat Brown has retired after working at Employment Connection for thirty years, dedicating her career to helping others. During her tenure she served as a Directed Job Search Facilitator, Trainer, Employment Specialist, Career Specialist and Case Manager, working both onsite at Employment Connection, at
Family Resource Center
, and with other collaborative partners.
A graduate of St. Louis University and Certified Workforce Development Professional, Pat served for many years as Unit Leader and as the Manager of Client Services. In her various roles, she developed opportunities for a wide variety of people, including ex-offenders, recovering substance abusers, New Americans, welfare recipients, and youth. She had an uncanny ability to communicate with people in all walks of life, including those who spoke very little English, and was always ready to help with a smile and a kind word.
She also worked as Facilitator of the Employment Connection Advisory Council and was a member of the Department of Labor's Job Liaison Committee. "Pat was tireless in her dedication of finding ways to help people and connect them to needed services, and truly epitomized Employment Connection's mission of 'assisting people with limited opportunities to self sufficiency,'" said CEO Brenda Mahr.
On behalf of the Board, volunteers, staff, and clients of Employment Connection, we'd like to say "thank you" to Pat, and wish her happiness and all the best in her retirement!
---
Employment Connection Attends CRDI's 5th Ward Carnival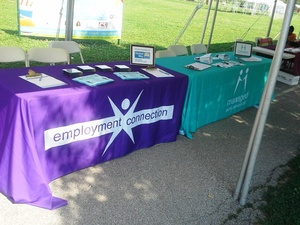 Employment Connection staff joined in at Community Renewal and Development, Inc.'s 6th Annual 5th Ward Carnival, providing information on our programs and answering questions.

Held August 10, 2013 in Desoto Park, thousands of residents received great information as well as enjoying live entertainment, vendor booths, an exotic petting zoo, pony rides, haircuts for boys, manicures for girls, massages, go carts, face painting, a spelling bee, and giant inflatables. Bingo, with prizes for seniors, and health screenings were also provided.

"This event really celebrates the history and revitalization of the 5th ward," said Sal Martinez, Executive Director of CRDI. Martinez worked closely with State Representative Penny Hubbard, 5th Ward Alderwoman Tammika Hubbard, and a variety of sponsors to host the event.

---
Clients, Partners, and Staff are Honored for their Service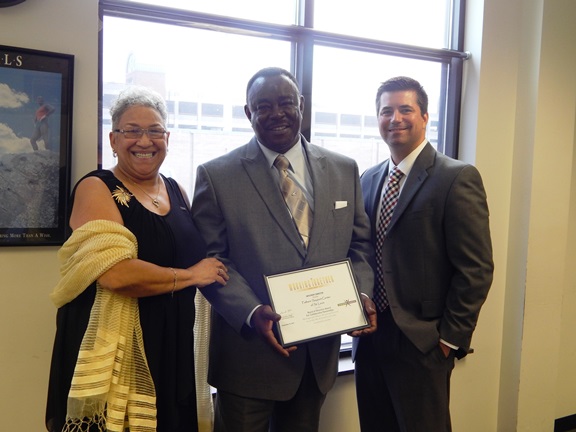 Pictured L to Right: Brenda Mahr, CEO, Employment Connection; Halbert Sullivan, CEO, Fathers' Support Center; J.D. Luhning, Board President, Employment Connection.
Employment Connection's 2014 Annual Awards Luncheon took place on September 19th at the organization's main offices on Market Street. The event, held every fall, honors Employment Connection's extraordinary clients, generous partners, and dedicated staff, with food and award presentations.
The following were presented with awards at the event:
Board Length of Service:
J.D. Luhning, Board President - 5 years
Art Weiss, Former Board Treasurer - 23 years
Volunteer of the Year:
Christina Brewington, Practicum Student, University of Missouri St. Louis
Client of the Year:
Nautica Allen, Youth Program;
Annie Malone
Transitional Housing;
Job Corps
Community Partnership Awards:
Community Renewal and Development
- Sal Martinez and Deanetta James
Fathers' Support Center
- Halbert Sullivan
Provident
- Marge Schicker
Neighborhood Enterprises
- Jim Roos, Mechelle Dunlap, and Dan Montrey
Veterans Court Technology Clinic
- Woody Powell and Kennedy Davis
Employment Connection's staff were also presented with awards for their many years of service, and honored for their dedication to providing quality services to assist others to self-sufficiency.
Thank you to everyone who attended the event, and we hope to see you again next year!
Additional pictures in sidebar below.

---
Volunteers Make a Difference
Groups Volunteer Valuable Time at Employment Connection
We love to have individuals and groups from the local community and organizations come in and volunteer their time at Employment Connection. Here are a few pictures of wonderful groups that have come in the past few months to help out!
Express Scripts
This group volunteered their time on a variety of
administrative and cleaning tasks around our offices.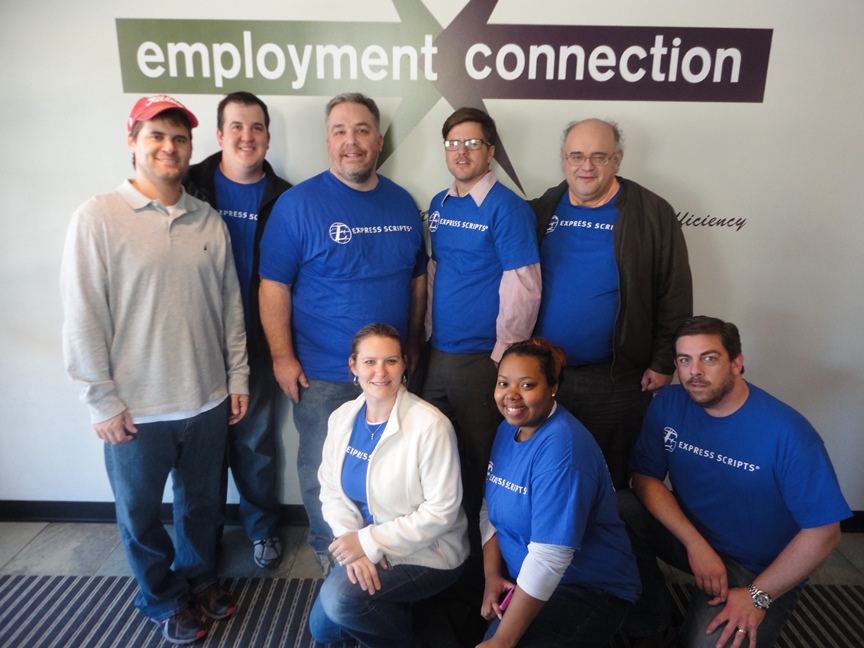 Edward Jones
These wonderful volunteers helped with some
outside projects, cleaning, and landscaping.
Wells Fargo
This group came from across the street and volunteered
their time sorting donations and shredding documents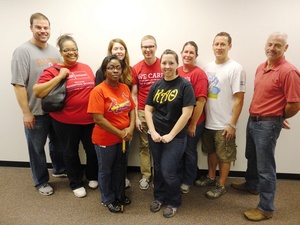 These are just a few of the many volunteers that give their time each month. Thank you from the bottom of our hearts to everyone who volunteers. You help keep Employment Connection running smoothly and are our greatest resource in assisting others to self-sufficiency!
---
Neighborhood Assistance Tax Credits
Available for Qualifying Contributions

Employment Connection currently has $50,000 in state tax credits under the
Neighborhood Assistance Program
(NAP) of the Missouri Department of Economic Development (DED). Businesses and organizations who make qualifying contributions to the organization are eligible to receive a 50% tax credit on the total amount of their charitable donation.
Donors making qualifying contributions just need to complete a one-page form, and submit the form with a copy of the canceled donation check to the agency. Employment Connection will then verify the contribution was received and submit the information to the State of Missouri for approval. In about 4-6 weeks the credit is awarded and notice is sent to the donor.
That's all it takes!
For more information on the available tax credits, contact John Robertson, Director of Development, by phone at (314) 333-5645 or via email at
robertsonj@employmentstl.org