Your tax-deductible donation will change lives!
Use the button below to securely show your support,
and
share the gift of self-sufficiency with those who need it most.

To donate by mail

:
Employment Connection
2838 Market Street
St. Louis, MO 63103
Checks to:Employment Connection
---

A few years ago, Lisa Shelley had a good job and felt she was living the American dream. Unfortunately, she saw her life change in a matter of months when her employment ended unexpectedly, leaving her out of work for the first time in her life. Due to her age, she had problems obtaining other employment, and became more and more depressed as the weeks went by. She lost her home, and made the decision to move in with her daughter in Georgia. Unfortunately, after living there only a short time, she developed severe allergies and was forced to relocate to a different climate.

With her options limited and her depression growing, she moved back to St. Louis. As a veteran, she was able to find emergency housing at Jefferson Barracks' Domiciliary Treatment Center. Shortly thereafter, she was referred to Employment Connection for employment assistance and job referrals. Working with the staff at Employment Connection, she found employment through Managed Work Services as a housekeeper at Barnes Jewish Hospital. Proving herself to be a hard worker, Lisa's co-workers at Barnes praised her positive work ethnics, and she was offered and accepted a permanent position as a housekeeper. The hospital staff on the floor she was assigned requested her specifically when they moved to their new site, because, in their words, "No one cleans as well as Lisa."

Lisa moved out of the Domiciliary and entered the housing program at Employment Connection, and with the assistance of her housing specialist moved into her own fully-furnished apartment. Lisa's life has changed for the better. "I'm grateful for everything and everyone that has helped me," she said. "I sometimes begin to cry when I talk about how things were, compared with how much better things are today."

Lisa is truly a success story. She has since resigned from Barnes-Jewish Hospital, in order to further her education. In December, Lisa joined the Board of Directors at Employment Connection, bringing valuable insights as a former client, and using her time and talents to give back to the organization which helped her attain and maintain a state of self-sufficiency.
---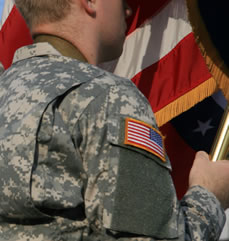 Homeless Veterans Program Continues
HVRP Program assists
Veterans out of Homelessness
Employment Connection has been awarded an extension of our Homeless Veteran Reintegration Program, which gives a hand-up to those who served our country, preparing local veterans with the skills and knowledge needed to overcome homelessness. Addressing the barriers experienced by the homeless veterans living in St. Louis not only helps these deserving individuals, but also brings positive social and economic benefits to the City through wages earned and reductions in public service costs. The needs of veterans experiencing homelessness are great, and as a result two experienced St. Louis non-profits have been selected to address this issue. Veterans may choose to work with either organization to receive high quality, necessary services.

Funding for the HVRP program comes from the U.S. Department of Labor's Homeless Veterans Reintegration Program, funded through a sub-contract with the City of St. Louis Department of Human Services. Employment Connection appreciates the extension and will continue to empower homeless veterans to become self-sufficient members of the St. Louis community. Employers or members of the community interested in supporting the veterans of HVRP may contact Employment Connection for more information at 314-333-JOBS (5627).

---
Client Celebrates One Year Employment Anniversary
A celebration was held for Sonja Belle for her one-year anniversary as Unit Clerk in the Housekeeping Department at Barnes-Jewish Hospital. Held at Applebees on January 30, the luncheon was sponsored by Managed Work Services of St. Louis.

Sonja began her employment at Barnes as a temporary worker employed by MWSstl. She was soon hired by Barnes as a full time employee, and since that time, Sonja has attended college and received her Master's degree in Business/Human Resources. The Housekeeping Department is pleased with Sonja's job performance, and has come to consider her a vital part of their team. MWSstl is proud of Sonja's success, and wishes her many more years at Barnes!

Attendees included (from left to right) Brenda Mahr, Sonja Belle, Pamela Wilson, and Jesse Lane (not pictured).
---
United Way Allocates Funds for 2013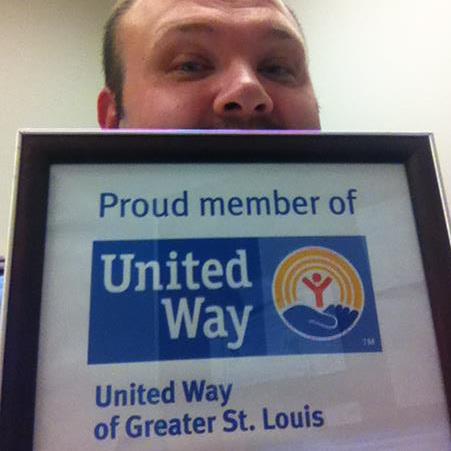 Employment Connection Awarded $450,015 for Employment Program
We are happy to report the community contributed $72,019,850 to support a strong system of quality agencies in our region during the United Way Campaign. As a proud member of the United Way Family of agencies, we receive our allocation from the Basic Needs & Economic Opportunity Panel. It is with appreciation to all who give so generously through the United Way that I report we were awarded an allocation of $450,015 to support our Competitive Employment Program, including a new position of Online Career Specialist to monitor our Directed Job Search Resource Center.

As a recipient of United Way funding, we are closely monitored by volunteers who carefully assess our services throughout the year. They use their collective knowledge to assure we demonstrate achievement of the United Way's Quality Standards. In a letter from Dayna Stock, Chair of the Community investment Committee, EC was commended for our dedication to the delivery of quality human services in the region.
For more information about the United Way of Greater St. Louis, visit their website at:
www.stl.unitedway.org
---
Veterans helping Veterans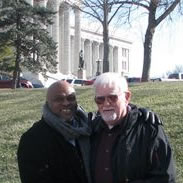 Vet Court Computer Clinic Recognized for Excellence
Housed in the offices of EC, the Vet Court Computer Clinic was recently recognized for excellence by the Missouri General Assembly. Kennedy Davis, Vet Court Computer Clinic Director, was recognized by Chief Justice Richard B. Teitelman of the Missouri Superior Court at a meeting of the Missouri State Assembly in Jefferson City on January 23. He was singled out for his successful emergence from the Veterans Court program, and for starting the Vet Court Computer Clinic. In his remarks, the Chief Justice stated: "Now we now have three regional treatment courts serving the unique needs of our military veterans. One success story is Kennedy, who served in the Army in the 1980s and who, a decade later, fell into drug and alcohol abuse, leading to multiple arrests. Kennedy graduated from the St. Louis Veteran's Treatment Court this past September, and now coordinates a computer clinic to help others in that program learn basic computer skills. The treatment court was his key to freedom from addiction and crime. Let's salute Kennedy, who is here with us today."

Our congratulations to Mr. Davis for this achievement!

Pictured above (from left to right) are Mr. Davis and Woody Powell, President of local Chapter 61 of Veterans for Peace.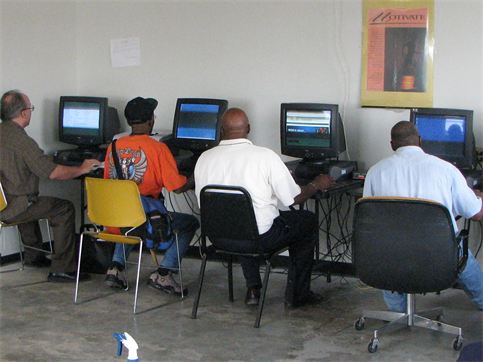 Veterans helping veterans is the core mission of the Veterans Court Computer Clinic, a clinic housed at Employment Connection's location. The clinic was started by Veteran Drug Court veterans bootstrapping themselves and setting up a computer clinic intended to help veterans learn basic computer skills, and prepare them for today's hiring markets. The clinic has grown to include non-veterans in need of those same skills, and has become a true community service, led by veterans. The clinic is co-sponsoring by Veterans For Peace, the St. Louis Veterans Court under Commissioner James E. Sullivan, and Employment Connection.
---
Volunteers Make a Difference

Groups Volunteer Valuable Time at Employment Connection
We're always excited to have individuals and groups from the local community and organizations come in and volunteer their time at Employment Connection. Here are a few pictures of wonderful groups that have come in the past few months to help out!
Express Scripts
These two groups worked on a variety of
administrative and cleaning tasks around our offices.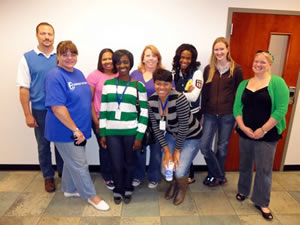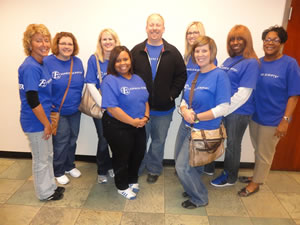 Maritz
These four intrepid volunteers volunteered on a project
in our basement, sorting and shredding old documents.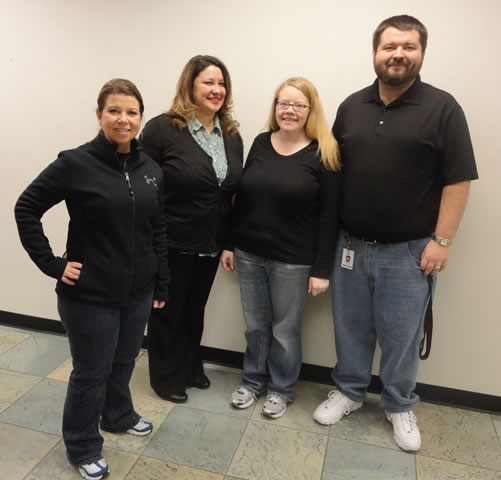 Wells-Fargo
This fantastic group came in at the last minute to help
our with our Toys for Tots Campaign before Christmas.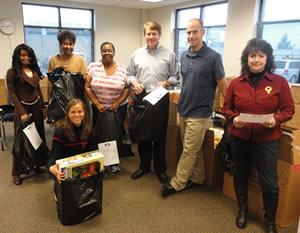 Herbert Russell
Herbert spent the fall semester at Employment Connection,
helping out the Development Department as an intern.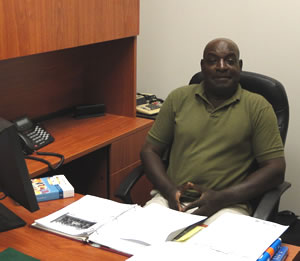 These are just a few of the many volunteers that give their time each week. Thank you from the bottom of our hearts, to everyone who volunteers. You help keep Employment Connection running smoothly, and are our greatest resource in assisting others to self-sufficiency!
---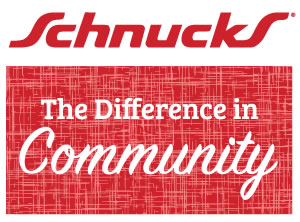 Support Self-Sufficiency while you Shop
Schnucks' eScrip Program makes Each Purchase Count

Do you know about the Schnucks eScrip program? When you shop at Schnucks, Employment Connection can receive up to 3% of the dollars you spend at Schnucks wach month, and it doesn't cost you anything, beyond what you're buying already!
Just ask for an eScrip card at the customer service counter at any Schnuck's location, and then register your card
online
or by phone at (800)931-6258. You'll need the Employment Connection group ID number, which is
500015219.
Once your card is registered, just have it scanned each time you shop at Schnucks, and Employment Connection will receive up to 3% of your monthly food purchases.
Why not give it a try? It's easy, quick, and free, and every dollar goes to help others!
---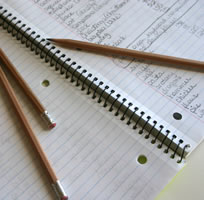 March through May 2013
Each orientation session starts at 1:00 pm. The orientation is from 1 pm to 4 pm. New students must attend each orientation day to be enrolled in the class. For more information, please call (314) 333-5613.
| | |
| --- | --- |
| March 2013 | 4th,5th,6th,and 7th |
| April 2013 | 8th, 9th, 10th, and 11th |
| May 2013 | 6th, 7th, 8th, and 9th |