Policy Governance Manual passed at Synod's March Assembly meeting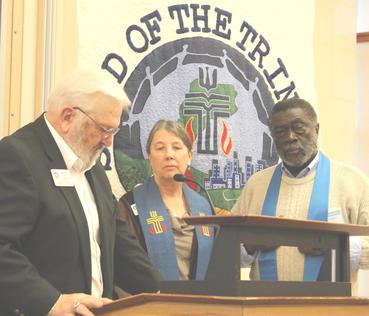 For two days (March 23-24) in State College, PA, over 50 Synod of the Trinity commissioners and ex-officio members converged to pray, sing, hear challenging sermons and discuss Synod-related items. At the top of the list was the approval of the Policy Governance Manual, which proposes that a Governing Commission be elected to oversee the implementation of the "ends" (purposes/goals) approved by the Synod Assembly. The commissioner role includes governance responsibilities as well as a renewed emphasis on their role as liaisons between presbytery and synod. Key to their work will be "visioning." The Policy Governance Manual was approved by a nearly unanimous vote.
Also at the meeting, the Rev. Barbara Chaapel (above center, Presbytery of Philadelphia) was installed as Moderator and the Rev. Johnnie Monroe (above right, Presbytery of Pittsburgh) was named installed as Vice Moderator in a ceremony led by Stated Clerk Wayne A. Yost. Look for the Rhythm of the Synod recap in the next Synod newsletter.
---
Officials react to passing of PCUSA Marriage Amendment

On March 17, the Presbytery of Palisades met in Fair Lawn, N.J., and cast a "yes" vote for the Presbyterian Chu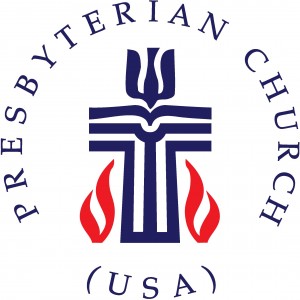 rch USA's proposed 14-F amendment, giving the amendment enough votes to pass. The amendment calls for a change in the wording of the "Book of Order," redefining marriage from being between "a man and a woman" to "two people, traditionally a man and a woman." The amendment on marriage will take effect June 21.
The amendment opens the door for PCUSA ministers to perform same-sex marriages in states where it is legal, but ministers who do not feel called to do so may refuse to preside over those ceremonies. Sessions are free to make the decision whether or not to host a same-gender wedding in church facilities.
To read the reaction from leaders within the Synod's region, click
here
.
---
Students get a taste for hunger through 30-hour famine weekend

These days, people – especially the younger ones – will say "I'm starving" in order to convey that they are hungry. During consecutive weekends in late February and early March, hundreds of youth got a taste of what it's like to be without food when they p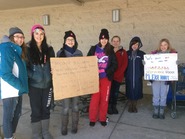 articipated with their church youth groups in World Vision's 30-Hour Famine. From after lunch on Friday until their afternoon meal on Saturday, these teenagers did not eat in order to better understand what less-fortunate children their age go through in other parts of the world.
While some churches held their 30-hour famines in their own buildings, over 130 students from 11 Presbyterian churches from the Pittsburgh and Beaver-Butler Presbyteries converged on the Crestfield Camp & Conference Center in Slippery Rock during those two weekends to help raise awareness for hunger. Among the activities the youth did while at Crestfield, which is owned and operated by the Pittsburgh Presbytery, was to go out into the Slippery Rock and Grove City communities and collect food for the local food banks. Some youth also baked cookies and took them out into the Slippery Rock area while others took part in a prayer walk.
To read more about the 30-hour fast, click here.

---
Pastor Joe Ellis running in Boston Marathon for UOVP mission

One of Pastor Joe Ellis' favorite readings in the Bible comes from
I
Corinthians 9:24-27. Those verses talk about training for and competing in a race. Those are also the words Joe is using as a guide as he takes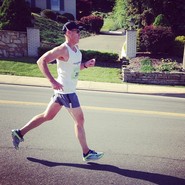 to his feet for an event that through his fundraising will ultimately benefit overseas mission work.
On April 20, Joe will compete in the Boston Marathon for the first time, marking just his third career 26.2-mile competitive run. The 58-year-old commissioned ruling elder at Colerain and Scotch Ridge Presbyterian Churches in eastern Ohio is collecting donations up until the day of the race, with the money raised going back to the Upper Ohio Valley Presbytery to support the presbytery's mission partnership in Malawi, Africa.
To read more about Joe's fundraising efforts, click
here
.
---
Upper Ohio Valley, Shenango and Synod offering scholarship opportunities

Presbyteries in the Upper Ohio Valley and Shenango are currently offering scholarships for college students. Certain restrictions do apply, and in both cases the deadline for applications is in May.
The Synod of the Trinity is also seeking to support students (both undergraduate and graduate) who are members of the Presbyterian Church (U.S.A.) to enable them to participate in "action/reflection" experiences either in this country or abroad.
For more information on all three scholarship opportunities, click
here
.
---
Synod office closed for Good Friday
In celebration of the Easter season, the Synod of th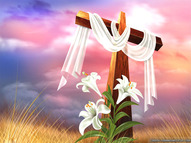 e Trinity office will be closed on Good Friday, April 3. The office will re-open Monday, April 6, at 8:30 a.m.
"

Go and make disciples of all nations, baptizing them in the name of the Father and of the Son and of the Holy Spirit,
and teaching them to obey everything I have commanded you. And surely I am with you always, to the very end of the age."
---