Kibben at helm of U.S. Navy Chaplains

Margaret Grun Kibben knew as an eighth-grader what she wanted to do with the rest of her life.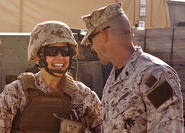 "I watched him (her youth pastor at the time, Blair Monie) and really enjoyed what he brought, and I felt a very strong call to be a minister," Kibben recalled.
That was roughly 40 years ago. Since then, Kibben has pursued a unique path to ministry as a Navy chaplain. She is currently the 26
th
Chief of Chaplains for the United States Navy Chaplain Corps, a position she assumed in August when she became the first woman to hold the position. It's the culmination of 29 years of active duty service in the Navy, which includes an eight-month tour of duty in Afghanistan.
Kibben, 54, is a pastor for the Presbytery of Philadelphia and grew up worshipping at Neshaminy-Warwick Presbyterian Church in Warminster, Pa. Coincidentally, Kibben took over as the Chief of Navy Chaplains from Rear Adm. Mark Tidd, who is also a teaching elder within the Presbyterian Church (USA).
To read more, click
here
.
---
Nickleville PC finds its niche on Tuesday mornings with service for disabled
If the Rev. Sue Montgomery had her way, the service she leads on Sunday mornings at Nickleville Presbyterian Chu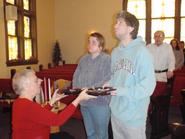 rch would include the same people she ministers to on Tuesday mornings. But for one reason or another, that's just not possible at this time. Through it all, however, Montgomery has put together a lasting ministry that will have a long-term effect.
For the last seven years, Montgomery has been leading a service on Tuesday mornings that affirms the men and women who live with developmental disabilities and also live in area group homes. Attendance in worship varies due to the medical, emotional and personal needs of the ones who participate.
Still, Nickleville hosts around a dozen people with disabilities plus their staff support on Tuesdays. The participants in worship travel from as far away as 30 miles to worship together and grow in faith.
"It's an interesting ministry; it's always evolving," said Montgomery, who due to a degenerative bone issue uses a wheelchair for mobility. "You never know what's gonna happen. It's where I find myself spiritually fed because you see the eyes open, you see the joy, you see the tears, you see the questions."
To read the full story, click
here
.
---
Meadville congregation 'WOW-ing' on Wednesdays with mentally disabled

Call it the "WOW factor."
For two years, the Church of the Redeemer in Meadville, PA, has been holding a Worship on Wednesday (or WOW) service that ministers to people in the area with developmental disabilities. The mid-week service began with less than 20 people coming through the doors and has blossomed into a weekly gathering that now numbers 70-plus.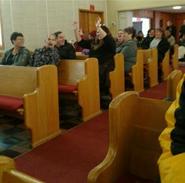 "It's hard to describe what it feels like," said the Rev. Rachel Johns. "It's a great joy to be in amongst that group and all of us encountering God in that way. It's just special."
The idea to start such a service arose in 2012 when the PCUSA held its General Assembly meeting in Pittsburgh. At the start of the meeting, those in attendance were challenged to help contribute to the Assembly's 1001 new worship ideas initiative and it got Johns thinking. She lives with two women who have special needs, part of the domiciliary care program in Crawford County that places people with special needs into homes to assist them with meals and medication. Through this service, Johns has also been associated with organizations in the Meadville area that provide services for the mentally disabled.
To read more, click here.

---
Olney spreading some 'Sonshine' on area youth in Philadelphia suburb

No matter the weather, the First Presbyterian Church of Olney is bringing some "sonshine" to youngsters in the northeast Philadelphia area.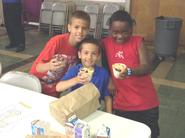 One Saturday a month, the church is opening its doors to elementary school-aged children in its neighborhood for a program called "Sonshine Stations: Promoting a Peaceful Planet." The activity engages children ages 6-11 in four 25-minute stations for the purpose of creating positive attitudes toward one another in a section of Philadelphia that is lacking in that area.
"It's an economically challenged area," explained Krista Barbor, the chair of the Christian Education Committee at First PC of Olney. "It's very ethnically diverse. … Olney is a place where (violence) is very much a reality, where the kids are very used to, unfortunately, a shooting down the block or their neighbor's older brother is in prison or their cousin is in prison. It's very much a reality for them."
To read more, click
here
.
---
Synod office closed for Thanksgiving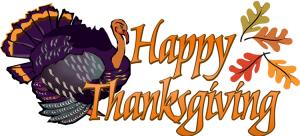 In observance of the Thanksgiving holiday, the Synod of the
Trinity office will close Wednesday, Nov. 26, at noon. The office will re-open Monday, Dec. 1, at 8:30 a.m. Be safe on the roadways
,
don't eat too much turkey and enjoy plenty of football!
---