In terms of an organization date, the Presbytery of Lackawanna as it is named is one of the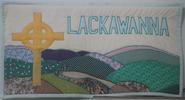 newer presbyteries in the Synod of the Trinity. But while it was organized in 1870, the roots of the presbytery obviously date back much further than that.
On June 21, 1870, three presbyteries (Susquehanna, Montrose and Luzerne) were merged to form the Presbytery of Lackawanna.
Over the years, the presbytery has been involved in many outreach programs, including the Operation Honduras project. For over 15 years, Operation Honduras has helped fund an annual mission trip to that country by neighbors from northeast Pennsylvania.
In each newsletter we will profile a different presbytery's history as part of the Synod of the Trinity's 300th anniversary celebration. Learn more about the Presbytery of Lackawanna
here
.