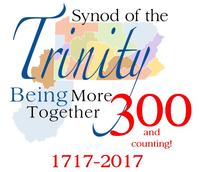 Aug. 3, 2017

The Synod of the Trinity Enews
Being More Together

For best viewing, click link above to view in browser.

Churches, please forward this newsletter to your Clerks of Session. To be added to our mailing list, email us here.

Sept. 17 Bulletin Insert!

#SynodTrinity300

On Sept. 17, 1717, the first synod meeting in the United States was held in Philadelphi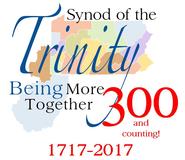 a. Now, 300 years later, we are asking congregations in the Synod of the Trinity region to help us celebrate our birthday by using a special bulletin insert that has been created to commemorate our special day.
Not only does the insert include historical information on the Synod, it also recognizes the Presbytery of Philadelphia and the Board of Pensions, both of which share a 300th birthday with us in 2017.
A special liturgy and hymn suggestions are also included in the insert, as well as information on a contest for congregations who share photos and videos from Sunday, Sept. 17, making them eligible to receive a $500 grant. Use
#SynodTrinity300
to enter.
Download the inserts here:
---
New Wilmington Mission Conference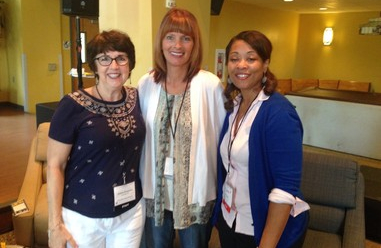 Sudan crisis focus of talks at annual meeting at Westminster College

For those living in the United States, Africa is a world away, but what is happening there is nonetheless very real. There's assault, looting, people starving to death, the destruction of homes and other war crimes prevalent on a nearly daily basis. And this situation wasn't lost on the New Wilmington Mission Conference.
On Tuesday, July 25, a special conversation was held on the region and the Sudan/South Sudan Mission Partnership Network with a gathering of 30 people from Ohio and western Pennsylvania at the conference at Westminster College. The talks focused on the human tragedy that is occurring in these northern African countries.
For more on the discussion and to learn about a new PCUSA "Give Hope To South Sudan" initiative, click
here
.
---
Pittsburgh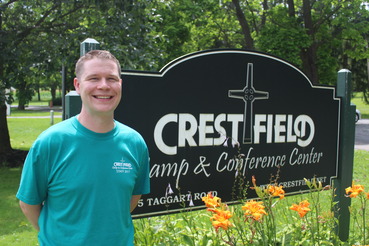 Rev. Tom Moore finds his calling as Crestfield interim executive director

The Rev. Tom Moore had no interest in the camping opportunities that were available when he began his ministry in the Pittsburgh area. And even though he eventually found himself on the Crestfield Camp and Conference Center Board of Directors, when the executive director's position became open he wasn't interested.
However, beginning Aug. 1, Tom took over that role as an interim. It's a position he is not only relishing but also excited to use to take the Slippery Rock facility to new heights.
For more on Tom and the goals he has set for the camp, click
here
.
---
Lehigh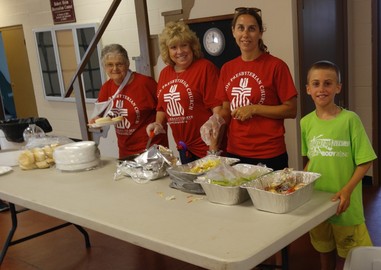 Summer lunch program right recipe for Pennside Presbyterian Church

Pennside Presbyterian Church in Reading, PA, spent two years preparing for a summer meal program that it knew was needed in its community. However, the first week of the program only one child showed up. But that didn't stop the volunteers from pushing forward, and now they are reaching between 30-40 children on a daily basis with a nutritional meal.
"Just the way doors opened was very inspiring," said the Rev. Dave Duquette. "The way God has led us has been a real journey through the wilderness kind of thing. The manna is being provided along with God's goodness. It's been an amazing experience."
To read more about this program, click
here
.
---
Autobiography

For Helen Cochrane, it's been 'A Serendipitous Life'

Being a second-career pastor is not easy. Being a woman in the 1970s who was a second-career pastor was even more difficult.
Despite the obstacles that came her way, Helen Cochrane overcame them to produce a fulfilling career in ministry that spanned five decades. Those struggles are just part of her autobiography titled "A Serendipitous Life."
"My whole life has been serendipitous," Helen said. "God is present in that, and I wanted to show a way that God is present in the whole process of getting women ordained."
For more on Helen's autobiography, click
here
.
---

African-American presence undeniable throughout Synod history

For 210 years, beginning in June 1807 with the founding of First African Presbyterian Church in Philadelphia, African-Americans have been a presence — not always a welcomed presence — but a presence nonetheless within the S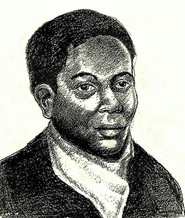 ynod.
African-American Presbyterians were organized by the Rev. John Gloucester. In 1807, Gloucester began preaching on a vacant lot in South Philadelphia. His fine baritone voice resounded through the mean streets and alleys of the ghetto as he told the story of Jesus. His work led to the creation of First African Presbyterian Church, with 22 members in June 1807.
In each newsletter we will profile a different part of history as it relates to the Synod of the Trinity's 300th anniversary celebration. Learn more about the influence of African-Americans in the Synod region by clicking
here
.

Did you know...?
Old Stone Presbyterian Church in Lewisburg, WV, is thought to be the oldest church building in continuous use west of the Allegheny Mountains. Originally named Lewisburg Presbyterian Church, the church's sanctuary on Church Street was built in 1796 from native limestone, with walls 22 inches thick.
The church escaped damage during the Civil War, when it was used as a hospital and sleeping quarters for troops.
---
West Virginia seeking flood relief help

There was some significant flooding in northern West Virginia recently. Ohio, Marshall, Monongalia, Marion, Harrison, Tucker, Taylor, Wetzel and Preston counties were all affected and are receiving aid.
The Presbytery of West Virginia has heard from several of its congregations in the area and are heartened that none have sustained damage.
The flooding has affected some 900 families that are known of at this time. That number will grow as the week continues and more families are reached. Teams of volunteers to muck out homes are needed currently.
For more on this situation, visit the Synod Facebook page
here
.
---
2018 Board of Pensions benefit plans due in October

"Employer Agreements" for 2018 coverages and benefits are due to the Board of Pensions by Oct. 13. Review, model and update or build your 2018 Employer Agreement. Log on to Benefits Connect and choose Employer Agreement to select benefits for employees to elect during annual enrollment this Fall. Access resources to help answer your questions. Go to
www.pensions.org
for the following: Guide to Selecting 2018 Benefits; web tutorials; Employers: Start Thinking about 2018 Benefits article; Selecting 2018 Benefits: Building Your Employer Agreement short video; Expanded pensions.org section
here
.
---
Olivet Church youth repair homes during Philadelphia Project

Youth from Olivet Presbyterian Church in Prospect Park, PA, along with their leaders, made the short drive to Philadelphia for the Philadelphia Project mission trip on July 9-15. While there, they worked with two north Philadelphia homeowners to repair their houses. A Synod of the Trinity Mission Travel Grant helped cover expenses for the group.
For more on their trip and to view a video from the week, click
here
.
---
Lackawanna presenting 'Whisper Sabbath' program

The Presbytery of Lackawanna's Congregational Innovation Team invites pastors, elders, teachers, church leaders and volunteers to "Whisper Sabbath" on Saturday, Aug. 26, from 9 a.m. to 5 p.m. at Camp Lackawanna.
Whisper Sabbath is a time to stop and listen for God's still, small voice in the midst of a chaotic world. A flexible schedule is planned, including time for silence, stillness, discussion and activities. All pastors, elders, teachers and church leaders or volunteers are welcome. Come and take a sabbath from the rest of the world for just one day, and see what God may have to say to you!
More information is available here. Registration is requested by Aug. 4 here. The $10 registration fee includes meals.
---
Russian Mission Network set for Pittsburgh

Christians from all over the United States will gather at Eastminster Presbyterian Church in Pittsburgh on Sept. 28-30 for the annual PCUSA Russian Mission Network conference. The conference this year recognizes the 100th anniversary of the Bolshevik revolution in Russia. The speakers and guests will be the guides to the revolution, the implications for the church during the Soviet period and the revival of the church in the Post-Soviet era. More details
online
.
---
Hasson Heights' Music on the Hill Festival and 5K race Sept. 9

The Hasson Heights Community Church in Oil City, PA, will hold its annual Music on the Hill Festival on Saturday, Sept. 9, to raise money for missions. This year, the sixth annual Music on the Hill 5K race will be held that day. This race is open to runners and walkers of all ages. The race begins at the church, 21 Fairview Avenue, Oil City.
New this year will be two kids' races — one for 3- to 6-year-olds and one for 7- to 11-year-olds. An online registration is available
here
or a registration form and additional information about the race can be found
here
. More information and the story behind this great event can be found on the Lake Erie Presbytery website
here
.
---
Global Leadership Summit in West Chester next week

Experience two full days of world-class speakers and inspiring stories to develop and strengthen your influence, leadership skills and inspiration. Westminster Presbyterian Church in West Chester will provide viewing for the Global Leadership Summit on Aug. 10-11. Westminster is hosting this live-streamed event sponsored by Willow Creek Association. It's open to pastors, team members and leaders, educators, moms and dads, students, businesses and not-for-profits, youth directors, etc. Bring yourself or bring a team. Click
here
to register and to learn more about the faculty for this year's Summit.
---
Wee Kirk NE Conference to be held Oct. 9-11

The 2017 Wee Kirk Northeast Conference will be held Oct. 9-11 at the Laurelville Mennonite Church Center in Mt. Pleasant, PA. The purpose of the conference is to inspire, equip, motivate and encourage small Presbyterian Churches and to provide rest and refreshment for the clergy and lay leaders of those churches. More information is available
here
.
---
Kaleidoscope conference focuses on stewardship

Stewardship Kaleidoscope will be held Sept. 25-27 in St. Petersburg Beach, FL. Kaleidoscope is the Presbyterian Foundation sponsored Annual National Stewardship Conference. It is for pastors, lay leaders and anyone who is looking to learn more about stewardship in today's church context. Over 30 workshops will be offered. To register or for more info, click here.