W. Virginia creates own leadership team

Jeremiah 29:11 says, according to the New International Version of the Bible, "'For I know the plans I have for you,' declares the Lord, 'plans to prosper you and not to harm you, plans to give you hope and a future.'"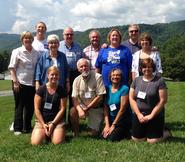 That in a nutshell is the backbone to the new West Virginia Institute for Leaders in Ministry program that is still in the ground-floor stages at the Presbytery of West Virginia. Designed to help ministers and educators gain valuable leadership skills, the ILM broke ground with a weekend meeting in early September. It was the first of a scheduled eight monthly retreats around the presbytery that includes nine leaders from the state and two facilitators from the Pastors' Institute in Asheville, N.C.
"The goal is to equip the pastoral leaders to make a different in their church and their church to make a difference in the communities," said Forrest Palmer, the interim executive presbyter at the Presbytery of West Virginia.
To read more, click here.

---
Kensington finds shining light at Beacon

At first glance, a visitor might see the rough edges around Kensington and miss the strengths and stories that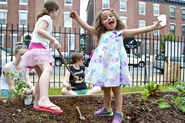 co-pastors Rev. Rebecca Blake and Rev. Karen Rohrer work at to encourage and uplift. A historically industrial Philadelphia neighborhood with residents who still take great pride in working with their hands, Kensington has seen many factories, businesses and even churches that once thrived there become a thing of the past.
"Institutions have been leaving this neighborhood for a long time," Blake said of the neighborhood that was once an industry center for textiles. "It was an industrial neighborhood that had a lot of pride and hard workers, and as the factories left, a lot of folks faced chronic unemployment and lingering injuries, and it spiraled into a lot of poverty and a lot of effects that go with that, including addiction, poor education and food insecurity."
Despite the change in the landscape of Kensington, the Beacon Presbyterian Church held its ministry there for 140 years. However, attendance problems threatened the church to close its doors. That's when the Presbytery of Philadelphia stepped in, fueled by the creativity of Broad Street Ministry, which sent in a pair of former interns with backgrounds in art and service to help revitalize the congregation.
To read the full story, click here.

---
Edmondsons getting most of out six-month call to Rwanda

Boyd Edmondson was at a crossroads. He h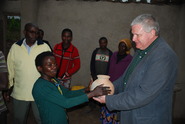 ad been called to be a preacher, but a tragic event involving his family made him question what exactly his mission in life was.
As it turned out, Edmondson decided to fulfill his commitment to attend a mission trip to Rwanda soon after the tragedy, and it ended up being a blessing, not only for him to be reaffirmed in what he had been called to do, but also to that area in central Africa where he would later sign up for a six-month stay. On top of that, Edmondson's calling has also helped revitalize the Presbytery of Kiskiminetas, injecting new enthusiasm into that western Pennsylvania team of churches.
To read more, click here.

---
Krislund Camp giving churches new summer excitement

Revitalization. It's a common word used these da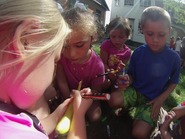 ys surrounding many churches and church organizations. Numbers are in a decline, and leaders are looking at ways to boost attendance and energy in order to survive.
During the summer of 2014, Krislund Camp and Conference Center seems to have found a way to help itself in this cause and at the same time provide a lift for the churches – both Presbyterian and neighboring – in the three-presbytery area (Carlisle, Huntingdon, Northumberland) in which it serves. Behind new director Gene Joiner, the 875-acre camp in Madisonburg, PA, has re-created itself through a unique program called Traveling Day Camps that brings Krislund's staff to churches for what Joiner called "camp in a bag" and described as "Vacation Bible School on adrenaline."
To read more about what Krislund is doing, click here.
---
Crestfield rewarded for fruits of its labor
It's been a pretty good stretch for the Rev. Betty Ang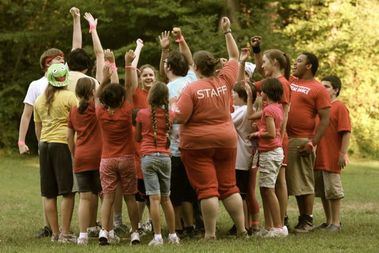 elini. The executive director for the Crestfield Camp and Conference Center in Slippery Rock, PA, just turned the corner on 10 years at her post. At the same time, she is part of an organization that received an international award and was also recently given a perfect score during a comprehensive review.
"It's nice to know that what you think the Holy Spirit has given to you is being recognized and that people care enough to care for you," Angelini said.
"Care" is something Angelini and her staff have given to Crestfield over the years, not just during Angelini's 10 years as the executive director, but also during the seven years she was on the Ministry Team and even prior to that when she was a youth helping out there. That makes the award and perfect review that much sweeter.
For more on Crestfield, click
here
.
---
Abington PC blowing out candles on 300th birthday celebration
A president has attended worship there. Ten other churches have spawned from it. And for 300 years, it has surviv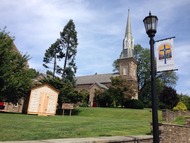 ed wars, depressions and even a building-leveling fire that would have caused numerous other entities to close their doors.
But Abington Presbyterian Church has flourished despite any obstacle that has come its way. That in itself is cause for celebration, but when one considers that the lifespan of the congregation covers four centuries, throwing one party to commemorate Abington's anniversary just didn't seem like enough.
That's why the congregation located north of Philadelphia is spending all of 2014 celebrating its 300th birthday. From building a log cabin on its property to hosting a 5K run/walk to mission trips to Montana, Abington Presbyterian Church is pulling out all of the stops to make sure it honors the significant milestone properly.
To read about the year-long celebration, click here.