Rhythm of the Synod: Assembly Meeting provides powerful conversation on race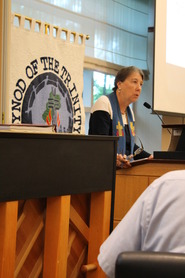 The week before the Synod of the Trinity Assembly meeting that took place on June 22-23, a shooting in a Charleston, S.C., church took the lives of nine black men and women during a Bible study in what is the latest in a string of gun violence involving whites and blacks. With that tragedy still in everyone's thoughts, civil unrest and what are congregations called to do to help combat the issue was the overwhelming topic of discussion during the two-day Synod meeting.
Setting the tone for the talks were powerful opening remarks from Synod Moderator Barbara Chaapel, who said "We, even the church, are part of this world of violence and hatred. Yet we as followers of Christ are not fully of that world. We follow a different path, the path of love. How do we live as followers of that path in a world where these acts are our present reality?"
To read the Rhythm of the Synod recap from the June Assembly Meeting in State College, PA, click
here
.
---
Synod of the Trinity's Governing Commission ready to lead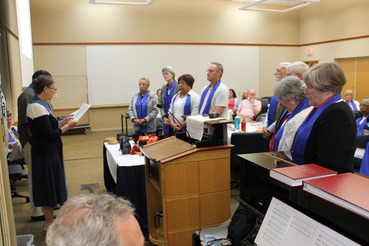 There were many highlights at the Synod of the Trinity's Assembly Meeting in State College, PA, in late June, from discussions about civil unrest and race relations to roundtable talks among commissioners to times of communion and listening to spiritually-moving sermons and devotions. Another key component to the two-day meeting was the formation of the Governing Commission, which includes eight commissioners who were elected to the group after being nominated by the Executive Advisory Team.
The Governing Commission, which all told includes 15 people, will oversee the governance work of the Synod, including the evaluation of the "ends" (purposes/goals). The Governing Commission is a product of the Synod's new Policy Governance Manual, which was approved at the March Synod Assembly Meeting.
To read the profiles of those on the Governing Commission, click here.

---
Rev. Fred Milligan has found new home at Santiago Community Church in Chile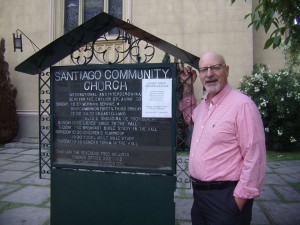 The Rev. Fred Milligan Jr. is a bit of a nomad. Moving from place to place, he has lived in eight states, spending time in anywhere from Portland, OR, to the Caribbean Island of St. Croix preaching the gospel and serving the church of Jesus Christ. So it seems fitting that after 37 years of ministry, Fred has launched out on his latest ministry adventure in Santiago, Chile. Whether it will be his last, only God knows.
Having served in Lackawanna Presbytery several years ago as interim pastor of Covenant Church in Scranton, Fred is currently a member of the Presbytery of Philadelphia where he recently served as interim pastor of the Newtown Presbyterian Church. In December of 2014, Fred began a three-year commitment at inter-denominational Santiago Community Church, an English-speaking congregation in Chile's capital city of 7 million people.
To read more about Fred's ministry in Chile, click here.

---
Ruffner Memorial PC in West Virginia now home to four other congregations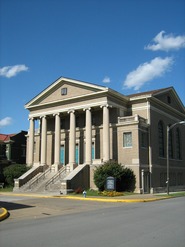 "Be careful what you pray for." That could very easily be the slogan for Ruffner Memorial Presbyterian Church in Charleston, WV, these days. A once overflowing congregation that had some 800 worshipers on a given Sunday morning in the 1960s has seen that number dwindle to around 40 in 2015, leaving a vast church building in its wake. Having way too much space than it needs, the session at Ruffner Memorial began discussing some years ago what it should do with all of its unneeded room. And they prayed.
What has happened has been downright remarkable. In the last five years, four other area churches have needed a place to worship and have been welcomed with open arms to the building on Quarrier Street. That's right, there are now five different congregational bodies meeting weekly at Ruffner Memorial, with four of them gathering on Sundays and three at nearly the same time.
To read more about how Ruffner Memorial PC has become home to four other congregations, click
here
.
---
Webinar and guide provide help to congregations in case of emergencies

A webinar titled Resources to Help Prepare Houses of Worship for Emergencies is available and a good resource for congregations. It features many preparedness resources available from Homeland Security, FEMA, DOJ and others. It focuses on a free resource guide for Developing High Quality Emergency Operation Plans for Houses of Worship, which can be found by clicking here. By stopping the webinar along the way, active hyperlinks to various resources allow direct downloading of the resources.
Find the webinar here.

---