Bruce Stevens named Synod of the Trinity's Executive Emeritus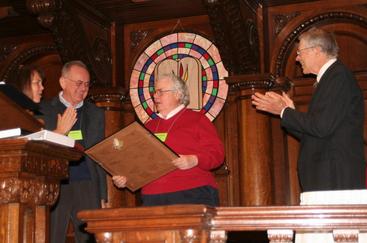 Former Synod of the Trinity Executive the Rev. Dr. Bruce Stevens was honored with Executive Emeritus status for "his long and faithful years of service to the Synod" during the Presbytery of West Virginia meeting on Feb. 28. Pictured with Bruce are, from left, Synod Transitional Executive Susan Faye Wonderland, 2014 Synod Moderator Jim Robinson and former Synod Executive Tom Johnston. Ideally a presentation like this would take place at a Synod Assembly meeting, but in this case Susan asked, with a smile, if those in attendance would stand in for the rest of the Synod of the Trinity! The back of the framed certificate was signed by the Synod's Executive Presbyters.
---
J. Herbert Nelson among speakers at two-day race seminar in Philadelphia

For two days in mid-February, "Race and Christian Witness" and other race-related topics were discussed in Philadelphia. It offered a chance for people to be involved in conversatio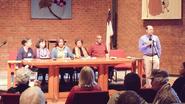 ns centered on racial equality and justice and how those talks need to be started in a church setting.
Organized by the Presbytery of Philadelphia in partnership with the Philadelphia Chapter of the Presbyterian National Black Caucus, the weekend event's featured speaker was the Rev. Dr. J. Herbert Nelson, the director of the Presbyterian Church (U.S.A.) Office of Public Witness. In the neighborhood of 75-100 total people turned out for the two rounds of talks.
"One thing that I always believed is that communities of faith that are diverse have a wonderful opportunity to give something to the larger society by having these types of conversations in their midst," said Kevin Porter, the stated clerk for the Presbytery of Philadelphia.
To read more about the two-day forum, click
here
.
---
Ash Wednesday drive-thru service a success at Westminster PC

There are a lot of things you can get conveniently at a drive-thru. Big Macs, banking services and prescriptions are just a few of them. Westminster Presbyterian Church has added to that list.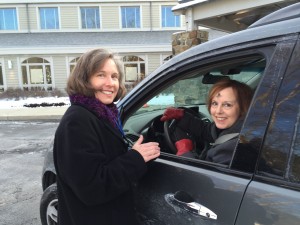 For 90 minutes on the morning of Ash Wednesday, the West Chester congregation offered drive-thru ashes – along with a free cup of coffee – to all of the passers-by willing to drive around the circle by the church's front door, located just off well-traveled Route 202. From 7-8:30 a.m. on Feb. 18, all four of Westminster's pastors were on hand to distribute the ashes and serve people who might otherwise not have the time or desire to participate in an Ash Wednesday service.
"Some Westminster members showed up who would otherwise not have been able to receive ashes," said the Rev. Don Lincoln. "Some folks from other congregations that didn't have an Ash Wednesday service at a time that allowed for them to participate came and shared the beginning of Lent with us."
To read more about the service, click here.

---
Kreutz Creek PC's Sandi Hoover finds her passion in Palestine

About five years ago, Sandi Hoover was on a sight-seeing trip through the Middle East, making stops in places like Greece, Turkey, Egypt and Israel. The final stop of the tour was in Bethlehem, and while she was taking in the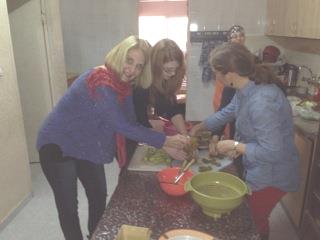 scenery she bumped into a group of students from the city's local university.
As they talked, the students shared their stories to Hoover, including what daily challenges and limitations they face growing up in a militarily-occupied country in the midst of the Israeli-Palestinian conflict.
What Hoover's been doing ever since that encounter is making about two trips per year back to Palestine working in the school system teaching English. Or she's helping mothers in a refugee camp who have disabled children who do not otherwise receive support from their own country.
Read more about Hoover's travels to Palestine
here
.
---
Carlisle's Mark Englund-Krieger takes look back at influential mission leaders in book
The Rev. Mark Englund-Krieger enjoys writing. He also enjoys research and history, so it's not a stretch that the executive presbyter of the Presbytery of Carlisle just rece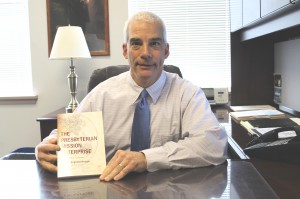 ntly polished off his second book. "The Presbyterian Mission Enterprise: From Heathen to Partner," which became available on Amazon.com in mid-February for $22.50, traces the history of mission work by the Presbyterian church by profiling a different mission leader (or two) in each of its 13 chapters.
With the foreword written by Hunter Farrell, the director of Presbyterian World Mission, the book was a labor of love that took nearly two years to complete, but it's a subject that's close to Englund-Krieger's heart.
"The world mission conversation has been something we've been very involved with here (at the Presbytery of Carlisle)," he explained. "It's been very important to me, and we have this partnership in Honduras that's been a big piece of our ministry in the presbytery."
To read more about the book, click
here
.
---