While the first presbytery in the United States met 1706 at the First Presbyterian Church of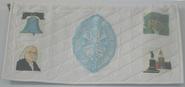 Philadelphia, the body was not known as The Presbytery of Philadelphia until a decade later. It was called "the presbytery," "The Presbytery" and the "General Presbytery" until then.
It wasn't until 1716 that the presbytery was officially named The Presbytery of Philadelphia. That's when three presbyteries — Philadelphia, New Castle and Long Island — formed the Synod of Philadelphia. In 1717, the presbytery met for the first time, allowing it to have the same anniversary date as the Synod of the Trinity.
In each newsletter we will profile a different presbytery's history as part of the Synod of the Trinity's 300th anniversary celebration. Learn more about the Presbytery of Philadelphia
here
.