DoubleTree Hotel Columbus/Worthington, Ohio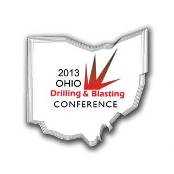 March 27 & 28, 2013
Co-Sponsored by: International Society of Explosives Engineers, Ohio Aggregates & Industrial Minerals Association, and Ohio Coal Association. Endorsed by: Ohio Department of Natural Resources
The Ohio Drilling and Blasting Conference kicks off on Wednesday, March 27, 2013, from 5:30 p.m. - 7:30 p.m. with a welcome reception and exhibits. On Thursday, hear various topics such as electronic detonator safety, underground drilling and blasting, Ohio blast records, current compliance issues and more. View the preliminary schedule at www.isee.org.
Although retraining credit hours have been accepted in the past by a number of States, due to recent changes in regulations, you need to be careful to check with your State Regulators to be sure you receive the proper retraining credit hours from this Conference.
The DoubleTree Hotel Columbus/Worthington, 175 Hutchinson Avenue, is located just off the 270/71 Interchange. A block of rooms has been reserved at the Doubletree Hotel with rates for the conference at $101 single/double, call (614) 885-3334 or 1-800-870-0349. Conference participants are responsible for their own lodging arrangements and should identify themselves with the Ohio Drilling and Blasting Conference when making reservations. All reservations must be made by March 4, 2013.
Click here to make your online conference registration.
Past/current list of exhibitors:
Amp-Tech Inc., ARMAG Corporation, Asheville Bit & Steel, Austin Powder, Blasters Tool & Supply, CWS Company, Dr. Edward J. Walter & Associate, Foam Concepts, Four Star Blasting Mats, HGH Group, Just a Click, Inc., L&K Equipment, M & M Certified Welding, MREL, Nobel Insurance, Power Deck Co., Sauls Seismic Inc., Smith Adjusting, Inc., Stemlock Inc., Trailer Dog, Vibra-Tech Engineers.
Contact ISEE at meetings@isee.org to reserve your booth or for sponsorship opportunities.
Forward this message to a friend