ROLLING THUNDER
So, it's officially summer now and for many of us that means thunderstorms. Some dogs aren't bothered by the noise or flashes of lightning but other dogs are terrified. Whether your dog is thunderstorm phobic or not, you might want to keep this article. Some dogs are fine when they are youngsters, then all of a sudden they start being panicky during a thunderstorm. This time of year a number of dogs run away or become destructive in their panic reaction to a storm. Most can learn not to react but it takes time, patience and training. Here are some tips that might help your dog during thunderstorms:
It's important that your dog have a safe place to go to in the house. It might be a crate, a closet or a bathroom. Its best if the place is in the interior of the house and not on an exterior wall. The darker and quieter the safe place the better. Some dogs are sensitive to the static electricity in the air, these might do well with a rubber mat to lie on.
Desensitizing your dog to the sound of thunder should be started well before thunderstorm season arrives. I have personally and professionally used "Suburban Thunder" purchased from www.f7sound.com. The directions are on the website. This may also be available to download from Itunes. It was recorded in Tampa, the thunderstorm capital of the world and it is amazing how realistic it is.
Calming music also works well. Being a foster Mom for rescue dogs, I use calming music all the time, in the home when I'm gone, in the car, during thunderstorms. I personally use CDs from www.ThroughADogsEar.com. The directions are on their website and also comes with each CD. Your dog will need to be sensitized to this music, rather than desensitized as with the thunder recordings. Do NOT comfort your dog with a soothing tone of voice. This will only make your dog's anxiety worse. If your dog must be near you, have him sit by your feet, so he's touching your legs. Do not have him in your lap, this will also increase his anxiety.
There are natural remedies that work great for some dogs. Dr. Nicholas Dodman recommends Melatonin. This can be purchased in health food stores. Find a natural form without any additives. Talk with your dog's veterinarian before starting melatonin and ask his suggestion for the correct dosage for your dog's size. Another natural remedy that works for some dogs is Rescue Remedy, which is a flower essence and completely safe. This can also be purchased in health food stores. Rescue Remedy does have to be given a few times through a storm, which is not a good solution for when you are away from the home. Melatonin can be given in the morning before you leave for work. Another remedy which works well for some dogs is the Thunder Shirt, www.ThunderShirt.com. I have personally used the ThunderShirt on two of my dogs during thunder and lightening and they work as described.
The suggestions above can be applied by the dog owner by following the directions of each product. For really severe cases of thunderstorm phobia, behavior therapy may be needed along with some of the remedies above. I hope your dogs stay safe and calm this summer. See you next month.
Submitted by Terry Nickerson, Canine Behavior Therapist and owner of Bark Busters of Brevard. You can reach Terry at 1-977-500-BARK or visit her company's website at www.Barkbusters.com.
---
IMPORTANT WARNING!
Last month the Barker ran an informative article about dog friendly backyards. After hearing from a reader, we would like to add this important warning. Although scattering food in the yard can be entertaining for your dog, if you live in an area plagued by fire ants, DO NOT do this. Pet food on the ground is an attractant for these ants.
Fire ants, a stinging, red ant, will inflict painful stings and can attack and kill small animals. If fire ants are native to your area don't leave food or other attractants in the yard and regularly check for colonies in areas where your pets or children play. If you find colonies, take steps to eliminate them or keep your pets and children away from them.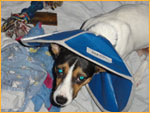 Here is an update on Bill. They did his orthepedic Surgery in Jacksonville Florida on May 24th. He had 2 pins put in his right rear leg and his pelvis was fractured in several different places. We found out Bill was still a baby at only 8 months of age. He has been on a month of strict cage rest and has another month to go. He has always been the sweetest boy. Even before his surgery when he was in great pain, not once did he complain or try to bite. Since his surgery he has been a little trooper. He has always been very good confined in his small playpen.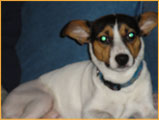 I think he somehow understands its for his best interest. He is now feeling a lot better and is wanting to play and you can see it in his eyes when the other dogs are playing he wants to join in on the fun. It truly is heartbreaking for myself to see the excitement in his eyes when the other dogs come to visit him and he wants to get out and romp around with them. He does get regular visits from one of my cats though. He seems to enjoy the company. It breaks my heart to know that such a sweet baby was put in the shelter by an uncaring owner that did not want to pay his vet bill. But in a way Bill is very lucky. He will now have a life he deserves and Ratbone will find a home for him that will love him forever and treat him special. Bill deserves this and so much more. Bill will always be a dog that will be special in my heart. Dogs like Bill are the reason i rescue, what better joy is there knowing you made such a difference in a young dogs life that didnt have a chance before.
To read more about Bill, click here.