Sella Bella Ratbone came from a kill shelter in Kentucky. She was brought in as a stray and nothing was known about her past. All they knew was that she was a young, tiny little girl who was very sweet. The shelter contacted Ratbone, and Sella was transferred up to foster in New York in August of 2009.
The Williams family applied for Sella, was approved, and they took Sella home in November 2009. Tina, her husband Rich and their 2 kids, Alexis and Brendan not only gave Sella Ratbone a safe and loving forever home, the family became a wonderful Ratbone fosterhome!!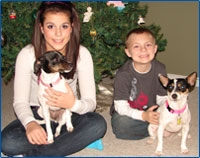 Tina says "Sella quickly adjusted to her new home with us and has been a source of laughter and love for the entire family. Sella shares our bed with us as and loves to sleep under the covers and snuggle with her sister Tink and foster brother Rex".
Here is picture of Sella with her human brother, Brendan and her fur sister is with her human sister, Alexis. :)


Adoptions Since Feb 1, 2011 - Congratulations!!!
Family
Dog/Location
Bigler Family
Vickie in GA! Fostermom Patty Smith
Manuelian Family
Chaquita in GA! Fostermom Patty Smith
Savage Family
Hayden in OR! Fostermom Dawn Scheller
Love Family
Wilma in NC! Fostermom Barbara Stephens Clippinger
Perez Family
Scrappy in FL! Fostermom Kelly Watson
Frost Family
Tessie in WI! Fostermom Cindy Overton
Chez Family
Stella in GA! Fostermom Patty Smith
Sosna Family
Roscoe in PA! Fostermom Anita Butler
Bruns Family
Tank in WI! Fostermom Cindy Overton
Langseth Family
Rikki Ricardo in VA! Fostermom Cindy Confer
Wilhelm Family
Targa in GA! Fostermom Patty Smith
Reider Family
Monty in NC! Fostermom Cooper Chapman-Ball
Yelmene Family
Tiny Tot in WI! Fostermom Cindy Overton
Paschal Family
Bo in TN! GAP Dog in TN
Deblase Family
Apollo in TX! Fostermom Paula Frazier
Clagg Family
Otto in MD! Fostermoms Jamie Clasen and Jen Wiley
Rodgers Family
Bodie in GA! Fostermom Patty Smith
Buster Family
Cupid in OK! Fostermom Caroline Wood
Schneider Family
Roxie in FL! Fostermom Mary Kay Lavin
Arnold Family
Danny in PA! Fostermom Kierstin Carreira
Detweiler Family
Jasper in MD! Fostermom Jamie Clasen
Wright Family
Starbuck in TX! Fostermom Paula Frazier
Weiler Family
Tilly in WI! Fostermom Cindy Overton
Lintz Family
Coco East in FL! Fostermom Mary Kay Lavin
Brown Family
Howlie Ratdell in KS! Fostermom Dot Lewis
Sexton Family
Festus P. in GA! Fostermom Patty Smith
Brooks Family
Mistee in WI! Fostermom Cindy Overton
Achilles Family
Snickers in NY! Fostermom Sue Carello
Wagner Family
Salieri in WI! Fostermom Cindy Overton
Baby Female Male


Martin is an older gentleman who, despite years of loyalty, was abandoned at a freeway off ramp when he reached what should have been his golden years. He found himself in a South Carolina animal shelter, alone, scared and in need of rescue. Older dogs don't fare well in shelters. Most people who go to shelters are looking for puppies or young dogs. Luckily for Martin, a local rescue group stepped up and took Martin just in time to save him from being euthanized. So, you might think, "That's that!"! He was rescued, he would be taken care of and would find himself a new home and a family to spend his remaining years with. But that isn't what happened.
Unfortunately, the rescue that saved Martin was already overcrowded and the only place for him was an outdoor kennel. It was discovered he had heartworms and his advancing age had brought with it arthritis, causing pain and mobility issues. The rescue didn't have the resources to take care of his health problems and Martin began to deteriorate so they sought help for Martin. Ratbone members were touched by Martin's plight, they were saddened to think this dog provided companionship and love to someone for years then when he was old and sick, he was dropped off on the roadside to fend for himself.
Ratbone has long believed that the "broken" dogs deserve a chance and will make an effort to find a spot for the dogs that are often passed over by other rescues. In Martin's case, Ratbone stepped up, taking Martin into their ranks. Martin went to a foster home; he no longer had to sleep outside in the cold, he began receiving the attention and love he longed for. Like many rescues, Ratbone had limited resources but when a special needs dog is accepted, Ratbone makes a committment to take care of his needs. Fundraisers and donations helped pay for the heartworm treatment Martin needed and he started taking a supplement for his aching joints.
After 6 months with Ratbone, Martin is free of heartworms, moving easier and ready for a home to call his own. Martin is a little gray around the muzzle but his foster mom calls that wisdom. He moves a little slow but these are his golden years and Martin likes to take it easy and enjoy life. His greatest joys are a soft bed with a blanket covering him, a nice leisurely walk and a little rub on the face. And let's not forget, good meals and snacks, but what Martin would enjoy most is a family all his own. If you might be interested in helping Martin truly reach his "Yappy Ending" check out his profile on Ratbonerescues.com.