MORE FUN AND GAMES
Who knew it would get even colder?
Submitted by Terry Nickerson, Bark Buster Behavior Therapist and Trainer
For some of us, it is so cold that little dog paws can't stand more than a minute or two outside at one time. This means our little friends are probably getting stir crazy so we wanted to bring you a few more fun activities to keep them active and busy, both physically and mentally. This kind of playtime will also help prevent destructive behavior as it will not only tire your pup out but prevent boredom. Try these out on cold, winter days, you may find yourself still playing them next summer.
CIRCUS CLOWN
If your dog likes to jump, you can burn off a lot of his energy by teaching him to jump over and through things. Start with your dog on a leash. Place a pole or stick just barely off the ground, and have your dog walk over it. As you raise it each time, you will need to move him back and let him get a running start. Give him lots of praise every time he jumps over. Once he masters the pole, try a Hula-Hoop!
STAIRWAY TO HEAVEN

Settle in at the bottom of the staircase, putting your dog in a SIT/STAY next to you. Throw your dog's favorite toy to the top of the stairs. Say FETCH or GET IT. After he dashes up the stairs and grabs the toy, call him to COME, ask him to DROP or RELEASE, and repeat as above until your dog slumps to the floor in giddy exhaustion. (Note that this is not a good game for dogs prone to injury or puppies, as their joints are still developing.)
RECALL REPRISE
Enlist a significant other or child to help with this game. Each person grabs a handful of treats or kibble. Stand a couple of feet apart. One person calls the dog to COME. When he does, he receives praise and a treat. Then the other person calls. Praise and treat. Both people take two steps backwards. Repeat. Every fourth or fifth time, use praise only. See how far apart (Different rooms? Different floors?) you can venture. For even more fun, have three or more people in different rooms calling the dog.
Games are fun and stimulating for your dog, provide them with some training and helps build a better bond between you and your dog! So, have fun and remember, these are games so if your dog gets tired of playing, don't get frustrated, take a break! Better yet, take a nap!

April 30th is a date to put on your calendar. That is the date of Ratbone Rescues 1st Annual South East Reunion. It will be held at Dogwood Dog Park in Jacksonville Florida. Festivities will begin at 9:00 AM and will wind down at 6:00 PM. It will be a great day of fun, food and fellowship with other rattie lovers like yourself. We will have games and prizes. A hearty lunch will be served at $10.00 a person. The menu will include pulled pork BBQ and chicken as well as various side dishes and drinks.
Admission to the event will be a new dog related item which will be raffled off at the end of the day. There will be some really nice dog collars and other unique, dog related items for sale to benefit Ratbone Rescues.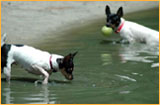 Please plan on coming! Many Ratbone adopters and Ratbone members will be in attendance, with their dogs, who will also have a great time. We will have games for them to compete in and the dog park offers a safe, controlled environment for them to play in. If you have lawn chairs and are able to bring them, please do. Pop up awnings or umbrellas for shade are also good.
Please help us make this a day to remember! Bring yourself, your friends, your family and your dogs and enjoy the day with us. Follow this link to more info on location, schedule and accommodations: http://www.ratbonerescues.com/SE_reunion.php. We look forward to seeing you and your dogs there.