Women's Writing and Art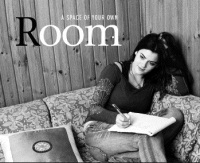 Our annual writing contest is back—with $2250 in prizes! Send us your best fiction, poetry, or creative non-fiction entries by July 15, 2011 for your chance to win. Visit our website for details.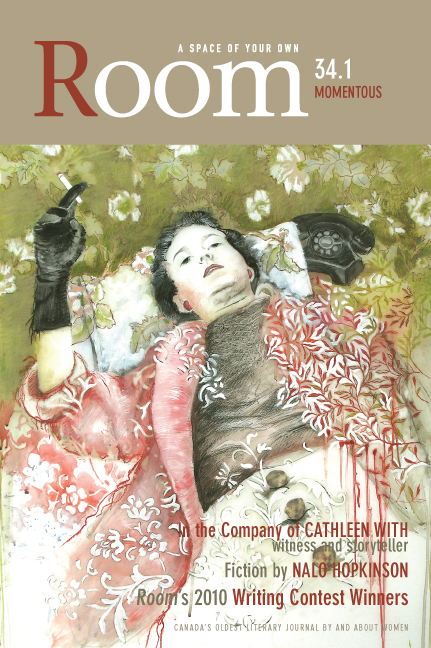 Issue 34.1, entitled "Momentous," will hit the stands in early March.
Editor Fiona Lehn said of the theme, "The stories told through the prose, art, and poetry in this issue deal with momentous occurrences—life-changing, unexpected events in which a person could lose herself, but instead, she grows stronger."
Issue 34.1 showcases the work of Room's 2010 writing contest winners, some of whom will be reading their work at Room's International Women's Day celebration.
This issue also features an excerpt from award-winning writer Nalo Hopkinson's novel-in-progress, Blackheart Man, and includes a candid discussion between Room's Lorrie Miller and author Cathleen With.
Our delicious cover art piece, "Blink," is by Teri Donovan. Subscribe now and have Room's issue 34.1 delivered to your door!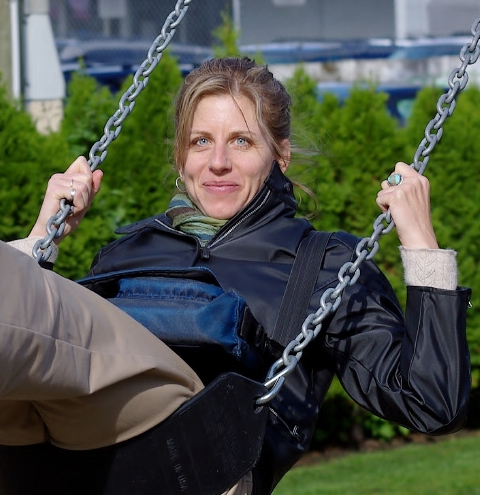 Fiona Lehn has enjoyed a varied artistic career that includes songwriting and performing across the U.S., teaching at-risk youth, running her music label/artist-support company, Droidfingers, and writing feminist science fiction.
She lives in Vancouver and joined the Room editorial collective four years ago.
For more information on her exploits, blunders, and coups, visit her website.
Celebrating International Women's Day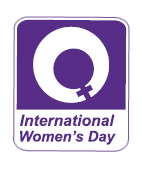 International Women's Day celebrates worldwide the economic, political, and social achievements of women past, present, and future.
March 8, 2011 will be the centennial celebration, and we're holding a celebratory evening of readings to honour the fabulous women out there who make Room possible.
Join us at Historic Joy Kogawa House (1450 West 64th Avenue, Vancouver), from 7pm–9:30pm for light refreshments and readings by four contributors to Room (Chantal Gibson, Jane Silcott, Judy McFarlane, and Sigal Samuel).
Suggested entrance donations of $2 go to Joy Kogawa House's Writer-in-Residence Program. Space is limited. To secure yours, RSVP to news@roommagazine.com by March 2nd.
Call for submissions on siblings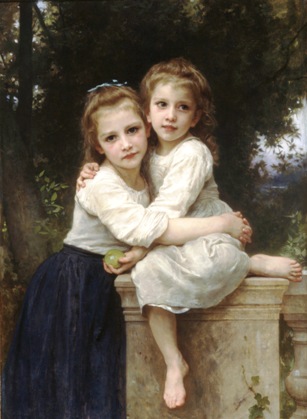 Room's 2011 winter issue will focus on Sibling Relationships.

Are the connections between twins different than those between other siblings? How do relationships with brothers differ from those with sisters? When does a friend become family?

Room is looking for original, unpublished fiction, creative non-fiction, poetry, and artwork exploring the multi-faceted dimensions of these complex relationships. From the joyful connections to the troubling heartaches of sib relationships—we want to read them all.

See our submission guidelines for details. Please submit to the attention of Amber Hitchen by May 15 2011.
Room's special 35th anniversary issue, Spring 2012
In 2012, Room celebrates its 35th volume of quality writing and art by women. We've chosen "Journey" as the theme for our special anniversary issue, coming to you in Spring 2012. So, if you want to be a part of our celebration, check out our submission guidelines, then send us your very best!
Deadline: September 15, 2011
Subscription offer for newsletter readers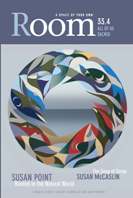 We're offering a special deal to readers of our newsletter. Subscribe now for yourself or a friend and you'll get an extra free issue added to your order!

1 year (4 issues + your FREE issue): $30

2 years (8 issues + your FREE issue): $53

Just order your subscription through our secure Paypal site and quote NEWSLETTER in the comment box. We'll add your extra free issue to your order, and you'll start getting the best in women's writing and art in the mail.

(Rates for institutions vary, please check here)
In this newsletter
International Women's Day event

Room is Canada's oldest literary journal by and about women.

Published quarterly by a group of volunteers based in Vancouver, Room showcases fiction, poetry, reviews, artwork, interviews, and profiles about the female experience.

It is a space where women can speak, connect, and showcase their creativity.

Want to be the first to hear about calls for submission and contest announcements? Subscribe to our new bi-monthly newsletter to receive these and much more.
Irina Kovalyova is our latest Collective member.
After writing two chapters of a science fiction novel when she was nine, Irina took a slight detour later in life to complete a master's degree in chemistry and a doctoral degree in microbiology.
She teaches biochemistry and technical writing at Simon Fraser University and has happily resumed non-academic writing. She's written for The Globe and Mail, Other Voices, and Grain. She's also been a long-time reader of Room (which we love!).
Welcome, Irina!
We always love to hear from you. Contact us by email or visit our website for our mailing address.
Be the first to hear about upcoming events. Join us on Facebook and Twitter: