Women's Writing and Art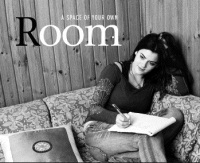 It's a little earlier than usual for making announcements about our annual writing contest, but our fabulous judges for 2011 have just been finalized, and we couldn't wait any longer to share our excitement!
The judges for next year's contest are:
Elizabeth Bachinsky (poetry)
Amber Dawn (fiction)
Susan Juby (creative non-fiction)
Keep an eye out for more contest information in our newsletter and on our website.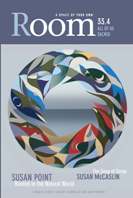 The next issue of Room is All of Us Sacred, our look at women and spirituality, and it's coming soon after the New Year.
Issue 33.4 is the fourth issue Clélie Rich has edited in recent years, and it's definitely her favourite so far!
"Learning Swadeshi" by poet Emily McGiffin opens the issue, and "The Corpse Pose," fiction by Casey Wolf, closes it. And in between―the best poetry and fiction we could find!
Susan McCaslin's essay on the Song of Songs explores bridal mysticism, and our interview is with noted Coast Salish artist Susan Point, whose image The Edge you see on our beautiful cover.
Don't miss this issue! You can find it in Chapters, but why wait? Subscribe now and have it delivered to your door.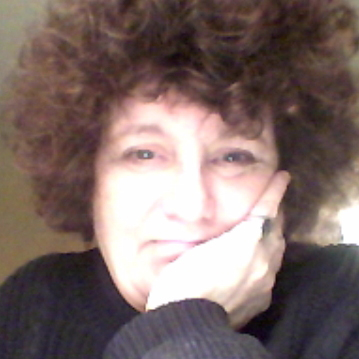 The women of Room's volunteer collective come and go. editor Clélie Rich came and went in the 90s―and then came back again. She's a poet and freelance editor living in East Vancouver with a cat and a herb garden, too many overflowing bookcases, and a growing but invisible selection of ebooks. She collects elephants and quaichs, and is currently Room's Production Coordinator.
Call for submissions on siblings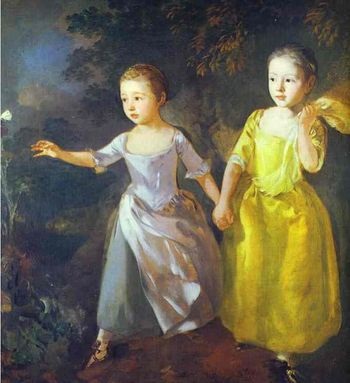 Room's 2011 winter issue will focus on Sibling Relationships.

Are the connections between twins different than that of other siblings? How are relationships with brothers different from those with sisters? When does a friend become family?

Room is looking for original, unpublished fiction, creative non-fiction, poetry, and artwork that explores the multifaceted dimensions of these complex relationships. From the joyful connections to the troubling heartaches of sib relationships—we want to read them all.

Please submit to the attention of Amber Hitchen by May 15, 2011.

See our submission guidelines for details.
Subscribe or renew now and beat the boost!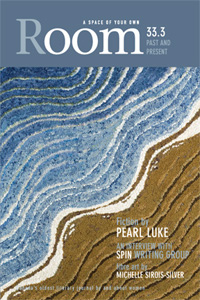 Faced with rising production costs, the Room Collective had a difficult decision to make. Increasing subscription rates is always a tough call, and we have been able to keep our rates unchanged for several years now. However, with the first issue of our 34th volume—due out before spring—we will be introducing very modest price increases.

As you are valued newsletter subscribers, we're giving you this early alert so you can act now and resubscribe at the old rate for up to two years. As an added bonus, new subscribers will get an extra free issue added to their order!

Last chance to subscribe at our current rate:

1yr (4 issues + your FREE issue): $27

2yrs (8 issues + your FREE issue): $48

Just order your subscription through our secure Paypal site and quote NEWSLETTER in the comment box. We'll add your extra free issue to your order and you'll start getting the best in women's writing and art in the mail.

(Rates for institutions vary, please check here)
Mark your calendars: International Women's Day is March 8. We'll be announcing events on Twitter and Facebook.
We would like to wish all Room readers a wonderful New Year and all the very best for 2011. May it bring you happiness, joy, and creativity.
In this newsletter
Room is Canada's oldest literary journal by, for, and about women.

Published quarterly by a group of volunteers based in Vancouver, Room showcases fiction, poetry, reviews, artwork, interviews, and profiles about the female experience.

It is a space where women can speak, connect, and showcase their creativity.

Want to be the first to hear about calls for submission and contest announcements? Subscribe to our new bi-monthly newsletter to receive these and much more.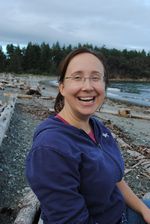 The lovely Rachel Thompson is our latest edition to the Room Collective and is wordsmith in many ways as both a successful web designer and poet.
Her first collection of poetry, Galaxy, will be published by Anvil Press in 2011.
She attended the Writer's Studio at SFU in 2004 and the Banff Centre's Wired Writing Studio in 2009.
Also a fan of participatory models of working together, a feminist literary collective is just her thing.
Welcome, Rachel. It's great to have you on board.
Contact us and letters to the editor
We always love to hear from you. We reply to all emails and will publish as many as we can in each issue. Contact us.
Be the first to hear about upcoming events. Join us on Facebook and Twitter: