Around the Ranch
---------------------
CHAR-O-LOT RANCH BREEDING ACADEMY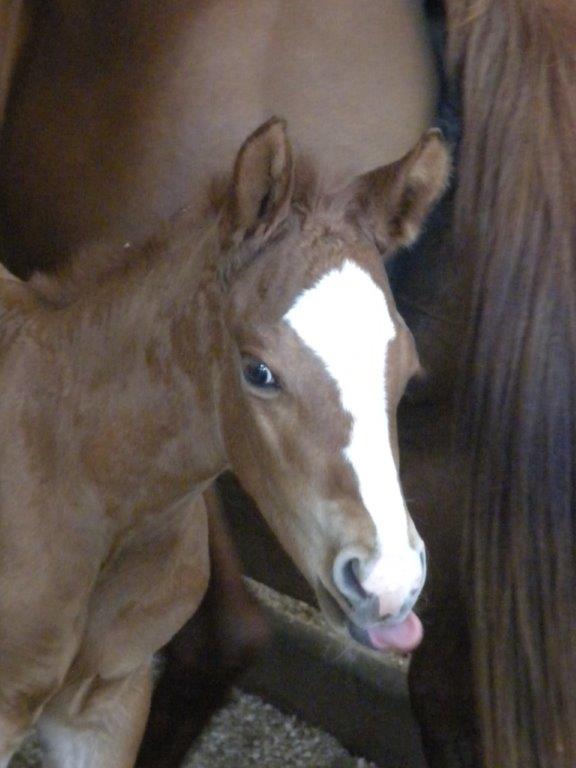 "WHAT IS IT ALL ABOUT?"
Our Breeding Academy offers a week long program with the small breeder ~ stallion owner and/or mare owner in mind. The program is designed as a hands on approach in our day to day operations, including managing mares, foals and stallions. Participants spend 3 full days from 8:00 AM to 5:00+ PM and 2 ½ days from 8:00 AM – 1:00 PM. We begin each day with foal checks (learn all about how to care for newborn and older foals), mare teasing and palpations with ultrasounds follow (strategies for breeding mares when, why and how). Stallion collections begin once all the mare work is complete for the morning~ semen collection and evaluation is then completed. Each course is targeted upon the students' primary interest and goals. We teach the students to read uterine ultrasounds, how to prepare and collect stallions (if desired) and how to inseminate semen.
All of our past students have left the farm with a lot of knowledge gained in a short period of time~ many of them still call for consults on problems they might encounter.
This is a program for the beginner breeder as well as the experienced horse person wanting to gain more knowledge in equine reproduction.
We Are Now Taking Reservations for 2015 For more information about our hands-on traning programs or to schedule your personal training email Sue at: sue@charolotranch.com
or visit our website at:
http://equinebreedingacademy.com

---------------------
LOOKING TO SHIP-IN-SEMEN?
"Let Us Take the hassle out of mare management"
Char-O-Lot Ranch offers full ship-in-semen services for all breeds as well as foaling-out services-
For a information, questions or a breeding contract please contact Sue Schembri @ 941-915-5998 or via email at
sue@charolotranch.com
---------------------
Congratulations to our Recent Purchasers!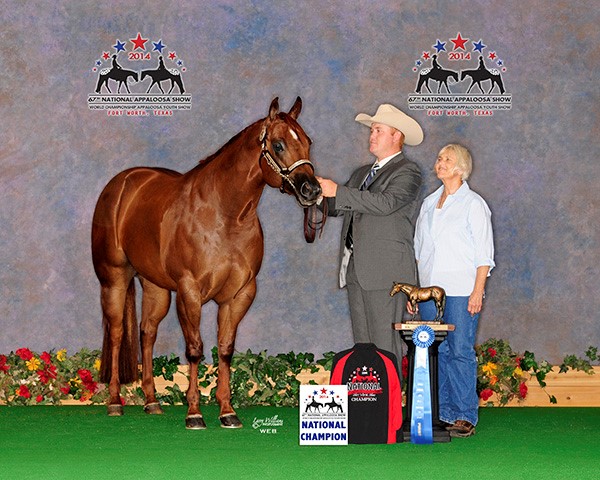 Louis Mohana, Bourg, Lousiana on his purchase of A Cool Pack - Multiple National Champion Mare
Sellers - Sweetwater Farms, James & Laurie Rylander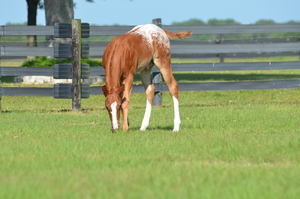 Gwen Zimmerman, Winsome Farms, Fort Myers, Florida on her purchase of Born Blazin - 2014 colt by Blazing. Look for them in the Yearling Lunge Line this fall. Sellers - John & Barbara Wilkie
(photo as a weanling)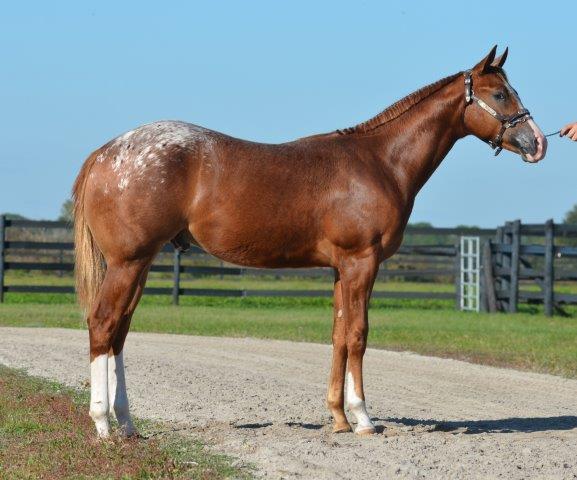 Leslie Bradford, Live Oak, Florida, on your purchase of Cool Skippin Secret, 2014 colt by The Secret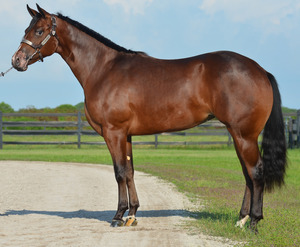 Carolyn Muzzey, Ft. Myers, Florida on her purchase of Secret Recipe, Reserve National Champion Mare by The Secret

---------------------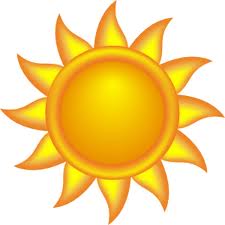 Come Enjoy Some Florida Sunshine
Upcoming Florida Shows:

March, 2015 - Venice, Florida at Fox Lea Farms
8 judges
For Information Visit:
http://foxleafarm.com

---------------------

Looking for a new show horses, broodmare or prospect?
Nice Horses For Sale
at reasonable prices
Give us a call or email us today at:
info@charolotranch.com
---------------------
Off The Farm Photos
Here are a few of the photos we have received from our Appaloosa breeders in 2015!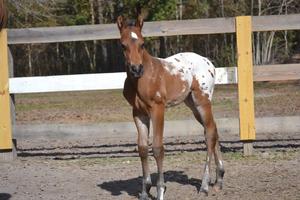 The Secret x Always A Cool Doll
owned by Hank and Brigitte Mentz, Covington, Louisiana
Illegal Secret x Lins Lookin Impressive
Owned by John & Glenda Lee Lovelace, Alva, Florida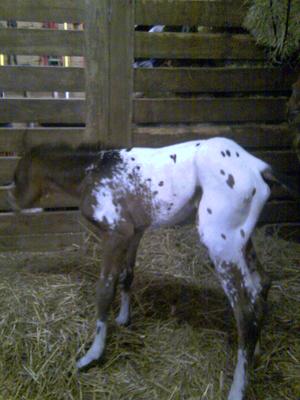 Secret Colors x Touchdown Sirprize
Owned by John and Barbara Proctor, Anthony, Florida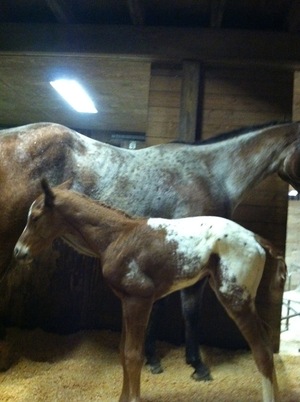 Secret Colors x Sheza Feature Dream
Owned by Ed and Nancy Wellham, Powder Springs, Georgia
The Most Exciting Time of the Year on a Breeding Farm! Foaling Time!

Foals are coming~ excitement prevails when they hit the ground and all is well with healthy mare and foal. Please be there for the magical moment. With current market standards waiting 11 months for your foal to arrive and then not to either be there or have her at a foaling facility (just in case) is a foolish mistake often made by in-experienced or even well experienced mare owners. Most all of the time if intervention is required the life of the foal (and the mare) can be saved with just some simple help or a call to your veterinarian in time.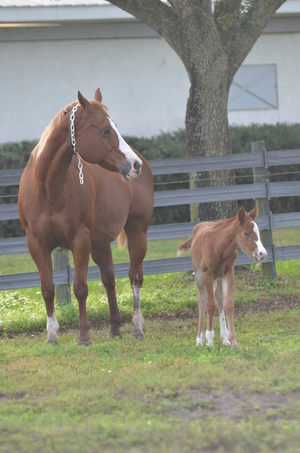 2015 Filly
Blazing x Totally Tasha
To re-breed or not to re-breed?
This is the age old question. If you are wanting to go on and improve your show string year after year by all means go ahead and breed again. Staying stagnant in the horse show world does not behoove winners or buyers. It is expensive? Yes, to most breeders the expenses of breeding your mare is high, but consider it your savings account toward that next great show horse or sale. Once your mare is bred she cost the same to keep and maintain (with a few extra vaccinations) and before you know it – she will be foaling. Then you have two! Be prepared to do something with the foal, if it is a halter horse prospect/project get out there and show him. Find local shows, we will start showing foals when they are about 6 months of age. If you attend your local show and there are no other foals, people are drawn to foals (they love them), you might then consider and ask your fellow competitors why they are not showing their foals and see if you can get a min-futurity started in your area. We started the Weanling Free-For-All held in November each year with donations from fellow exhibitors and some local businesses.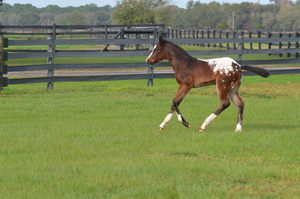 2015 Colt - HYPP N/N
The Secret x String of Storms
If you have bred a rider type foal, many of those also go out and compete in the halter futurities as well, however you can also handle the foal, work with it basic baby training and then mostly wait until it is of riding age to start. We turn our rider foals out each season to grow up in the fields and then bring them in as mid-late yearlings and start training them to lunge and get ready to saddle etc. Learn more about competing in the lunge line classes- make that your goal with your yearling prospect.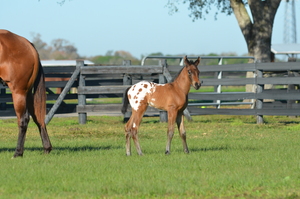 2015 Colt - HYPP N/N
The Secret x Vegas After Dark (by Mr. Yella Fella AQHA)
-----------------
Our 2015 Stallions Include:
The Englishman
2012 Stallion
The Hunter (Hall of Fame Sire) x Splendid Dreams
HYPP N/N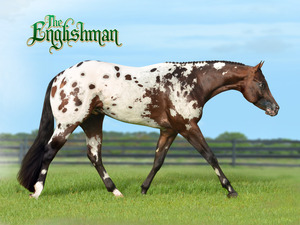 2015 Fee: $950.00
Foals Eligible for 2018 World Show Two Year Old Incentive Classes

The Secret Pardon
2008 Stallion
Multiple National Champion
The Secret x Pardon Me Poise
HYPP N/N
Owned by Sweetwater Farms
James & Laurie Rylander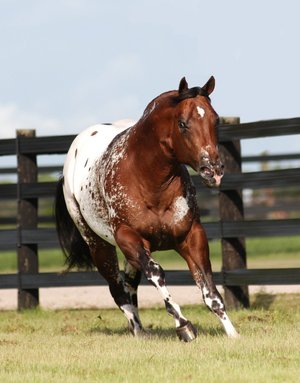 2015 Fee: $950.00
Foals Eligible for 2018 World Show Two Year Old Incentive Classes

Blazing
2010 Stallion
Born To Be Blazing x A Total Impulse
HYPP N/N
Owned by Blazing, LLC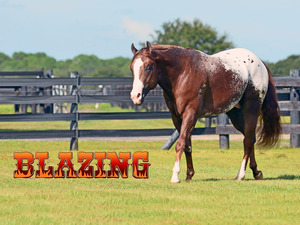 2015 Fee: $850.00
Foals Eligible for 2018 World Show Two Year Old Incentive Classes

Secret Colors
2010 Stallion
Multiple World Champion
The Secret x Pardon Me Private
HYPP N/H
Owned by Patricia Rich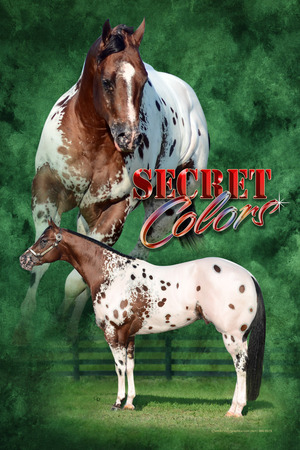 2015 Fee: $850.00
Foals Eligible for 2018 World Show Two Year Old Incentive Classes

Illegal Secret
2011 Stallion
National Grand Champion Stallion
Multiple World & National Champion
The Secret x Illegally Blonde
HYPP N/H
Owned by John and Glenda Lee Lovelace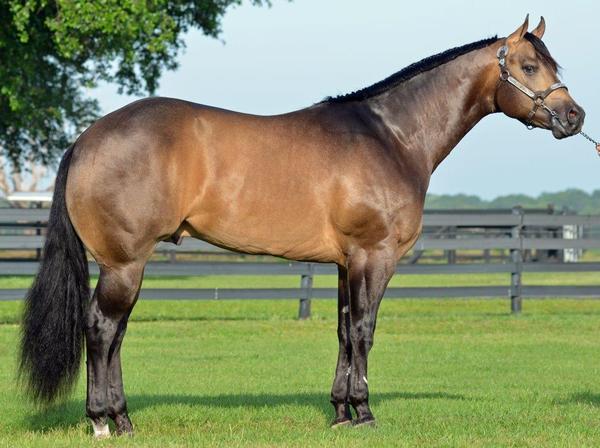 2015 Stud Fee by Private Treaty

JR Hunter
The Hunter x Rockability
HYPP N/N
Two Time ApHC World Champion
Bronze & Silver Medallion Winner
Superior Hunter Under Saddle & Hunter In Hand
Owned by Mike & Ronda Patterson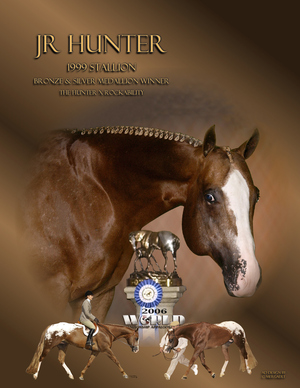 2015 Fee: $750.00
Foals Eligible for 2018 World Show Two Year Old Incentive Classes

So Riveting
"Karma"
2003 AQHA Stallion
Luke At Me x And Rightly So
Owned by: Teresa Porter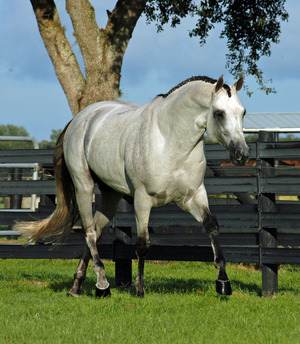 2015 Stud Fee: $1,000.00
First 10 Mares booked will receive a $250.00 discount

Twentyfourkaratchip
2008 Stallion
Zip's Chocolate Chip x El Bee Creme O Wheat
Multiple PHBA World and Reserve World Champion
Owned by Teresa Porter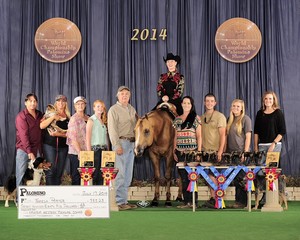 2015 Stud Fee: $1,250.00
First 10 mares booked will receive a $250.00 discount

Double Sun Frost
2000 Stallion
Sun Frost x Double Miss Hancock (100% Barrell Money Winner Producer)
Foals Eligible for:
Select Stallion Stakes
Future Fortunes
Triple Crown 100
Owned by Kathie Stuart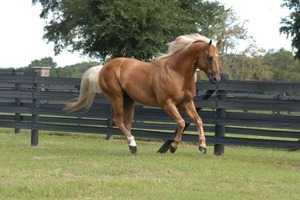 2015 Fee: $800.00