8th Annual Doug Schembri Memorial Show
Ocala, Florida
Ocala Horse Park
August 11 & 12, 2018
3 judges, 4 sets of points
For information:
jschembri@blalockwalters.com
or (941) 209-8665

Featuring Appaloosa & Open Classes

For a Show Bill and Up To Date Information please follow our Facebook Page at:
https://www.facebook.com/events/439407423174212/
or if you are not on Facebook, email:
jschembri@blalockwalters.com
and we will be sure you are sent information as it becomes available.
***********
A Special Thank You to our 2018 Show Sponsors!

Everglades Appaloosa Horse Club
West Florida Appaloosa Horse Club
Larry & Kathy Edwards
Patricia Rich
Phyllis & Tom Kirby
Brenda O'Neil
Windemere Equestrian Center
Wattland II
Page & Dawson Simpson
Billy Hegedus
Ashley Anthony
Amy Pappas
Goose Chase Farm - Alice Kline
Kathi Jernigan
Marci Vining

***********
For information on sponsorships, stalls or any additional information please contact:

jschembri@blalockwalters.com
or (941) 209-8665

-------------------

Looking for a new show horses, broodmare or prospect?
Nice Horses For Sale
at reasonable prices
Give us a call or email us today at:
info@charolotranch.com

For Sale: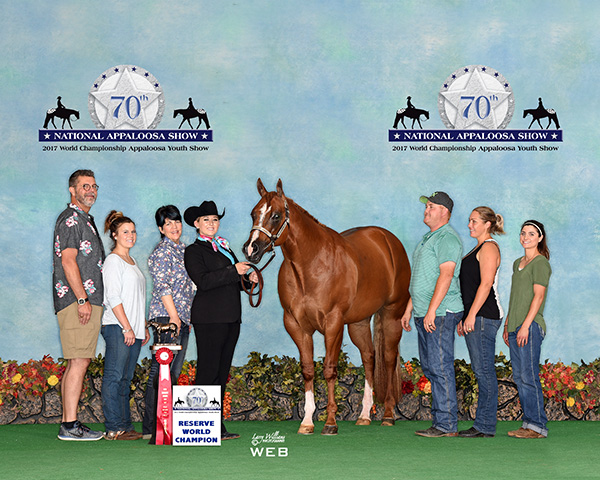 Retrobution
Suchan Ego x Retro Chic
3 Year Old Gelding
National and World Champion
contact: Sean Schembri
(941)812-8924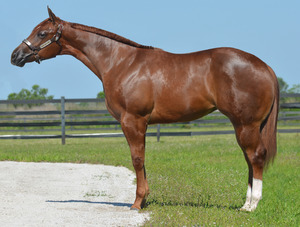 Amazing Secret
The Secret x Collect Call Girl
4 Year Old Mare
Bred to Tel N Secrets for a 2019 Foal
Foal will be Eligible for the Breeders Halter Futurity Open & Non-Pro, the WCHA Big Money Futurity and the Appaloosa Halter Futurity
contact: Sean Schembri
(941)812-8924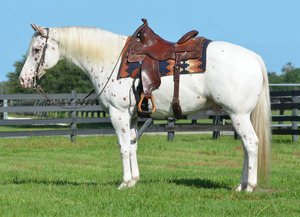 Trottintothescotchbar
Zippos Scotch Bar x Kyloe Hot To Trot
7 Year Old Gelding
Ready to Show in Ranch Events
contact: Jenifer Schembri
(941)209-8665
Video:
https://www.youtube.com/watch?v=wd_AqVl72sA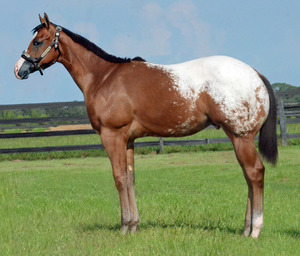 Dynamic Heir
Secret Heir x Affair With A Te
Weanling Colt
2018 National Champion
contact: Sean Schembri
(941)812-8924


Also Available:
Oh So Dreamy
2013 Appaloosa Mare
Two Time World Champion
Reserve World Champion
Reserve National Champion
In Foal to Secret Heir for a January, 2019 Foal
Foal will be Eligible for the Appaloosa Halter Futurity
contact: Sean Schembri
(941)812-8924

---------------------
Congratulations to our recent Purchasers!

Congratulations to Lynn Holloway, Ocala, Florida on her recent purchase of Secret Sauce 2016 APHC mare sired by the late legendary sire "The Secret" and X "Dominate Delite" -AQHA World Champion and
AQHA Congress Grand Champion mare. "Jolie" is in foal to Tel N Secrets for 2019.

Congratulations to Annette and David Jackson, Butler, Missouri on their purchase of Fancey, and 2009 AQHA Mare by Acoolest. Fancey is in foal to Tel N Secrets for 2019.

---------------------
BASIC BABY TRAINING
@ CHAR-O-LOT RANCH

All farms have their own ways and means of halter breaking and training their foals- we start leading our foals fairly soon after they are born - about a week or 10 days, we begin by leading beside their mothers to and from turn-outs daily. Leather suckling halters from Quillin Leather are purchased for each foal to begin their leading training. Each foal on the farm is handled daily and temperature is monitored at 4:00 PM- this insures that they are examined closely daily for any spike in temperature, catching any sickness before it accelerates. We closely monitor foal scours - one of the problems we have in Fl is our great tasting sand, very soon after foal heat scours come and go most of the foals develope a taste for C/R sand which is not problematic, only in causing diarreaha in some foals- we have found that Assure@ administered orally will help combat the wonderful tasting sand- it is also a digestive aid which helps to push the sand thru. Once the mad rush of foaling season has started to slow down and the majority of the mares are back in foal for the following year we can begin to work more with the foals one on one before they are weaned.

They learn the bathing process slowly by being showered each day with their mothers as they come in from turn-outs before the heat of the day begins. We have adjusted our weaning dates from 5 months to 4 months to better prepare the halter weanlings for their show career beginnings in early Fall. Mare's milk begins it waning down stage nutritionally at about 3 month past foaling- however even though we creep feed our foals from about 10 days of age they do not get the full digestive value of feed until about 4-6 months of age. Foals that are weaned at an earlier age can get that "potty" look to them which stems from either their body not being able to process the food well enough at that age or a worming program that is not adequately keeping up with the foals environment. We put these foals on DAC Digestive Aid and that does help the fitness on these halter foals and run fecal testing on a regular basis on all of our foals once they are weaned and whatever different type of wormer is needed is used. Strongid CX daily is also used on all weanling foals while they are in the barn, even with that roundworms can crop up and need to be addressed. Our foals are given free choice access to crimped oats and foal Feed from about 10 days of age thru creep feeders that are built into each of our wet mare's 12 X 24 stalls. Normally we wean them in the same stall where they have been residing for awhile with their dam, we remove her to another place on the farm, hopefully out of "hearing" range. We do still believe in the "full moon" weaning- although honestly it doesn't always work out with our preferable time to wean. Mares will be turned out on grass and hay only and monitored for the next few weeks for mastitus as well. We also find it best to wean a few mares at a time they tend to get less stressed that way and generally go off in a group together- most of the mares are glad to go back out by themselves at that point.

Then "Basic Baby Training" really starts. These foals are handled all over their bodies, legs and taught little by little to lead all about the farm around the hot walker, the covered arena the pony track, most all of the foals make use of our "necking donkey" Santiago - this really helps with the learning to tie up and saves hours of time. They then get a shower daily and taught about the wash rack and tying there and then going back to their stall and tying there until they are dry or for about 15 minutes until gradually a longer period of time. We have gotten many outside horses in that do not understand the concept of tying until they arrive, it is much more difficult to teach an older horse to tie up they are so much stronger and more likely to injure themselves then to teach a weaner who does not have enough strength to pull back and really get himself in trouble. Just because your weanling leads does not mean he will tie up as well- please teach them at an early age. Just as important- is do not to leave them unattended and utilize a slip release knot or clip when tying. Foals that are going through C/R basic training are also taught to go on the hot walker which helps then learn to lead as well.
The show barn foals (halter futurity prospects) go thru a period of feed adjustment when they are switched over to crimped oats, Sentinel Feed and Ultimate Finish. To avoid stress and going off feed these foals are all given Gastrix twice a day until they are regulated and eating as they should.

At this point I would like to stress watching the broodmares and keeping them in good body condition - once they are weaned. Many of them tend to lose weight when the foals are pulled off and care should be taken to ensure they bounce back up again- early gestation is an important time when next year's foal is being formed to insure a healthy pregnancy and viable foal in the following year. Some mares do very well on high quality hay and forage while others require grain as well to maintain good body condition year round. We group our mares in fields according to their nutritional needs.
Summer is Show Season!
We all happy to be home from a very successful Appaloosa National Show during which many more Champions were created and memories were made.

Next on the Char-O-Lot Ranch agenda is the 8th Annual Doug Schembri Memorial Horse Show at the Florida Horse Park in Ocala, Florida on August 11 & 12, 2018. This year promises to be a fun weekend with open classes as well as a full slate of ApHC approved classes. This will be our first show at the Ocala Horse Park with an exhibitors' party on Saturday night and 4 sets of Appaloosa Horse Club points. Co-sponsored by the West Florida Appaloosa Horse Club and the Everglades Appaloosa Horse Club, this show will also be a part of the Everglades Appaloosa Horse Club year-end awards. Sponsorships are welcome. Please contact Jenifer Schembri.

At the end of August we travel to Michigan for the Michigan Appaloosa Horse Club's Summer Classic at the MSU Pavillion in East Lansing, Michigan. This is always a great show!

Rolling into September we head to the Breeders Halter Futurity in Des Moines, Iowa, and this year we will follow that up with a trip to Fort Worth for the WCHA and Big Money Futurities with weanlings and yearlings.

Summer is also time to catch up on everything around the farm post foaling and breeding season. Most foals are weaned and either being prepped for the Fall Futurities or ready to turn out in the fields to grow up.
*********
Congratulations to All of Our Clients on a Great 2018 Appaloosa National and Youth World Show!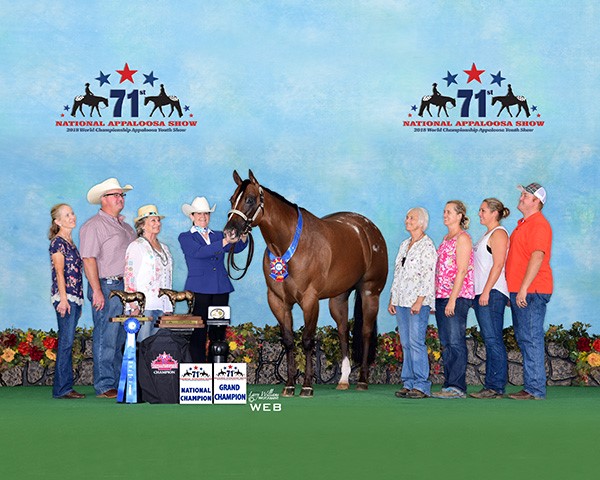 Telarumor
Telasecret x Mr Maid A Doll TF
Owned by Deb Sinz
2018 National Champion:
Grand Champion Mare
Open 3 Year Old Mares
Non-Pro Grand Champion Mare
Non Pro 3 Year Old Mares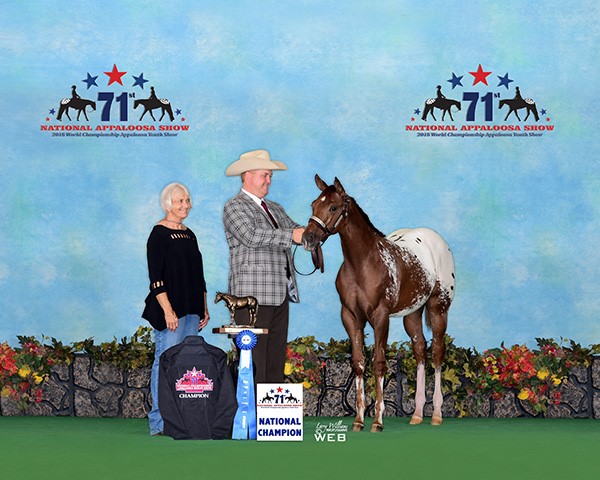 Tel N Colors
Tel N Secrets x Vegas After Dark
Owned by Patricia Rich
2018 National Champion:
Weanling Fillies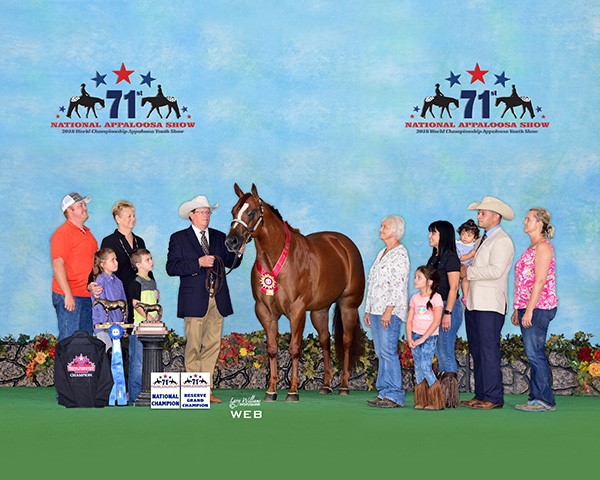 Prety Good Attencion
Attencion x Prety Covergirl
Owned by John Lovelace
2018 National Champion:
Non Pro 2 Year Old Mares
Non-Pro Reserve Grand Champion Mare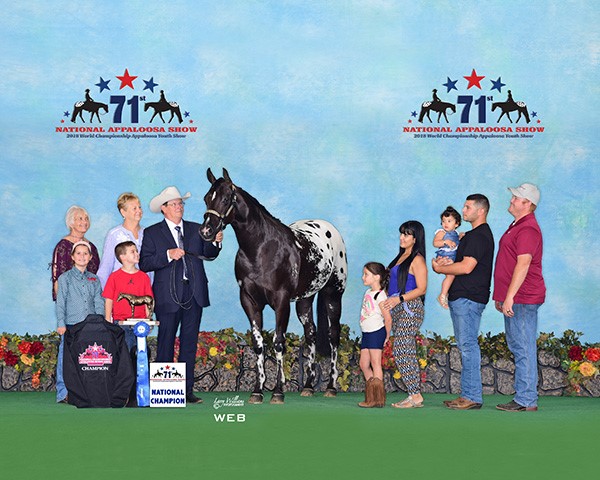 Black Tie Affair
The Hunter x Splendid Dreams
Owned by John Lovelace
2018 National Champion:
Non Pro Most Colorful at Halter
2018 Reserve National Champion
Most Colorful at Halter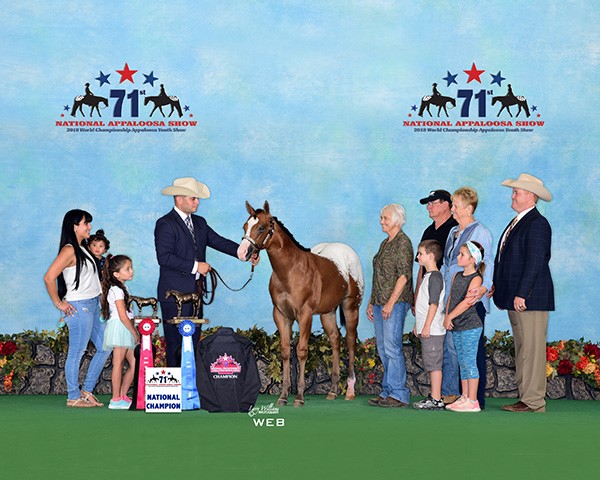 Dynamic Heir
Secret Heir x Affair With A Te
Owned by Jorge Bravo
2018 National Champion:
Non Pro Weanling Colts
2018 Reserve National Champion
Weanling Colts
Offerred For Sale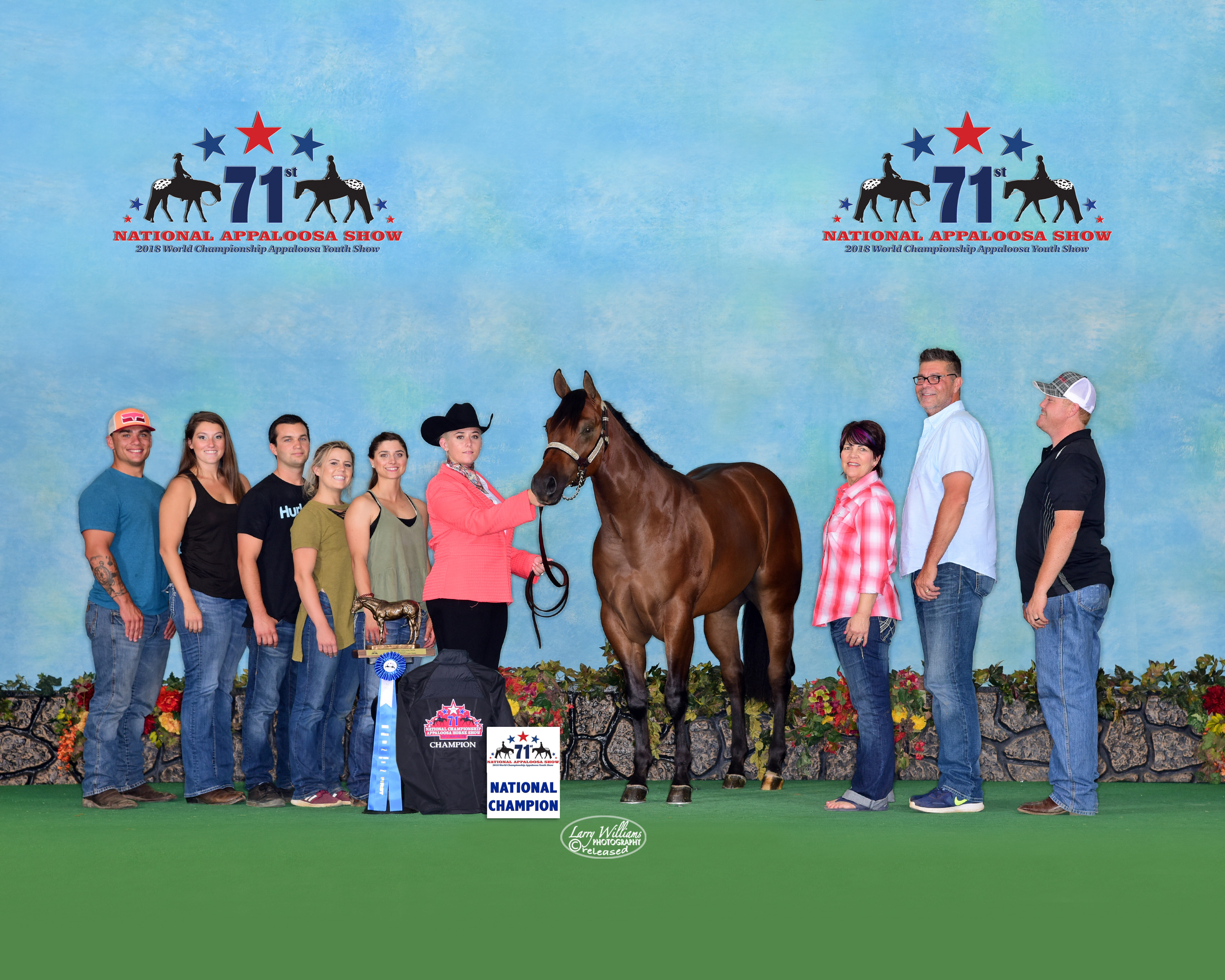 The Secret Law
Owned by Beck Farms
2018 National Champion:
Non Pro Yearling Geldings
Open Yearling Geldings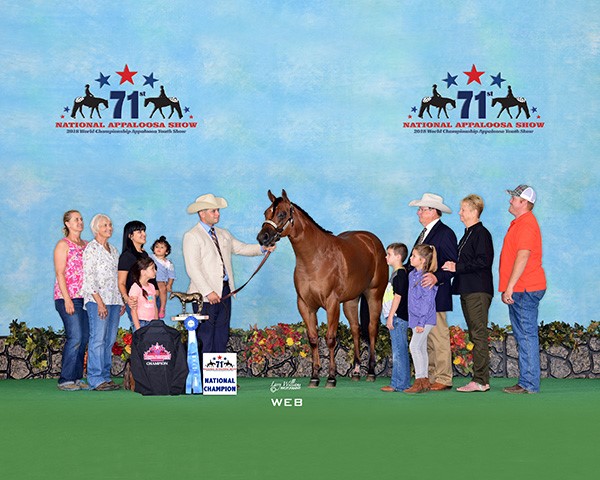 Promise Not To Tell
Secret Heir x SS I Got The Goods
Owned by Jorge Bravo
2018 National Champion:
Non Pro Yearling Mares

Congratulations to Ricardo Rejon, agent Joaquin Delon Paez, on your purchase of this nice mare!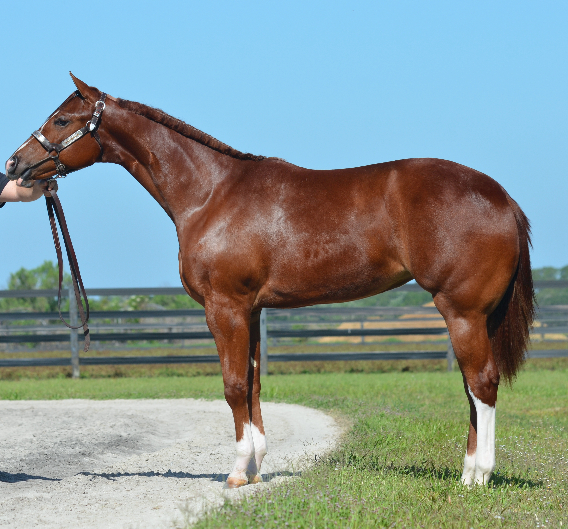 Shes Got Guns
The Amazing Gunslinger x String of Storms
Owned by Debbie Mignosi
2018 Reserve National Champion:
Yearling Mares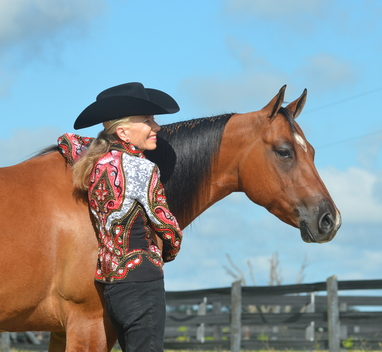 Taking Hits
Chocolately x Hot Kisses
Owned by Brenda & Andy O'Neil
2018 Reserve National Champion:
Non-Pro Masters' Western Pleasure
Non-Pro 35 & Over Western Pleasure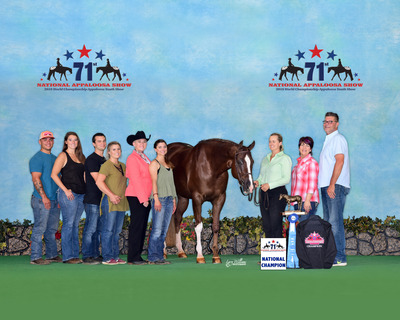 Hunting In Rhytym
The Hunter x Temons Tonka
Owned by Beck Farms
2018 National Champion:
Hunter In Hand 4 & Over Mares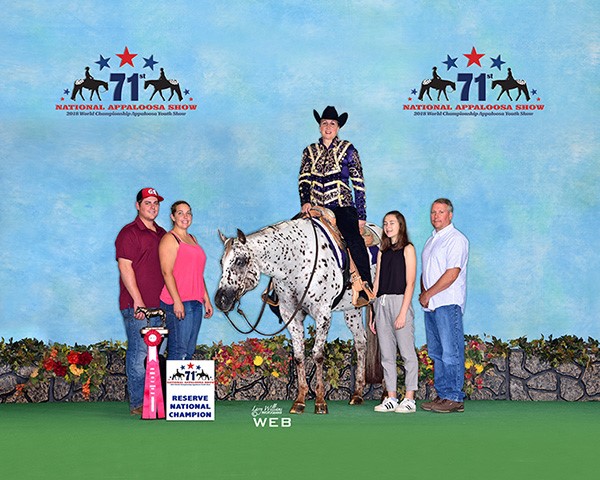 Miss Dott Comm
Iza Last Jet x Zippin Red Dee
Owned & Shown by Debbie Geraci
2018 Reserve National Champion:
Novice Non Pro Western Pleasure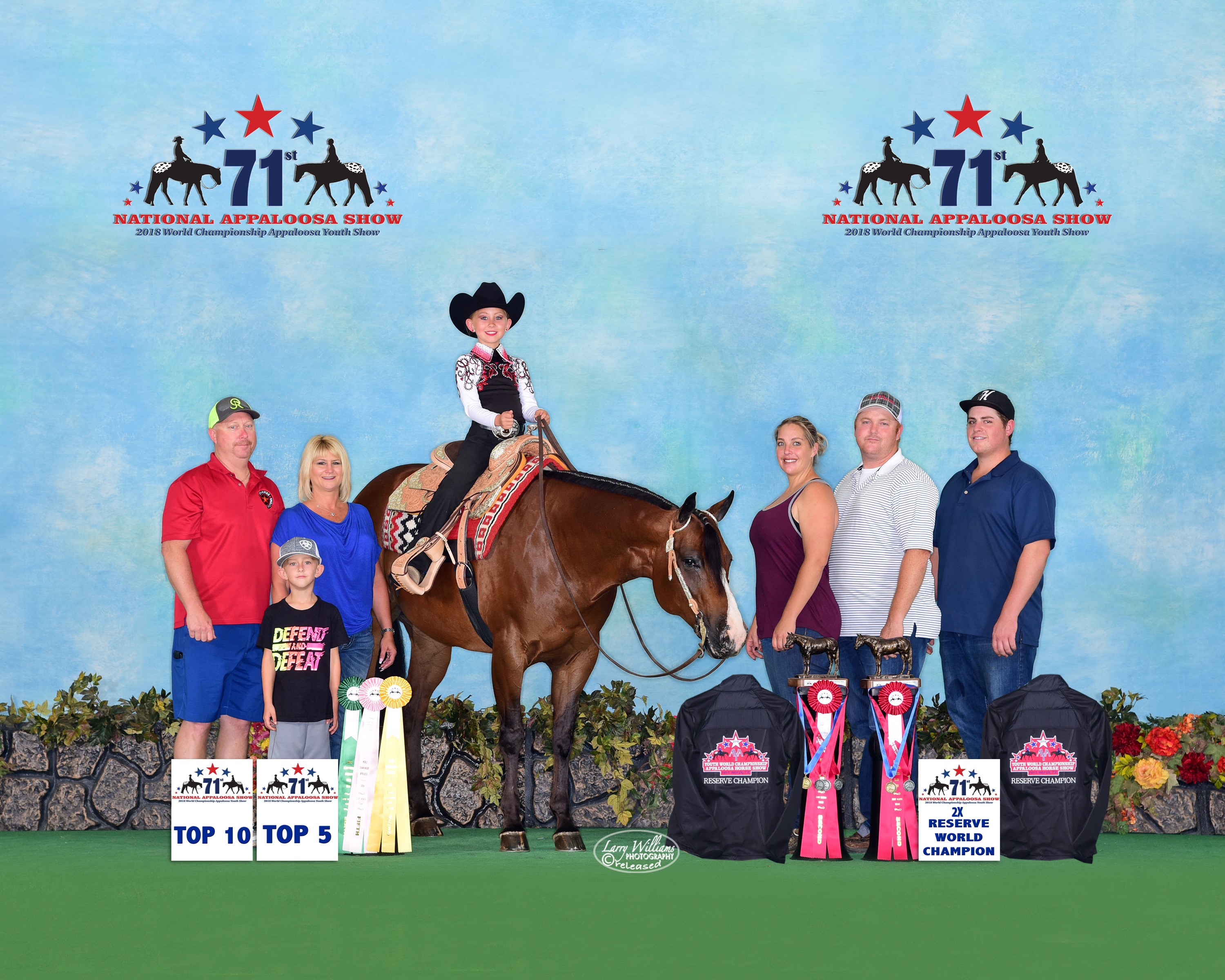 Lopin Down The Allie
DZ Weedo x Chips Smooth Mover
Owned & Shown by Peyton Snyder
2018 Reserve National Champion:
Showmanship 10&Under
Western Horsemanship 10&Under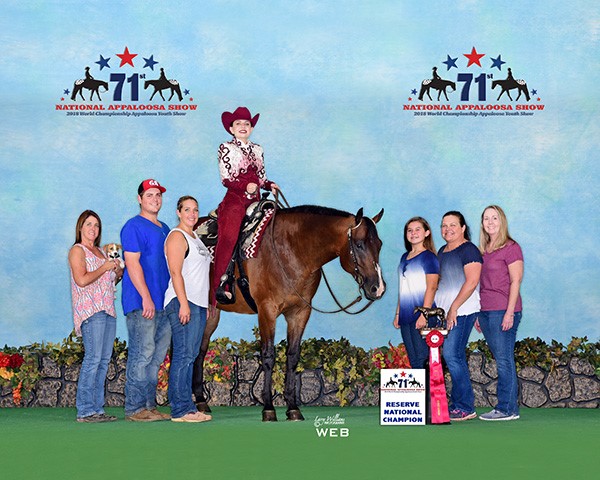 Protect Chips Assets
Owned by Haley Gerane
2018 Reserve National Champion:
Novice Non Pro Western Horsemanship
with Haley Gerane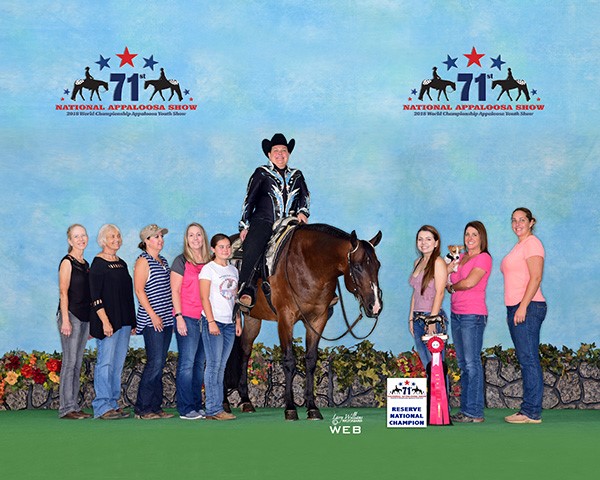 2018 Reserve National Champion:
Non Pro Walk Trot Western Pleasure
with Missy Gerane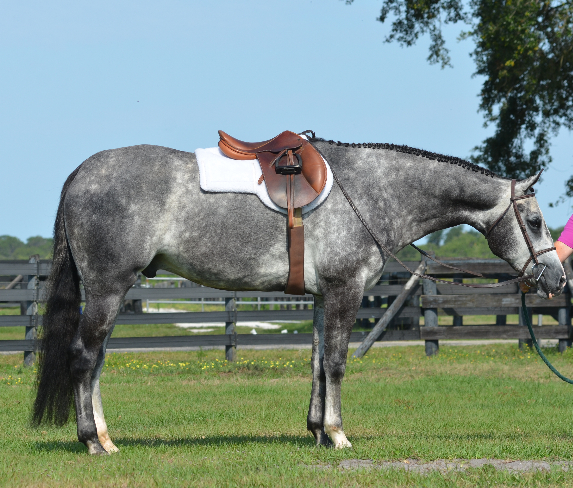 Smokin Hunter
The Hunter x Honk If You Love Me
Owned by Nettie Olsen
2018 Reserve National Champion:
Green Hunter Under Saddle