Char-O-Lot Ranch News
SECRET KID
January, 2003 - March, 2011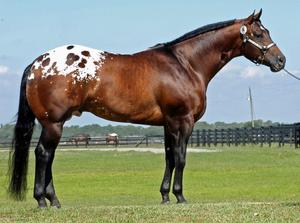 Secret Kid was the first foal from "The Secret" who was sired by Dreamfinder and out of Kendalite N Roses-APHC. We were ecstatic over him, he was a culmination of our breeding program being out of the dam "Eternity" who was a full sister to "Private Collection" a multiple World and National Champion that we had also produced. Secret Kid (Charlie) was sold as a weanling to our longtime friend and client the late John J. Cox (Cameo Farms/Halfacre Construction) Sarasota, Florida, who was a avid exhibitor and promoter of appaloosas. The Secret Kid went on to show and won both the Nationals and the World shows as a yearling in 2004. After John's untimely death, "Charlie" was put on hold until the Cox family gave him back to us in memory of John. At this time Secret Kid has produced 17 APHC registered foals, 2 bronze medallion winners and a World and National Champion (My Little Secret) bred by Jim Wild.

Scenes from this year's Freedom Special in Cloverdale, Indiana!
(Photos Courtesy of Pat Rich)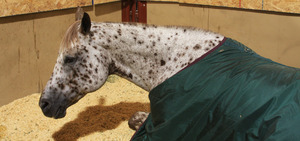 Chips N Roses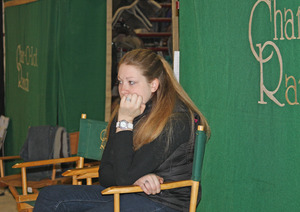 Elizabeth Christie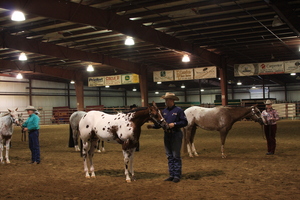 Secret Colots & Sean Schembri
Hi-Point Halter Horse at the 2011 Freedom Special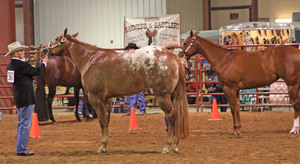 Ronda Lawson & Inclusive Remarks in the Non-Pro Halter Mares

CONGRATULATIONS to our clients on the 2011 accomplishments (as of Apil 24, 2011):
Brenda O'Neal & Hot In Hollywood Leading the Nation in Masters Western Pleasure
Elizabeth Christie & Chips N Roses Leading the Nation in Non-Pro Western Pleasure
Inclusive Remarks, owned by Ronda Lawon Leading the Nation in 2year old Mares
Secret Colors ownd by Pat Rich Leading the Nation in Yearling Colts and Most Colorful at Halter
The Secret Touch, owned by Kathy Grimaldi Leading the Nation in Aged Geldings

CONGRATULATIONS!Congratulations toWill Stratford of Ontario, Canada on his recent purchase of Fashioned To A Te and her 2011 filly by The Secret Kid!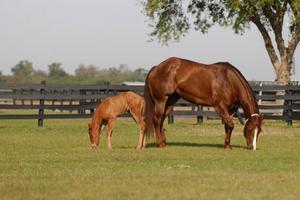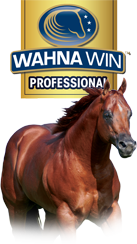 WAHNA WIN NEWS!
by Kathy Boyd
WAHNA Stop the Itching and Fungus?
This is the beginning of Florida's hot and humid season that breeds fungus, rain rot and insect irritation on our horses. But you can get a head start on alleviating the problem with a product that has been used for over 20 years by the professionals.

WAHNA WIN Complete Coat Care is a product formulated and perfected by the late World Champion Showman and renowned horseman Doug Schembri of Charolot Ranch in Myakka City. Doug not only wanted to relieve the itching, tail rubbing and fungus problems, he wanted a show and sale ring shine on his horses year round.

Doug's wife, well known equine breeder Sue Schembri, also experimented with WAHNA WIN on skin problems that arose on the hundreds of mares and young horses in the barns and pastures at Char-O-Lot Ranch. Sue said the "The benefits of WAHNA WIN can be seen after just a few days of use. WAHNA WIN is the secret to developing and maintaining a healthy, problem free hair coat".

Complete Coat Care is an easy to use one step coat conditioner that provides relief from fungus and itching. Just apply, saturating to the skin, using the new double action spray bottle or pour it into a WAHNA WIN bucket and sponge it on your clean wet or dry horse and leave it… it will dry leaving your horse fabulously shiny and fungus free.

WAHNA WIN is reasonably priced and because it is a "distinct" product in that it can do the work of several (fungus relief, show ring shine & coat conditioner) you will save money as you eliminate many other products in your grooming kit.

So get a jump start on your summer skin problems…visit www.WAHNAWIN.com for a retailer near you or call 888-WAHNA-WIN as we are adding new retailers weekly.

Coming Soon
WAHNA WIN Fly Repelent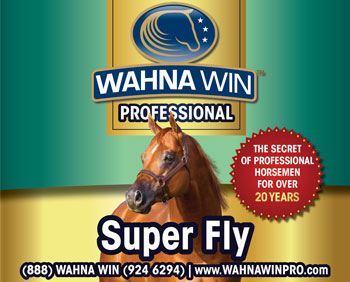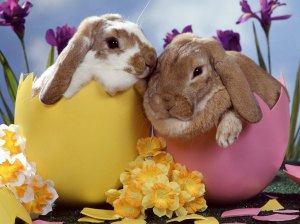 HAPPY EASTER and now the PROBLEM MARES start to surface . . . .
All those mares that foaled and were bred back easily are happy & pregnant but now the ones with various issues are floating to the top. Problem mares can arise from many different issues and it is your job (along with your qualified veterinarian) to try and figure out the puzzle.
1. Timing of the breeding. Has your mare ovulated within 48 hours of insemination? Many mares are being covered via shipped semen nowadays and with the expense involved in shipping it is most important that an ovulation is tracked once the mare is inseminated- do not take an ovulation for granted - it does not always occur when expected.
2. Quality of semen. Nothing is worse than having prepped your mare to the exact timing and receiving poor quality semen. This is costly and time consuming. This can also cause conflicts between the breeder and stallion owner. As a mare owner, upon receipt of poor quality semen- call the breeding farm to ask if the stallion had an "off-day"as this can happen to anyone. If we have an issue with a particular stallion we will call the mare owner or the veterinarian and advise them that there could be an issue and to let us know. Most times the semen is fine and should be viewed after it can sit on the counter for a while to warm up. As a stallion owner, we find it to be important to culture our stallions prior to breeding season each year to forsee any issues that could arise. Anytime semen is shipped overnight and sits in a container there is opportunity for bacteria to multiply- this is why it is so important that the correct amount of extender with an antibiotic that works best with the individual stallion is added to the semen each time it is shipped. Most of the larger farms are all very up to date and count the semen on the stallion each time he is collected to insure that you are getting the correct numbers of sperm necessary to get your mare in foal.
3. Mare's uterine health is your next and probably the most important piece of the puzzle. Uterine Culture and Cytology. This cannot be emphasized enough. They should be pulled while the mare is in estrous (heat) to insure accuracy In this day and age, with fewer live covers, very few infected (dirty) mares are being found- each year we have less and less. We do however seem to have on occasion more retained fluids post breeding (this could be because we tend to re-breed all of our mares each year, or because wth artificial insemination and shipped semen mare exposure to a stallion is very limited. Teaising with a stallion produces natural oxytocin in the mare). To counteract that we use oxtocycin six hours post breeding as often as needed, together with uterine lavage. Does your mare suck in air through the vaginal area when she is being bred A/I. If so, your mare is probably a good candidate for a caslicks procedure. This simple procedure can be put in temporarily with staples until she is called in foal and then the permanent one done. Caslicks are also done anytime the mare has a tipped vulva- ask your veterinarian to show you the difference in conformation on a mare.
4. Progesterone. Regumate and P/4/10 progesterone shots are probably the most over-used drugs in the reproduction industry. However- there is a big "BUT" along with this. Along with the high cost of breeding nowadays, either via shipped semen or at the breeding facility, on occasion "Regumate" is a safe insurance if used correctly post breeding. We normally do not start the regumate until 4 days post breeding. This gives the mare plenty of time to flush out any remaining fluids or debris that might be in her uterus. We use it only on mares that are suspected to be progesterone deficient or have poor uterine tone. Once the mare is called in foal at 15-16 days we run a progesterone test thru BET Laboratories in Lexington and upon receipt of the results we decide whether the mare is a low progesterone mare, or if her uterine tone is not strong enough to maintain pregnancy. Another use for Regumate is on a mare with a compromised cervix that may have been damaged from a previous foaling. Bearing in mind that Regumate can accelerate any potential infection within the uterus. Use it only as a tool when necessary but be sure the benefits outweigh the risks and cost.
2011 DZ Weedo's!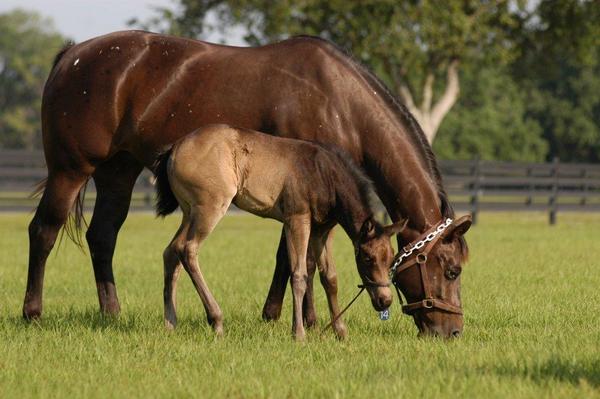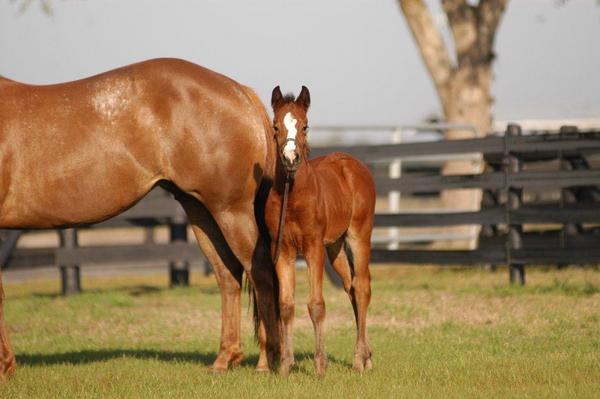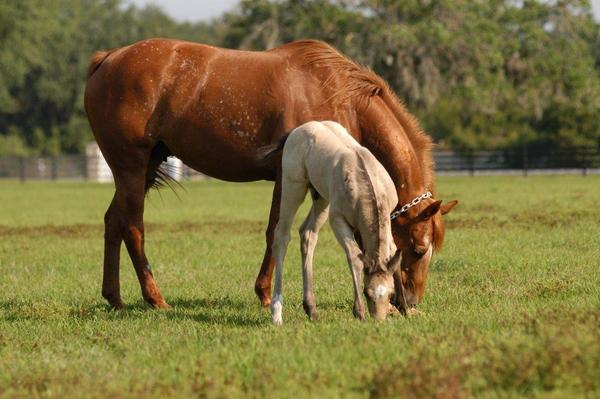 DZ Weedo For Sale
Weedoriffic
2009 Gelding
60 days started under Saddle, eligible for the 2011 World Championship Show Sale Futurities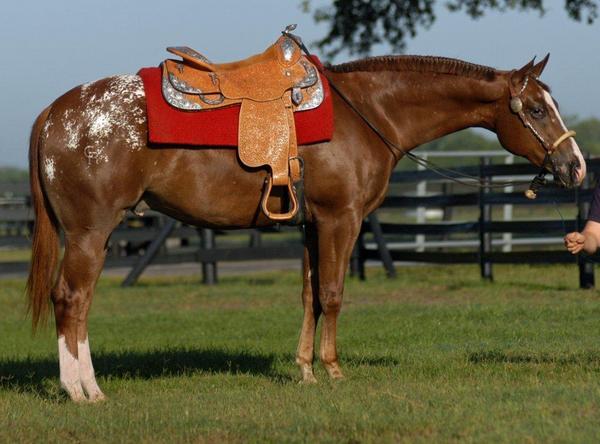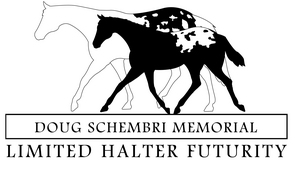 Doug Schembri Memorial Limited Halter Futurity - April Update
In addition to the silver show halters being donated by Kathy's Show Equipment to the winners of each limited halter futurity, we have received $6,250.00 in cash donations through April 15th. Our current sponsors include:

Wagon Road Farm
Central Alabama ApHC Directors
Wilburn Archer
Char-O-Lot Ranch
Pat Rich
Alan Parker Auctioneers
Bob Kletschka & Laura Lovegreen
If you If you To To contribute, you can visit
www.charolotranch.com or connect directly to the ApHC at: www.appaloosa.com/ecdefault/LHFDonate.aspx