Char-O-Lot Ranch News
In this Edition:
1. Florida State Fair - February 10, 2013
2. Your Foal Has Arrived! What's Next?
(by Sue Schembri)
3. Florida 2013 Show Schedule
4. Congratulations to our December
Purchasers
5. Let It Snow, From WAHNA WIN (by
Kathy Boyd)
---------------------
Char-O-Lot Ranch Equine Breeding Academy is Beginning the 2013 Season
For more information about our hands-on traning programs or to schedule your personal training email Sue at: sue@charolotranch.com
or visit our website at:
http://equinebreedingacademy.com
---------------------
Our 2013 Stallions, Call to Book Now for the 2013 Breeding Season!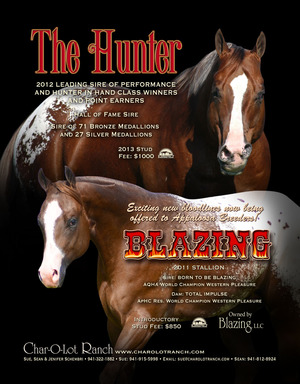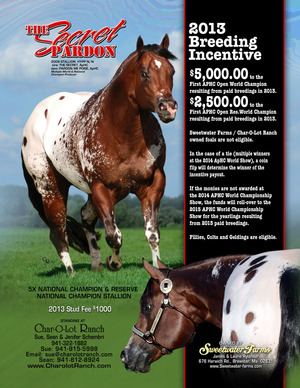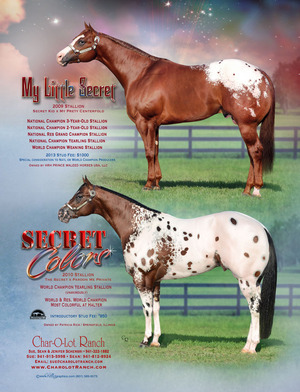 Also Standing:
So Riveting
AQHA Stallion
2013 Stud Fee: $900.00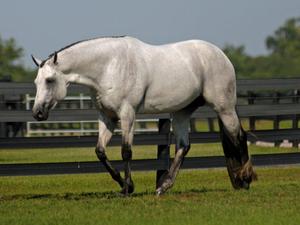 Twentyfourkaratchip
AQHA Stallion
2013 Stud Fee $1,250.00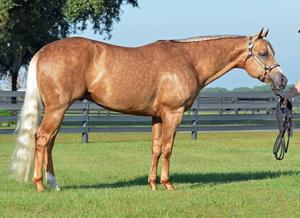 Illegal Secret
2011 Stallion
2013 Stud Fee by Private Treaty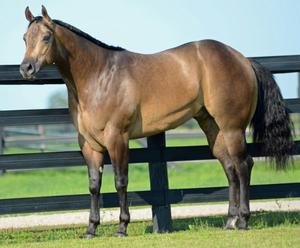 ---------------------
The Secret Pardon
2013 Breeding Incentive!

$5,000.00 will be awarded to the First ApHC Open World Champion resulting from paid breedings in 2013.
$2,500.00 to the First ApHC Open Res.World Champion resulting from paid breedings in 2013.

Sweetwater Farms/ Char-O-Lot Ranch owned foals are not eligible.

If the monies are not awarded at the 2014 ApHC World Championship Show - the funds will roll-over to the 2015 ApHC World Championship for the yearlings resulting from 2013 paid breedings.

Fillies, Colts and Geldings are eligible.

---------------------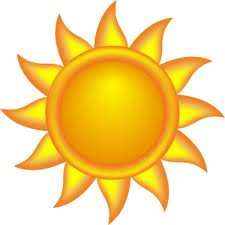 Come Enjoy Some Florida Sunshine in 2013

Upcoming Florida Shows:
February 10, 2013 - Florida State Fair, Tampa Florida Fairgrounds
2 judges, 4 points
For information email:
jschembri@blalockwalters.com
or visit
http://horseshow.charolotranch.com

March 9&10, 13&14 and 16&17, 2013 - Venice, Florida at Fox Lea Farms
8 judges over 3 shows
For Information Visit:
http://foxleafarm.com

April, 20 & 21, 2013 - Ocala Equestrian Center, Ocala, Florida
4 judges
For information email:
whizzernkathi@hotmail.com

---------------------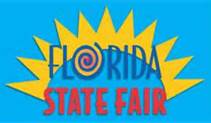 2013 Florida State Fair
Appaloosa Show - Sunday, February 10, 2013
Arrivals on Saturday, February 9, 2013
Earlier arrivals can be arranged upon request
2 Judges, 4 Points
Low Fees, Lots of Fun!

Information:
All Show Information, including show bill, RV reservations, shavings orders can be found at:
http://horseshow.charolotranch.com

For questions or stall reservations please contact either:
Jenifer Schembri (941) 209-8665 or via email at jschembri@blalockwalters.com
or
Jim Coones (813) 477-3136 or via email at
james.coones@freshfromflorida.com

----------------------------
Your Foal Has Arrived!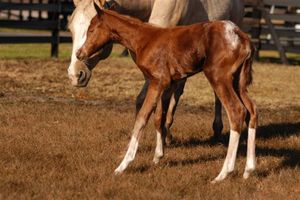 What's Next?
The first several days of a foal's life are very important and they should be followed closely for any evidence of anything out of the ordinary. Our on-farm follow up protocol is to observe closely:

1. Be sure they are passing normal stools- on occasion a foal will become constipated and not be noticed. This can cause colic episodes or extreme uncomfortableness - if you suspect your foal could be stopped up carefully use either a Fleet enema (½ does at a time to avoid diareaha) or some warm mild soapy water in the anus. If you are comfortable using a glove and mineral oil you can un-block the anus but be extremely careful as this could cause injury if not done properly.

2. Watch the navel closely for several days to weeks on a daily basis both AM & PM. If it shows any dripping or leaking at all this is a major issue and could lead to joint ill. Those navels need more follow up care AM & PM dipping with iodine solution to help dry them up. On occasion we have dried the more persistent navel drips with the help of small amount of penicillin up into the hole. Foals with navel drips are always started on a course of antibiotics Amakacin and Penicillin for 5-7 days.

3. Daily turn-outs(weather permitting) are important for both mare and foal health. Mares need to move around to encourage toning up and cleaning out of their uterus post-partum. Foals need activity to build strong bones- it is important that foals be turned out with others of similar age groups. Research has shown that foals given adequate turn-outs in smaller paddocks (less than 2 ½ acres) show less OCD and DOD issues later in life.

4. We are very insistent on checking foal temperatures daily on-farm. This gives us the opportunity for hands-on each foal every evening at feeding time. We visually check mares udder as well at that time to be sure the foal is nursing adequately. Anyone that isover 102. in the evening is temp'd again in the morning to be sure all is good. Higher than 102.5 is not normal and should be monitored closely and addressed early on.

5. Tuff-Rock Foal G/I. This is administered to all foals born here for the first 10 days. This product has made a big difference in preventing foal diareaha particularly "foal heat" or the ten day scours that occur when the foal's gut is in the closing off process.

6. Azithromycin. We use this as a preventative for Rhodococus-Equi that is endemic on most major breeding farms throughout the US. It lives in the soil and once it occurs with either foal or comes in with a carrier mare the disease is difficult if not impossible to eradicate. Each foal born here is given a low dose of azithromycin orally every other day for 14 days by their bodyweight. We have also found that by simply washing the mares udders well with clean soapy water before the foal nurses- this has cut down on our early respiratory diseases for on-farm foals. There is currently no vaccine available for the prevention of Rhoddococu- Equi. Your mare should have been up to date with all of her pre-natal vaccines (within 30 days of her foaling date) which is the best preventative you can have for your foal.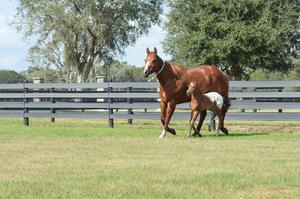 7. Last, but not least, enjoy your foal!

----------------------------

Congratulations to December Purchasers!

Tom & Phyllis Kirby of Oveido, Florida on their purchases of:
Lopin In the Allie
2011 Mare
DZ Weedo x Chips Smooth Mover (by Hot Cholocate Chip)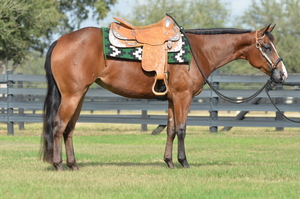 And
Lopin In The Weeds
2012 Mare
DZ Weedo x Semi Sweet Chip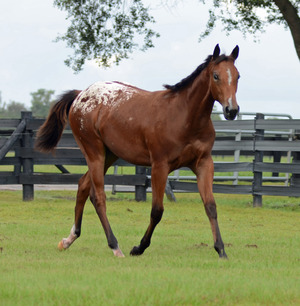 ----------------------------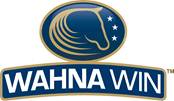 Let It Snow, Let It Snow, Let It Snow.....

Because we at WAHNA WIN don't care. Our Complete Coat Care for Horses, an all in one coat conditioner and fungus reliever, does a fabulous job helping us keep our horses Fungus and Flake Free and Show Ready Shiny.

Pull that bottle off the shelf and apply after each ride to eliminate saddle pad marks and make grooming quick and easy.

Did your horse's coat get out of control? Need to Body Clip? No problem... Complete Coat Care's essential oils will bring back your horse's coat color and condition the skin.

Cold weather and winter blankets drying out your horse's mane, tail, and coat causing them to rub and scratch? Regular use will help eliminate this problem and save those manes and tails. Remember to saturate to the skin in the particularly dry areas.

Complete Coat Care developed by Horsemen for Horsemen (and women) realizes the problems faced by winter conditions and want to help.... So don't run out.... CCC is a year round multi-purpose product for people who care about their horses.

Don't forget to try WAHNA WIN's Complete Coat Care for Dogs...

To find a retailer near you visit http://WAHNAWINpro.com.

So go ahead and LET IT SNOW – Please!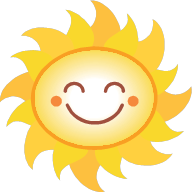 Kathy Boyd
(Florida – 83 degrees)