Char-O-Lot Ranch News
---------------------
Douglas Schembri - Hall of Fame Induction

Doug will be inducted into the Appaloosa Horse Club Hall of Fame in Tulsa, Oklahoma on Sunday July 10th at the Appaloosa Horse Club annual awards banquet. For more information, please visit www.appaloosa.com

---------------------

Summer's here and National Show Preparations are underway here at Char-O-Lot Ranch!
Please stop in and visit with us in Tulsa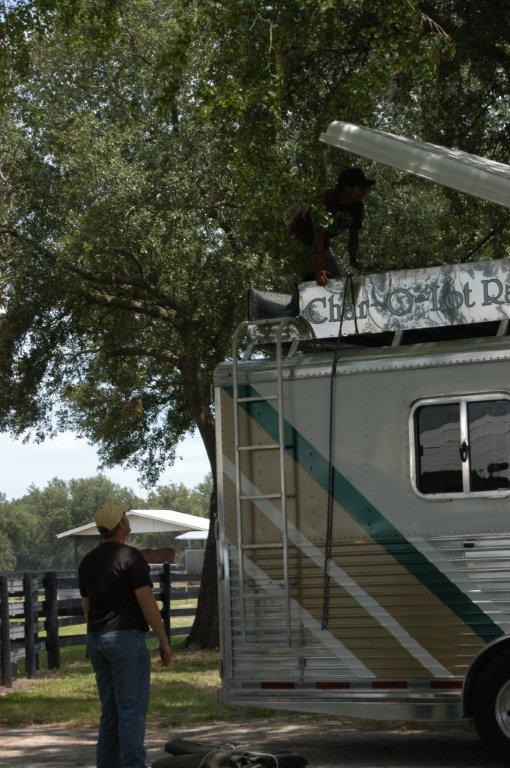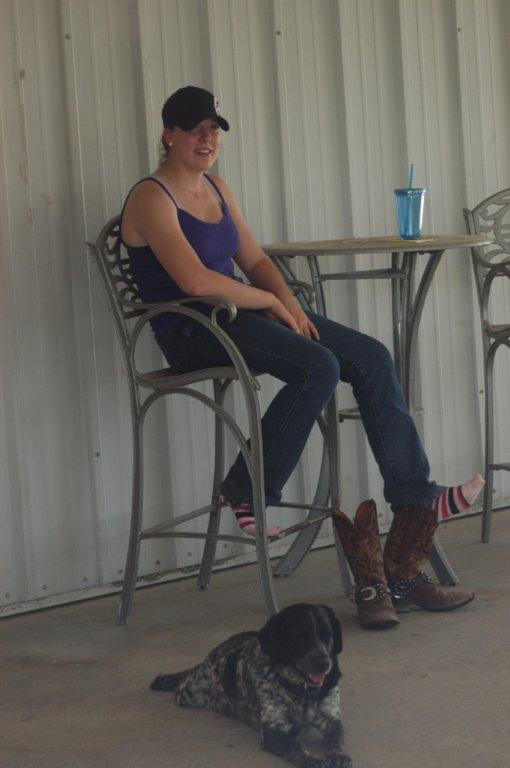 ---------------------
Char-O-Lot Ranch Riding Academy Opens!

In July, Char-O-Lot Ranch Riding Academy will expand from its summer camps to offer beginner to advanced riding lessons. For more information contact us at info@charolotranch.com and watch for additional information on our website.

---------------------
Coming Events!
Join us at the Summer Sunshine Appaloosa Experience
August 13 - 14, 2011
Tampa, Florida
Appaloosa Show, including Open Classes
$100.00 per horse, including stall for the weekend
Saturday Night Events Include:
Pot Luck Dinner
Clinic with Andy Moorman
Open Versatility Class
Retro-Trail Class
Contact Jenifer Schembri for more information at: (941) 209-8665 or at info@charolotranch.com
---------------------
Congratulations!

To Scott, Laurie and Elizabeth Christie, Danville, Indiana on their purchase of Midnight Hunter. Watch For Elizabeth and Midnight at the National Show!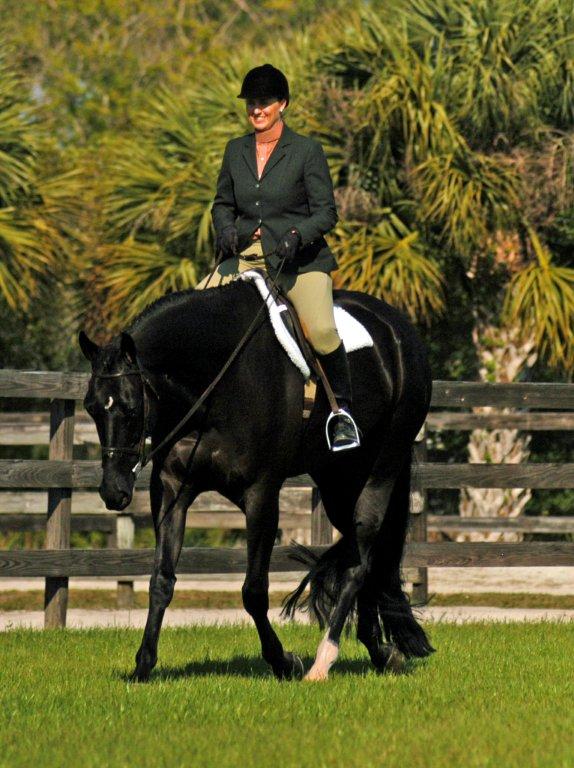 To the Williams Family, Hunter, Cathy, Sarah and Alex of Sarasota, Florida, on their purchase of Hunting For Dinner, a 2010 gelding by The Hunter. Good Luck with your new show prospect.

---------------------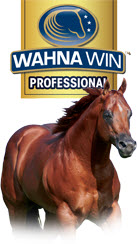 WAHNA WIN NEWS!

WAHNA WIN introduces our new Spray Bottles! Purchase yours today by visiting our website or at a retailer near you.
Also, don't forget to register for our Las Vegas Sweepstakes by visiting www.wahnawinpro.com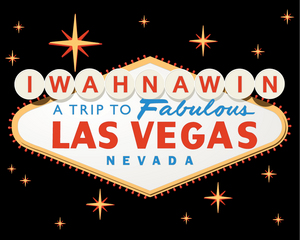 Its June, and time for baby training here at Char-O-Lot Ranch
All farms have their own ways and means of halter breaking and training their foals- many smaller farms and owners are able to start leading their foals fairly soon after they are born. Most larger farms do not have the man-power to get this done as they are very busy handling larger numbers of mares, stallions and insuring the health and well-being of many on-farm horses on a 24/7 day to day basis. *(Welcome to our world)** We also foal out between 35 and 50 mares each season which usually occurs during the wee hours of the morning. Each foal on the farm is handled daily and temperature is monitored at 4:00 PM- this insures that they are examined closely daily for any spike in temperature, catching any sickness before it accelerates. We closely monitor foal scours - one of the problems we have in FL is our great tasting sand, very soon after foal heat scours come and go most of the foals develop a taste for C/R sand which is not problematic, only in causing diarrhea in some foals- we have found that Assure administered orally will help combat the wonderful tasting sand- it is also a digestive aid which helps to push the sand thru.
Once the mad rush of foaling season has started to slow down and the majority of the mares are back in foal for the following year we can begin to work more with the foals one on one before they are weaned. We are big believers in leaving the foal with their dam's for at least 5 months time mare's milk begins it weaning down stage nutritionally at about 3 month past foaling- however, even though we creep feed our foals from about 10 days of age they do not get the full digestive value of feed until about 5-6 months of age. Foals that are weaned at an earlier age oftentimes get that "potty" look to them which stems from either their body not being able to process the food well enough at that age or a worming program that is not adequately keeping up with the foals environment. I cannot stress enough our belief in leaving the foals on the mares for this length of time even though it is much easier management many times for farms to wean them earlier on. Our foals are given free choice access to crimped oats and Buckeye Foal starter from about 10 days of age thru creep feeders that are built into each of our wet mare's 12 X 24 stalls.
About 2 weeks prior to weaning we will begin to work with the foal in the stall with his mother. They are taught to lead around the stall, leaving on a good fitting leather foal halter- this is also a major key in that should anything go wrong the leather halter will always break whereas a nylon halter most likely will not and many a foal could have been saved from catastrophe if only the halter had broken instead of the foal. Whenever using halters for turn-out (anywhere on the farm) leather halters are always utilized as well. After they do lead-about for a while and are comfortable with that situation we will lead them around the mare motel leaving their mother in the stall- (she is usually more unhappy about this than the foal) we will also work on holding them in a tie up position, holding the lead rope to accustom them to restraint and patience as well. This two week process makes the training process much easier and less traumatic when they are left on their own. Normally we wean them in the same stall where they have been residing for a while with their dam, we remove her to another place on the farm, hopefully out of "hearing" range. We do still believe in the "full moon" weaning- although honestly it doesn't always work out with our preferable time to wean. Mares will be turned out on grass and hay only and monitored for the next few weeks for mastitus as well. We also find it best to wean a few mares at a time they tend to get less stressed that way and generally go off in a group together- this is particularly true when you leave them until 5+ months with their foal- most of the mares are glad to go back out by themselves at that point.
Next, the "Basic Baby Training" really starts.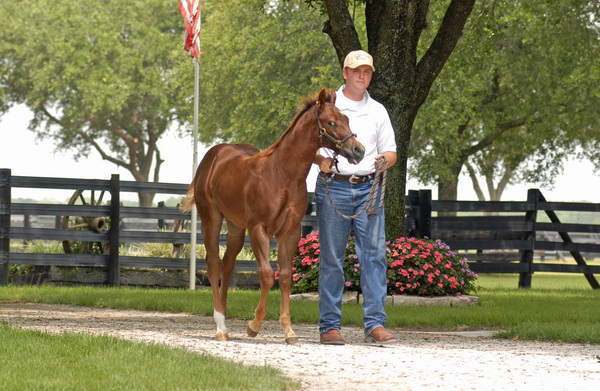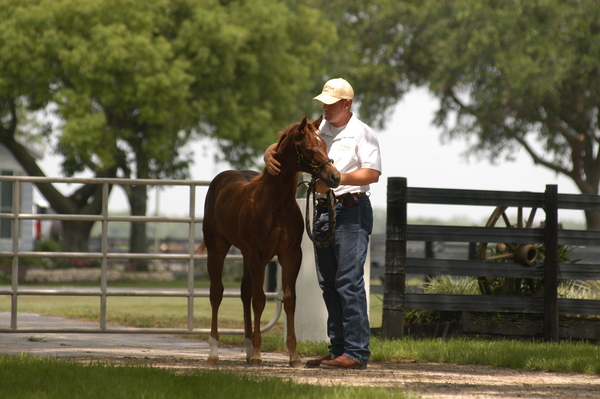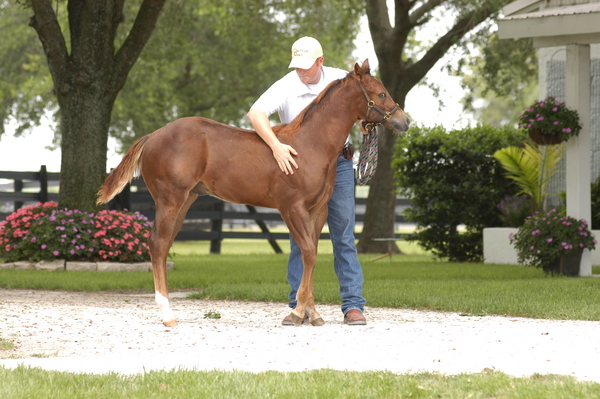 These foals are handled all over their bodies, legs and taught little by little to lead all about the farm around the hot walker, the covered arena, the pony track, they then get a shower daily and taught about the wash rack and tying there and then going back to their stall and tying there until they are dry or for about 15 minutes until gradually a longer period of time. We have gotten many outside horses in that do not understand the concept of tying until they arrive, it is much more difficult to teach an older horse to tie up they are so much stronger and more likely to injure themselves then to teach a weanling who does not have enough strength to pull back and really get himself in trouble. Just because your weanling leads does not mean he will tie up as well- please teach them at an early age. Just as important- is do not to leave them unattended and utilize a slip release knot or clip when tying. Foals that are going through C/R basic training are also taught to go on the hot walker which helps them learn to lead as well. Each foal usually goes through about a 60 day program- some foals require a little less and some require more and all foals are different.
Once they know all the basics we start to turn them out in smaller pens with other foals to re-socialize them prior to turning them out in the weanling to yearling fields. They stay in that routine turn-out one day, hot-walker the next until we are comfortable with the fact that we will be able to manage them in a full turn-out situation and catch them up without issue. The weanlings/yearlings are turned out in groups of similar size and gender- we also make use of the "tail grease" twice a week all the way thru the yearling year or until they are brought back in for training. Our tail grease formula consist of Lg jar of Corona ointment, heated for 2 minutes in the microwave (lid off) mixed with 3/4 to 1 cup of cayenne pepper and "Rap Last"- this makes a vile tasting mixture that discourages anyone from tailing chewing (a favorite weanling/yearling pastime) These weanlings to yearlings are fed once daily in the pasture and given free access to alfalfa. They are wormed monthly thru yearling age then every other month alternating Ivomectin and Double Dose Strongid tube worming. We vaccinate every 6 months for EWT West Nile and give strep vaccines early in the yearling season. Every region has different needs for worming and vaccinations your veterinarian is generally your best source of advice on that schedule. I would like to stress that a rotational de-worming schedule is important. A once a year fecal sample of two or three horses on your premises is also a good monitor of how well your worming protocol is working.
Once again this is not meant to take the place of your veterinarian advice.
------------------------------------------------------
Looking For a New Show Horse!
Visit the Char-O-Lot Ranch YouTube Channel at www.youtube/charolotranch and our website for horses for sale, including these quality show horses: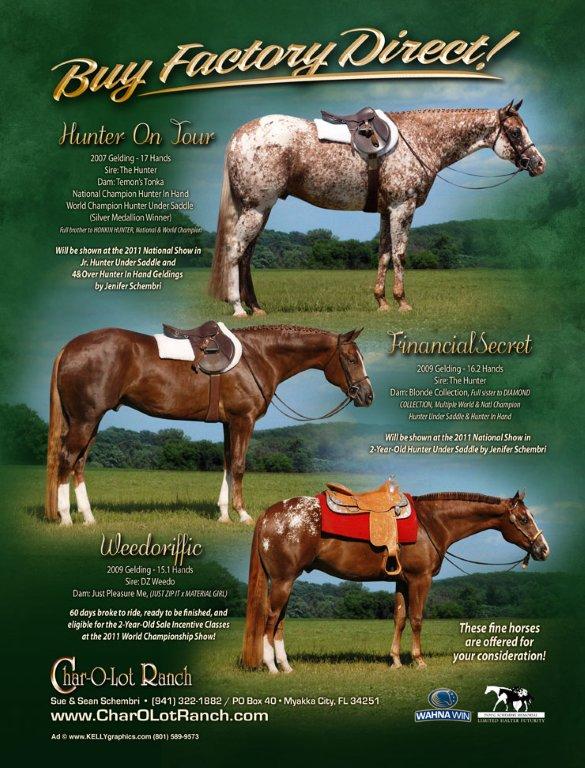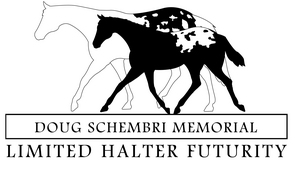 In addition to the silver show halters being donated by Kathy's Show Equipment to the winners of each limited halter futurity, we have received $6,250.00 in cash donations through April 15th. Our current sponsors include:
Wagon Road Farm
Central Alabama ApHC Directors
Wilburn Archer
Char-O-Lot Ranch
Pat Rich
Alan Parker Auctioneers
Diane Bjorklund
Bob Kletschka & Laura Lovegreen
To contribute, you can visit
www.charolotranch.com or connect directly to the ApHC at: www.appaloosa.com/ecdefault/LHFDonate.aspx