Limited Breedings Available to The Hunter in 2017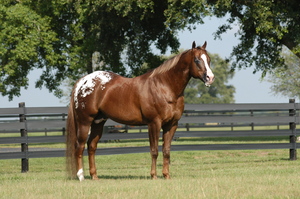 The Hunter
ApHC Hall of Fame Stallion
5-panel Negative
Char-O-Lot Ranch is offering 5 outside breedings to The Hunter in 2017
Stud Fee $2,500.00

------------------------------------

For Sale:
Hunting in Rhythm
2013 Mare
The Hunter x Temons Tonka
Full Sister to Honkin Hunter, Hunter on Tour, Sunbeach Hunter and Biggest Show in Town
See video of first and only time shown:
https://www.youtube.com/watch?v=Bme4T_vVq0c&feature=youtu.be



Fast N Furious
2016 Reserve World Champion Non-Pro 2 Year Old Stallions
2015 Stallion sired by AQHA Secretez out of a daughter of Te Coolest

---------------------------------

Looking for a new show horse, broodmare or prospect?
Nice Horses for sale at reasonable prices
Give us a call or email us today at
info@charolotranch.com
---------------------

LOOKING TO SHIP-IN-SEMEN?
"Let Us Take the hassle out of mare management"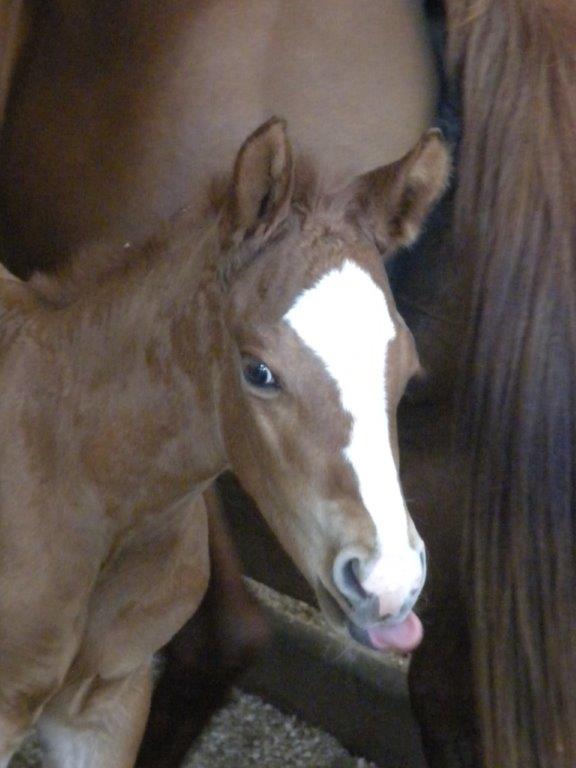 Char-O-Lot Ranch offers full ship-in-semen services for all breeds as well as foaling-out services- please visit our website for rates or contact Sue at: sue@charolotranch.com
---------------------
Char-O-Lot Ranch Equine Breeding Academy is Now Taking Reservations for 2016
For more information about our hands-on traning programs or to schedule your personal training email Sue at: sue@charolotranch.com
or visit our website at:
http://equinebreedingacademy.com
---------------------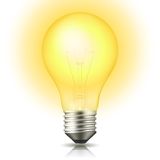 REMINDER!!!!
BEFORE BOOKING YOUR MARE...........
TURN ON THE LIGHTS!!!!
If you are planning to breed your mare to a favorite stallion early in the year 2017, quite literally you need to "Turn On The Lights". Each year we have many clients, many times very experienced horse people who forget or discount this very important phrase.

Mares normally have a "shutting down" of their reproductive functions throughout the winter months, this is called anestrous. This happens in the sunny south of Florida as well as the northern states. Although daylight and temperature changes may not be as extreme to the southern states, the mares do sense the difference. I also have many well-intentioned horse people tell me how "their" mare does cycle year round. Even though some mares do continue to show signs of heat and estrous behavior, her ovaries are very likely shut down completely or simply not ovulating during this time. Save yourself time, money and frustration at the breeding farm or receiving center and be sure that your mare is cycling and ovulating before sending her.

FOR SALE:
2008 International 4400 Western Hauler
http://www.twincitiessouthtrailers.com/2008-international-western-hauler-truck-DFub%7Ce6.html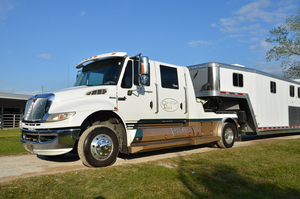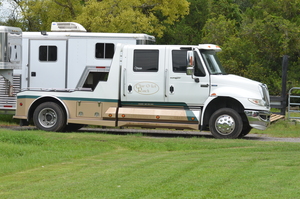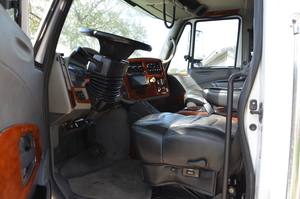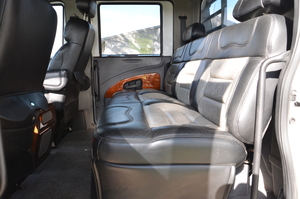 Looking to Breed Your Mare in 2017?
Early Booking Discounts Ending Soon

For a stallion contract or questions please call Sue #941-915-5998 or contact her via email at:
sue@charolotranch.com

Our 2017 Stallions Include:

Blazing
2010 Stallion
Born To Be Blazing x A Total Impulse
5-panel Negative
ALL FOALS ELIGIBLE FOR THE APPALOOSA HORSE CLUB STALLION INCENTIVE FUTURITIES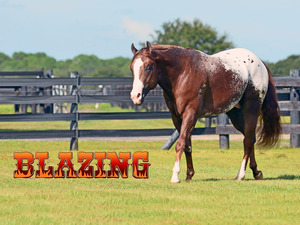 2017 Breeding Fee:
$950.00
If paid prior to December 31st, $850.00

Blazing's First Foal Crop of 3 foals has produced a Multiple World Champion and a Res. National Champion.
Congratulations to...
Blazing Persuasion
2014 Mare
Blazing x Faithful Persuasion
Owned by Nettie Olsen
2016 World Champion:
Two Year Old Western Pleasure
Two Year Old Stallion Incentive Western Pleasure
ApPHA Two Year Old Western Pleasure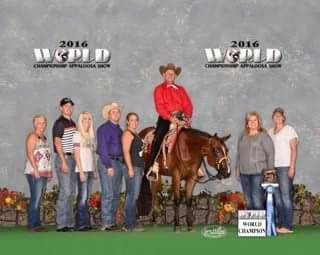 Born Blazing Hot
Blazing x Smooth As Chocolate
Res. National Champion Two Year Old Western Pleasure
Congratulations to Jenna Chiarella, Sammamish, WA
on your purhcase of Born Blazing Hot, Agent Deerfield Farm, LLC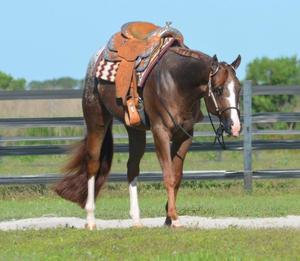 Secret Heir
2012 Stallion
HYPP N/H
The Secret x RLG Fancy Heir (AQHA by Clu Heir)
World & National Champion Stallion
Owned by John Lovelace
All Foals Eligible for the Breeders' Halter Futurity Open Color Division and the Appaloosa Horse Club Stallion Incentive Futurities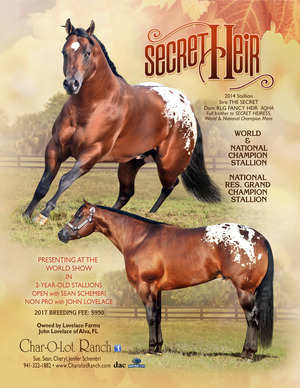 2017 Breeding Fee:
$950.00
If paid prior to December 31st, $850.00

So Riveting
"Karma"
2003 AQHA Stallion
Luke At Me x And Rightly So
Owned by: Teresa Porter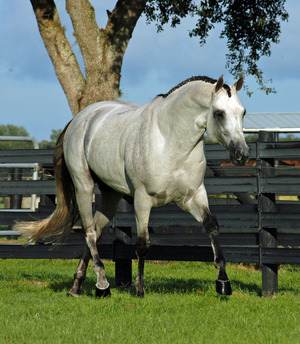 2017 Stud Fee (if paid prior to December 31, 2016): $500.00, plus chute fee of $350.00

TwentyFourKaratChip
Zips Chocolate Chip x El Bee Cream O Wheat
12x Palamino World Champion
8x Palamino Reserve World Champion
Owned by Teresa Porter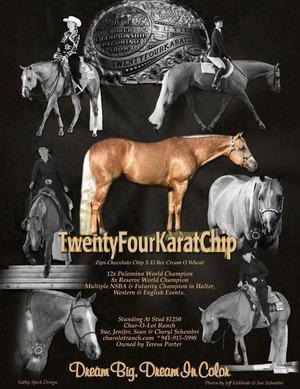 2017 Stud Fee (if paid prior to December 31, 2016): $625.00, plus chute fee of $350.00

-----------------------------------------------
Save the Date - Florida 2017 Shows

February 11& 12 - Bushnell Florida
2 judges, 3 sets of points
Judges: Bonnie Miller & Dave Moore
For more information contact
Jenifer Schembri
(941)209-8665
jschembri@blalockwalters.com

The Florida Super 8
March 17, 18 & 19 - Venice Florida
March 24, 25 & 26 - Venice Florida
For more information visit:
http://foxleafarm.com