Char-O-Lot Ranch News
In this Edition:
1. Don't Miss Our Early Breeding Discounts
2. Breeding in 2013? A Mare Owner's
Frequently Asked Questions
3. The Secret Pardon Announces A Special
Breeding Incentive for 2013 Breeders
4. Florida 2013 Show Schedule
5. Foaling Season Is Here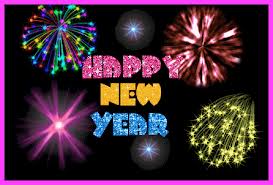 Wishing Everyone a Happy and Prosperous 2013!

---------------------
Char-O-Lot Ranch Equine Breeding Academy is Beginning the 2013 Season
For more information about our hands-on traning programs or to schedule your personal training email Sue at: sue@charolotranch.com
or visit our website at:
http://equinebreedingacademy.com

---------------------
The Secret Pardon
Announces a 2013 Breeding Incentive!

$5,000.00 will be awarded to the First ApHC Open World Champion resulting from paid breedings in 2013.
$2,500.00 to the First ApHC Open Res.World Champion resulting from paid breedings in 2013.

Sweetwater Farms/ Char-O-Lot Ranch owned foals are not eligible.

If the monies are not awarded at the 2014 ApHC World Championship Show - the funds will roll-over to the 2015 ApHC World Championship for the yearlings resulting from 2013 paid breedings.

Fillies, Colts and Geldings are eligible.

---------------------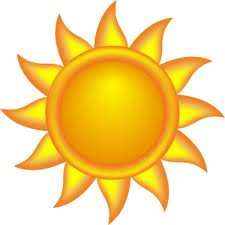 Come Enjoy Some Florida Sunshine in 2013

Upcoming Florida Shows:
February 10, 2013 - Florida State Fair, Tampa Florida Fairgrounds
2 judges, 4 points
For information email:
jschembri@blalockwalters.com

March 9&10, 13&14 and 16&17, 2013 - Venice, Florida at Fox Lea Farms
8 judges over 3 shows
For Information Visit:
http://foxleafarm.com

April, 2013 - Ocala Equestrian Center, Ocala, Florida
4 judges
For information email:
whizzernkathi@hotmail.com

---------------------
Foaling Season Is Here

Hopefully your mare is healthy, happy and ready to foal this season.

* Be prepared well ahead of time- if you do not have access to foaling cameras or a foal-alert system of some type, "Foal-Watch" milk test strips are extremely reliable and easy to use. They measure the changes in the mares milk as she gets closer to foaling (parturition). With today's economy and the cost of getting your mare in foal the most important words are "BE THERE" for the event. You can simply observe from a safe distance to be sure she does not have a problem and ready to step in if something abnormal begins to occur.

On-Farm Foaling Kit:
*Scissors (to remove our foal-alert monitor)
*Baby bottle to collect the colostrum (mares first milk-before foal nurses)
*Iodine solution or Novalsan to dip navel soon as it disconnects from the mare
*Bucket for warm water with ivory soap & non-sterile cotton to wash mares teats before foal nurses
*Latex gloves- sometimes foaling can be messy business
* We keep a set of nylon web-type lines to help pull a foal if absolutely necessary. It is easier to have these close at hand than to go hunting for something in case of emergency in the middle of the night.
*10 cc of Banamine- just in case the mare panics and becomes extremely violent and painful. This should be administered IV if at all possible to insure quick response. Do not use the banamine unless absolutely necessary as this will slow contractions, and inhibit the mares ability to pass the afterbirth (placenta)
*5 cc of penicillin to each foal at birth (this is simply our farm protocol)
* Cell Phone with your Veterinarian On-Call phone number pre-programmed.

First we manage the foal - dipping the navel, administering the PCN in the lower rear gluteal. Then the mare- tie up the remaining afterbirth once she has gotten up, if possible it is easier to tie it up while she is still down (that is the messy part!) When she gets up let her see the foal and smell- never interfere with the mare bonding with the foal- then move in quietly, wash her teats and surrounding areas with the warm soapy water- collect enough colostrum for evaluation and LEAVE THEM ALONE. Mare and foal bonding cannot be over-emphasized especially during the first hours following birth. 8-12 hours post foaling we re-dip the foal's navel in either iodine or novalsan (we have found that iodine solution still works best in our soil and climate) but novalsan is becoming the choice among many other farms.

Second most important thing post-foaling 8-12 hours do a foal IGG test. This is a stall-side testing that checks to be sure your foal has received adequate antibodies. Even if you have really good colostrum there is a possibility that your foal will not get a complete transfer of immunity and this can cause major problems and possible loss of your foal for no apparent reason. If the
IGG is tested with 8-12 hours you will still have time before the gut seals off and you can orally administer colostrum. Once the 12-15 hour window is closed the foal will need a plasma transfusion that is sometimes difficult and very costly if the IGG transfer is not at adequate levels. *This is not meant to change a protocol that is working for you, nor conflict with your veterinarian.
One Thing we consistenty recommend is using TuffRock GI on your foals. Please visit their website to order and for more information at:
http://tuffrockamerica.com


Looking to Breed Your Mare in 2013?
There is Still Time . . .
Act Now To Take Advantage of Our Super-Saver Discounts !
Breedings postmarked December 31st or paid via credit card are still eligible for savings.
Our 2013 Stallions Include:

The Hunter - 2013 Fee $1,000.00, Discount Fee $900.00

The Secret Pardon - 2013 Fee $1,000.00, Discount Fee $850.00
***2013 Breeders are eligible for The Secret Pardon Incentive Program

Blazing- 2013 Fee $850.00, Discount Fee $700.00

Secret Colors- 2013 Fee $850.00, Discount Fee $700.00

My Little Secret- 2013 Fee $1,000.00, Discount Fee $900.00

So Riveting (AQHA)- 2013 Fee $900.00, Discount Fee $650.00

Twentyfourkaratchip- 2013 Fee $1,250.00

Illegal Secret - 2013 Fee by Private Treaty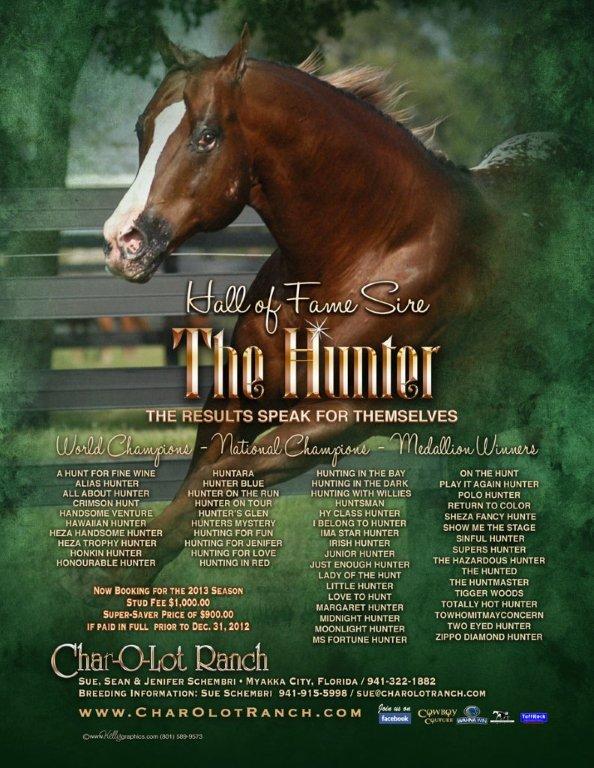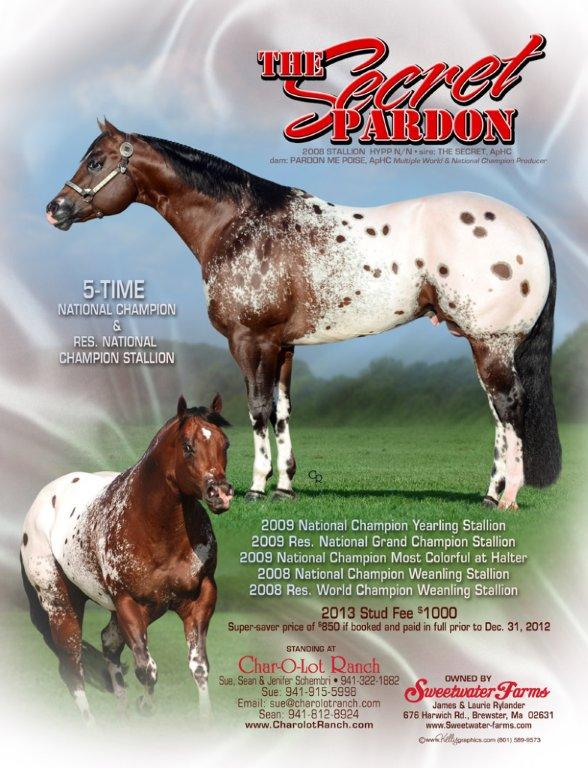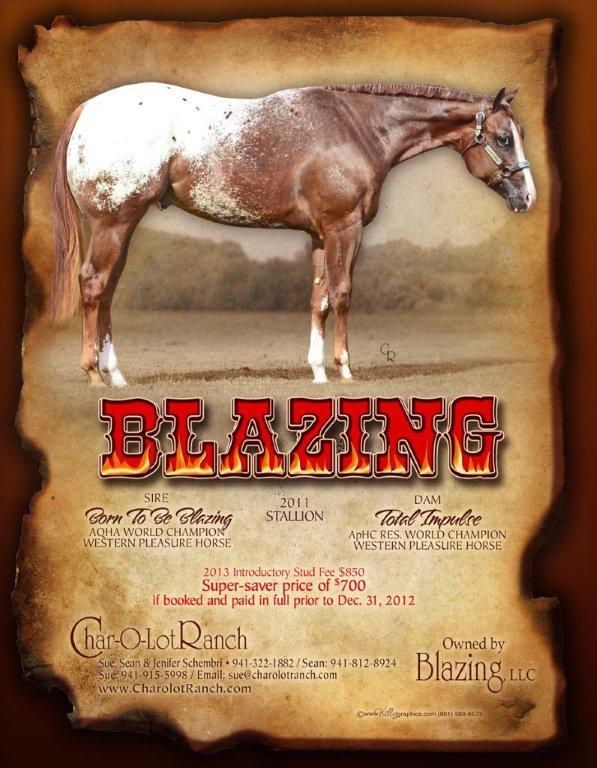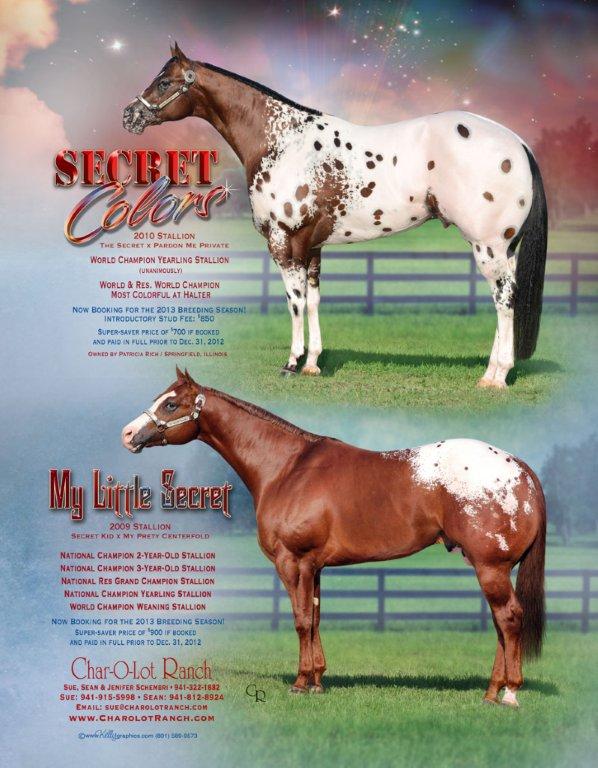 -
Breeding in 2013?
A Mare Owner's Frequently Asked Questions

Q. Should I get shipped semen for my mare?
A. Char-O-Lot Ranch is well-known for their breeding management expertise and it shows. You can expect semen to arrive at your door in good condition and on-time.
Q. What expenses are incurred with shipping semen?
A. First Collection is always FREE via overnight service- except for the freight charged by Federal Express. Any additional shipments will cost $175.00 as a collection fee plus the freight charges. As long as the container is returned to us within 2 days of your mare's last insemination, there are no other fees charged by us. Please contact a reproduction-specialist veterinarian or breeding farm in your area for a price quote of his/her services.
Q. What is important for conception when shipping semen?
A. If you decide you would like us to ship semen for your mare, it is extremely important that you have a capable veterinarian on your end who is experienced with artificial insemination and shipped semen. Wihout this expertise, your mare will probably not get in foal. Call the vets and reproduction centers in your area and find out who has the best success rate with the procedure. Be sure that he/she is very comfortable with being able to predict and pinpoint your mare's ovulation. Discuss everything in the breeding contract with him. If your mare is a difficult breeder and usually takes more than one cycle to conceive, or if she is a chronically dirty mare, she is probably not the mare you wish to use with shipped semen. We have a proven expert who takes care to handle the semen properly on our end, but you will have to take care and handle it properly at yours too. We have to work together to be successful.
Q. Do we have references to back our claims of success when shipping semen?
A. You bet we do!

Q. What days do we ship semen?
A. We ship semen on Monday, Wednesdays and Fridays.
Q. Can I bring my mare to the farm in Myakka City, Florida to be bred?
A. Absolutely. We accept outside mares for breeding here at the farm where they are artifically inseminated. Our conception rates are exceptionally high. Often times this is the most economical choice as it eliminates multiple farm vet calls and the Federal Express charges. Mares bred on farm do not pay collection fees and are covered every other day as needed.

Q. How much does mare care cost?
A. Mare care is $18.00 per day for dry mares and $20.00 per day for wet or nursing mares. This includes all feed and alfalfa hay, daily teasing with teaser pony- turn-outs six days per week- either morning or afternoon. They are kept under a lighting system at night to help with regular cycling.
Q. How long do mares usually stay at the farm for breeding?
A. When breeding your mare at Char-O-Lot Ranch, we expect the mare to remain here until she is deemed safe in foal as per an 18-30 day ultrasound examination. We do everything in our power to keep your mare's stay as short as possible. Traveling back and forth between your farm and ours is not conductive to conception - least bit of change to the early pregnancy can upset the balance of the mare's progesterone levels it is better to have them safely settled in foal and a progesterone test made prior to shipping off site.

Q. Do we offer a live foal guarantee?
A. Yes, we do. If your mare proves barren at any time of she produces a non-viable foal, you
are entitled to a re-breed the following year.

Q. Do Char-O-Lot Ranch foals excel in the show ring?
A. Please visit our website for many of our recent winners - most of them are sired by stallions standing at Char-O-Lot Ranch. The Hunter has remained at the top of the Leading Sires listing for the past several years in both performance and hunter-in-hand. We have several other stallions that we have promoted in the show arena and have won - they are now standing and starting breeding careers of their own. The are also Junior sires being offered this year for their first season. Char-O-Lot Ranch is also the home of The Secret (syndicated).

Q. Are Char-O-Lot Ranch stallions enrolled in any futurities or incentive funds?
A. Please see each stallion page on the website www.charolotanch.com for updates on each individual stallion.

Q. Why are mare owners interested in the futurities and the Breeders Trust Incentives?
A. Showing your horse in available breeders futurities is a good way to make a little money with your horse while it is young. Also, by participating in the Breeders' Trust you will earn monies for each point earned at registered shows. Futurities and the Breeders' Trust add up to a win-win situation.

Q. Can I examine the breeding contracts on the privacy of my own home with no obligation to sign one?
A. Absolutely! Please call the farm or send an e-mail. Info@charolotranch.com

Q. How do I keep track of my mare's cycles?
A. Tease your mare! Normal cycles generally last 5-7 days with approximately 18 days of no heat in between. Be sure that she has a clean culture and clean cytology. (Cultures are not
always completely accurate, especially early on in the breeding season. A cytology is a good idea. A quick ultrasound of her uterus at this time is also recommended. This will enable your vet to see if your mare has fluids in her uterus or if she has any existing cyst that could be misinterpreted as an early pregnancy.) When your mare begins to cycle call the farm and notify us of the estimated date that you will want the semen shipped. Call the farm by 10:00 AM on the morning that you need the semen shipped to confirm. This gives us enough time to collect the stallion and notify Fed-Ex that we need a pick-up for that day. Monday-Wed-Fri are our collection days!

Q. What if my mare is currently in foal?
A. We suggest (this is our farm standard procedure) Your veterinarian flush the mare with Gentocin/Bi-carb and saline solution, followed by 1 cc Oxytocin injection on the day following foaling. This will also enable him to visually and manually check her vagina for necessary repairs that may have occurred during the foaling process. This mare will normally cycle 8-15 days following her foaling. We have had mares cycle as soon as 6 days post foaling, but that is unusual. Teasing these mares is also important. Bear in mind that some mares will tease to anything on hoofs, some mares will tease only to certain stallions / or geldings. Some mares will not tease at all and will need to be palpated on a more regular basis to ascertain where she is in her cycle. Some mares will also tease even when they are pregnant - do not tease these mares as that can cause a lowering of natural progesterone causing her to lose her early pregnancy. Those mares once confirmed in foal by ultrasound Should have their progesterone levels tested to ensure they had adequate P-4 levels to maintain pregnancy.

Q. What does my vet need to do to prepare for the semen shipment?
A. Your vet will probably want to palpate your mare every day when she gets close to ovulating. He also needs to palpate 48 hours after insemination to be sure that your mare did ovulate. Some vets prefer to inseminate two days in a row, some prefer to put all the semen in at one time (This is not proven to be better either way) However do not split the doses as each one is counted and graded for quality on the farm to insure proper doseage for each mare. If the semen is being shipped directly to you, be sure to notify your vet as soon as it arrives so that he can inseminate your mare as soon as possible. Do not open the cannister until your vet is ready to inseminate. When your vet has inseminated the mare the Hamilton-Thorne canister must be returned to us immediately - prepaid. This insures that we have canisters available for the next person who needs one. Once your mare has ovulated, continue to tease your mare to be sure that she does not short-cycle back into heat.

Q. What if I've never used Fed-Ex before? What are the charges? How do I go about returning the shipping canister to Char-O-Lot Ranch?
A. Go to your computor for the nearest Federal Express office or call 1-800-GOFEDEX for information on pick up locations. The charges to have the semen shipped to you are variable by your location and whether or not a Saturday delivery is involved. The office in your area can tell you what the approximate charges will be for 13 lbs for Fed-Ex First Overnight from zip code 34251. When returning the canister you can send it economy, either Fed-Ex, UPS or USPS.

Q. Can I use my own shipping container?
A. Yes, please feel free to ship it to us in advance and we will return it when your mare is ready. We prefer to use Hamilton-Thorne Equitainers.

Q. My mare has been inseminated, now what?
A. On day 16 following her ovulation, have your veterinarian ultrasound for pregnancy. Notify the farm of the results either by phone or e-mail. Day 21 re-ultrasound to verify the pregnancy is progressing. The majority of embryos that are lost occur during days 16-21. Day 30-45 another ultrasound should be done to insure a viable pregnancy and good heartbeat. Please call the farm to confirm your pregnancy!