YOUR INPUT IS NEEDED TO SUPPORT THE DEVELOPMENT OF CYCLING LANES ON CHEMONG ROAD & REID STREET!

The City of Peterborough is presently examining opportunities to improve traffic flow, enhance safety and increase roadway capacity on Chemong Road / Reid Streets between Parkhill Road West and Sunset Boulevard.
They are considering the development of cycling lanes on some sections,
but to ensure that it remains a priority, public feedback in support of this infrastructure is necessary
!
Please complete and submit a project
comment form
!
Details for this project are available
here
. The slides from the
first Public Information Centre
and the
second Public Information Centre
are also available.
At the second Public Information Centre, the consultants presented their
Technically Preferred Development Alternatives
. Section 'B', which describes the development on Chemong Road, proposes on-road cycling lanes:



Potential cycling infrastructure alternatives to the proposed on-road cycling infrastructure include:

1. Cycling Tracks, which are separated from traffic by a median.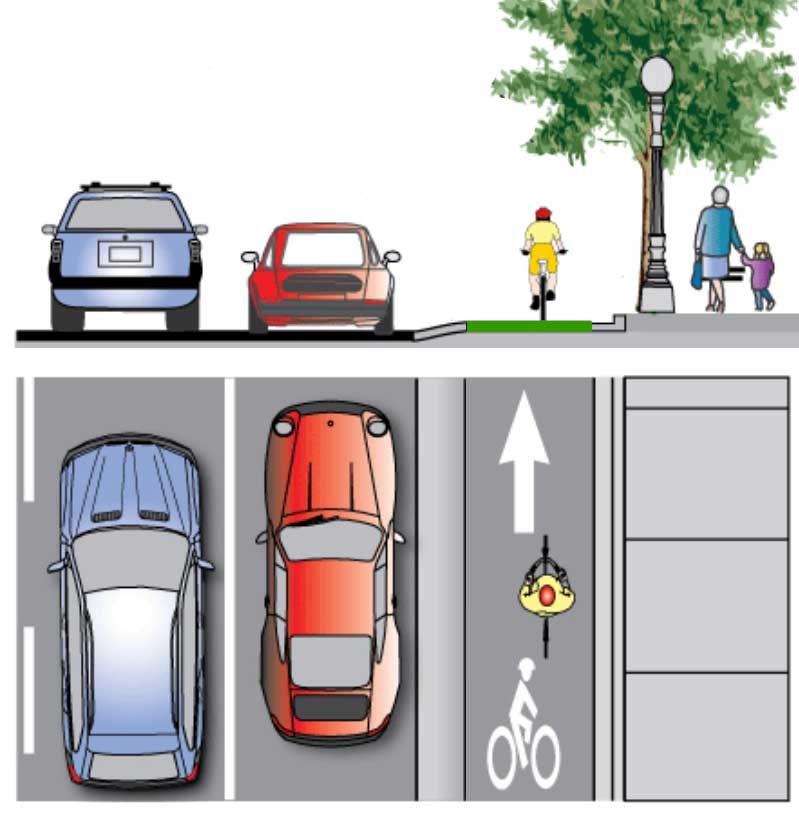 2. Shared pathways on the sidewalk, which allow for pedestrians and cyclists to share space. This type of path has been developed on Lansdowne Street between Goodfellow Rd and Spillsbury Dr
.
Please complete a project comment sheet to support the development of cycling infrastructure, and communicate which type of infrastructure you would prefer!
____________________________________________________

New Locally Designed and Manufactured Bike Racks Coming Soon!
In the next few weeks, two inverted-U bike racks will be installed on Simcoe Street between Water and George Streets. Susan Sauve of the City's Transportation Section has been working with City Welding over the last year to have inverted U racks made in Peterborough. With the purchase of a new machine for shaping steel tubing in 2011, the racks are now in production. To provide your input on these new racks, please
contact Susan.