To find out more about P-BAC, visit our website
________________________
To access the latest cycling resources and to find out more about cycling programs in your area, check out
PeterboroughMoves
________________________
To keep up-to-date on outdoor news, reviews and trail listings for Peterborough and the Kawarthas, go to
TrailSwag
________________________
For more information about great rides in the area, and to get inspired, visit
PtboRides
________________________
Find out more about Peterborough's amazing Community Bike Shop at
B!KE
Thank you to everyone who contributed to this year's

Peterborough & the Kawarthas Cycling Summit!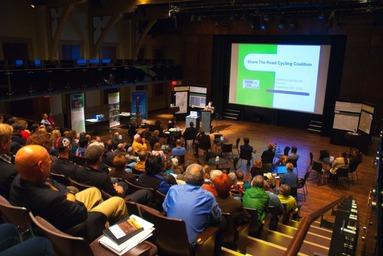 The 2012 Peterborough and the Kawarthas Cycling Summit brought together over 150 cycling enthusiasts, advocates, organizational representatives, and municipal leaders to discuss local and provincial cycling initiatives. Barry Rand, Deputy Warden for the County of Peterborough, and Len Vass, Councillor for the City of Peterborough, provided a warm welcome to attendees and spoke to their municipality's increasing commitment to creating bicycle friendly communities. Eleanor McMahon, of the Share the Road Cycling Coalition, spoke about their work advocating for a provincial strategy to support cycling and discussed the many successes they've had over the past 18 months in bringing about supportive legislation and policy. Susan Sauvé and Brian Buchardt, planners at the City of Peterborough, and Chris Bradley, Director of Public Works at the County of Peterborough, gave updates on cycling initiatives in their respective municipalities.
To view this year's presentation slides, click here.

IMPORTANT!
Priority-Setting Survey
This year's summit included an opportunity for community members to contribute to the process of municipal infrastructure and policy priority-setting. If you were unable to attend the summit, or if you were unable to complete the activities at the summit, please take the time to complete this short survey. The results from both this survey and the Peterborough & the Kawarthas Cycling Summit Activity Session will be submitted directly to the City and County for consideration within their respective planning processes. The data received will also be used to inform the development of a Bicycle Friendly Peterborough policy paper that will be made available to residents and decision-makers in the Greater Peterborough Area.
+ Click here to complete the priority-setting survey
+ Click here to view the results of the summit priority-setting activities

GREAT SUMMIT PRESS COVERAGE
This year's summit got some great press!
+
Click here
to view the Peterborough Examiner's article.
+
Click here
to view the extremely comprehensive coverage on the TrailSwag blog!
PHOTO BOOTH PICS AVAILABLE
The pictures taken at this year's summit photo booth are now on-line -
click here to enjoy
!
COMMENTS NEEDED FOR COUNTY T.M.P.
The County has encouraged local-area cyclists to provide feedback on their Transportation Master Plan recommendations. Representatives for the County have indicated that very few comments related to cycling have been received thus far. Public input into this process can help to shape cycling infrastructure for years to come.
+
Click here
to download the latest Public Information Centre display boards, outlining elements of the proposed plan revisions.
+ To download the comment form,
click here
.
PARKWAY INFO CENTRE TONIGHT!
The City of Peterborough has scheduled the first Public Information Centre (PIC) as part of the ongoing Parkway Corridor Class Environmental Assessment for Tuesday, October 2, 2012 from 5:30 pm until 8:30 pm at the Evinrude Centre on Monaghan Road. Don't miss this important opportunity to inform this project!