Bell's Annual Student Fundraiser
Save the date for the first fundraiser of the year for Bell School! Bell Walk will be on Thursday, October 12. Watch for pledge sheets, times and volunteer sign up coming home through backpack mail!
---
Parenting Perspectives Workshops
Bell is expanding its partnership with
Parenting Perspectives
and will offer a 4 week parenting workshop entitled "Conscious Parenting." This highly acclaimed course will provide practical tips and creative approaches aimed at helping you navigate through some of the toughest challenges of parenting. You will develop a solid parenting plan and acquire over 100 parenting tools for raising respectful, responsible, resilient children. The dates for the workshops are Wednesday, October 4, 11, 25 and November 1 from 8:30 - 10:30 a.m.
We encourage you to sign up now and reserve your spot. More information and a link to register can be found
here
.
---
Attention 5th - 7th Grade Parents
In the STEAM lab the students need to create an account in
Tinkercad
in order to design things on the 3-D printer. Students 12 and older need parental permission. When they sign up for an account, they need to provide a parent or guardian email. When you get the email it will ask for confirmation and permission for your child to use the site. It will also ask for a one-time payment of $0.50. If you do not want to pay $0.50 online, there is an option to download a permission slip to mail in. Your child will be able to use
Tinkercad
without permission for 14 days, after which their account will close.
---
CPS Panel Discussion
A Chicago schools panel discussion will take place on Wednesday, September 27 at DePaul University's Student Center at 2250 N Sheffield, Room 120 at 6:30 p.m.. Local parent John Martin (3rd grade student) is representing Bell Elementary and parents from other local and private schools with be in attendance. The event will be moderated by DePaul College Prep's President Mary Dempsey and is aimed at helping families hear the "real deal" about the different school options in Chicago. Learn more about the event and register
here
.
---
Attention 7th & 8th Grade Parents
Please note some important dates and events to keep in mind for your 7th or 8th grader and yourself:
*October 4 - High School Night (
GoCPS
presentation) at 7 p.m. in the Bell School auditorium
*October 12 - North Center High School Fair at 4:30 p.m. at Lake View High School (See flier
here
.)
*October 19 - 8th grade Panel Presentation at 4 p.m. in the Bell School auditorium featuring Bell School alumni (See flier
here
.)
---
Bell Spiritwear for Sale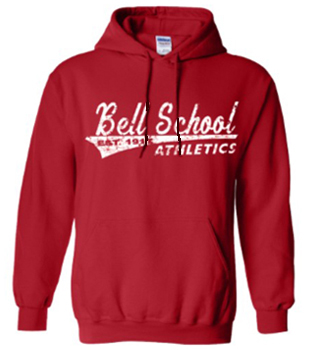 Bell Spiritwear is for sale between now and September 30.
Order for your child or yourself to celebrate your school pride! Make sure to note your child's classroom as you order each item. Deliveries will be made to your child's classroom the week of October 23.
ORDER HERE TODAY
---
Commemorative Bricks
Honor your Bell student, alumni or family by purchasing a commemorative brick which will be personally engraved and placed on the walkway along the east side of Bell school.
Larger bricks
are 8 x 8 for $100 and
smaller bricks
are 4 x 8 for $50. The deadline to purchase is October 6.
---
Sports Update
The fall sports season is underway! Cross country, girls volleyball and boys soccer have started their seasons, and all information about meets/games and practices will be distributed by each team's coaching staff.
Basketball for boys and girls in grades 5-8 will begin in the winter, and tryout information will be posted on our website as well as announced each day for students.
Spring sports will include girls soccer and track and field. Please continue to check our school website for sports information as the seasons change, and feel free to contact Ms. Miller (kmmiller@cps.edu) if you have any questions.
---
Beautify Bell Campaign
We are looking to expand our work to improve our gardens and our grounds this year and need your help. Please help remind students to be respectful of our landscaping and our garden areas. If everyone works together, we can continue to make Bell a beautiful place.
We are hoping to add in some new elements such as those in the photos, and we are looking for help. Any Bell parents with landscape and/or gardening expertise who are interested in volunteering to help can contact Ms. Miller (kmmiller@cps.edu). We look forward to an exciting year inside and outside of Bell!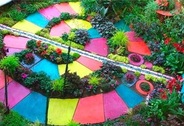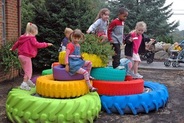 ---
Prepare Your Student for Success
Agassiz Elementary is hosting a speaking event on Tuesday, October 3 for parents of K -3rd grade students. The event starts at 6:00 p.m. in the school gym at Agassiz (2851 N Seminary Ave) and will feature education researchers describing the most important insights for setting students on the path to success during early elementary.
If you are interested in attending, you may register
here
.
---
Dress Expectations for PE Classes
This is a reminder that students are expected to wear appropriate clothing on PE days. Red or white t-shirts or spiritwear and gym shoes are the minimum expectations. This enables everyone to fully participate. Thank you for your cooperation!
---
Lost & Found
The water bottles, coats and lunch boxes are piling up already! Please be sure to put your child's name on all items so we can try to return lost items to their owners each week. Any unclaimed items are being removed on a monthly basis and donated.
---
Help Raise $ for Bell by Shopping Local October 5