Flexible Seating
The school year is off to a great start! It was wonderful to see so many families on the first day of school. We look forward to seeing many of you again at our curriculum nights. Something new that is appearing in classrooms this year is an educational practice called flexible seating. If you have not heard of it, read
this article
to learn more about it. Great things are happening at Bell!
---
Football Coaches Needed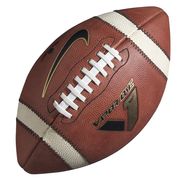 Bell is looking for parent volunteers to coach football for a 5th/6th grade team and a 7th/8th grade team. If we do not have volunteer coaches, we will not be able to have teams. If you have any interest and availability to coach, please reach out to Ms. Miller at kmmiller@cps.edu as soon as possible. Thank you!
---
Donations Needed
Bell's new STEAM lab is gearing up for an exciting year! As you can imagine, in order to make things, we need certain supplies. Ms. Aldrin will be sharing some of the specific needs that we have, and hopefully we will be able to repurpose some of the things that you have around your house.
First, we need some basic tools. If you have an extra hammer, screwdriver or pliers that you can share, please bring them to school.
Second, we need many Lego pieces. We will be setting up a Lego wall and can use any and all Lego pieces that you have lying around and keep stepping on!
There will be a box for donations by the front desk. Thank you in advance for helping with this new space!
---
Chinese Cultural Festival
Confucius Institute in Chicago and Chicago Public School is presenting a FREE fun and educational event on Saturday, September 23. The Chinese Cultural Festival will be held at Whitney Young Magnet High School and runs from 10 a.m. - 2 p.m. See the flyer
here
.
---
Prepare Your Student for Success
Agassiz Elementary is hosting a speaking event on Tuesday, October 3 for parents of K -3rd grade students. The event starts at 6:00 p.m. in the school gym at Agassiz (2851 N Seminary Ave) and will feature education researchers describing the most important insights for setting students on the path to success during early elementary.
If you are interested in attending, you may register
here
.
---
Parenting Online Resources
Now that most families are settled into the school year routine, Child Mind Institute has some great resources for parents on many subjects.
Helping kids choose extracurricular activities that work for them, without the stress.



Check out
Child Mind Institute
for a multitude of topics.
---
Parenting Perspectives Workshops
Bell is expanding its partnership with
Parenting Perspectives
and will offer a 4 week parenting workshop entitled "Conscious Parenting." This highly acclaimed course will provide practical tips and creative approaches aimed at helping you navigate through some of the toughest challenges of parenting. You will develop a solid parenting plan and acquire over 100 parenting tools for raising respectful, responsible, resilient children. The dates for the workshops are Wednesday, October 4, 11, 25 and November 1 from 8:30 - 10:30 a.m.
We encourage you to sign up now and reserve your spot. More information and a link to register can be found
here
.
---
Our September Sponsor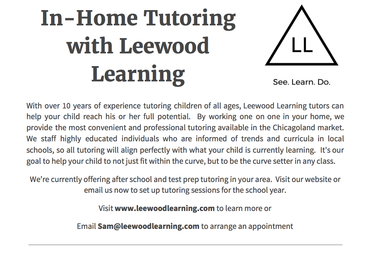 Click on the link above to learn more above private in-home tutoring for all ages. To arrange an appointment, please contact sam@leewoodlearning.com.