In This Issue

From the Board

JFS Annual Meeting

JFS Fitness Challenge

Sponsor Highlight

JFS Celebrates Women

JFS Community Events

Around the Community Events

---
JFS 2017 Sponsors
Gold Level
Johnson & Johnson Health Care Systems
Silver Level
The Oscar and Ella Wilf Campus For Senior Living

Roundview Capital

Jill & Eric Lavitsky

The Main Event
Bronze Level
Nancy L. and Arthur E. Lee

The Doctor is In

Joan & Steven Handel

Helaine & Allan Weisberg

PNC Wealth Management

An Angel (Anonymously)

Wendy & Stephen Offen

Dr. & Mrs. Arthur Feldman

Dr. Steven & Heidi Ginsberg

Somerset Pediatric Group

Steve & Kathy Harris

Atlantic Health Systems
Friends
Suplee, Clooney & Company

Wally and Denise Yosafat

Millington Bank

Senior Helpers

ShopRite of Hunterdon County, Inc.

Home Instead Senior Care

MacMillan Financial

KRE Group, Inc.

Flemington Department Store

Joseph & Nancy Gorrell

CROSSFIT Chimney Rock
Additional Supporters
Advantage Voice & Data

First Impression Cleaning Service

Marcus Business Machines

Brown & Brown of Lehigh Valley, LP

Luna Rossa Ristorante

Quantum Floats

Audi of Mendham & Bridgewater

Don Shuman Associates

Flemington Car & Truck Company

Yanina & Co.
For information about becoming a JFS sponsor contact
Jerry Starr at 908 725-7799 or jstarr@jewsihfamilysvc.org
---
Quick Links
To support our work in the community, donate now.
---
Donate Your Unwanted Vehicle to JFS through the CARS program


Please call CARS at (877) Jfs-4-Cars or (877)537-4227

Proceeds from your donated vehicle directly support JFS programs and services.
---
Click here to visit JFS of Somerset, Hunterdon, and Warren Counties website and video.





Like us on Facebook.
---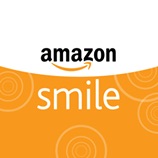 Sign up with Amazon Smile
and JFS benefits when you make a purchase
Click here to see how JFS Changes lives every day.
---
JFS Community Marketplace

Is someone you know having a special birthday, event, or celebration?

The JFS Community Marketplace is the place for you. Click here for more information.
---
JFS Tributes

To share a joyous occasion or acknowledge a sadness, click here.

This Month's Tributes:

To Mr. Charles Singman & Family, In Memory of His Father Paul Singman, From Larry & Bea Abrams, From Bruce & Marjorie Goldstein

To Mrs. Ruth Singman & Family, In Memory of Her Husband Paul Singman, From Camille Samuel, From Steve & Lynn Chodos, From Evelyn Glanzberg, From Martin & Nancy Willick, From Patricia Chenu

To Ms. Randi Singman and Family, In Memory of Her Father Paul Singman, From Carol Sangeorge, From Lauren Levine

To the Singman Family, In Memory of Paul Singman, From the Cravotta & Hinman Families

To Mr. & Mrs. Peter Hercky, In Honor of the Birth of Their Granddaughter Sidney Jeanne, From the Board & Staff of JFS

To Mrs. Jeanne Lankin, In Honor of Retirement and Making Alayah to Israel, From Joseph & Harriet Fass

To Mr. Harold Masfowitz, In Honor of His Birthday, From Bob & Janice Grossman

To Mr. Max Levinston, To Get Well Soon, From the Board & Staff of JFS

To Mr. & Mrs. Eric Harris, In Honor of Their Son's Graduation, From the Board & Staff of JFS

To Libby Abramson, In Memory of Dr. Harry Abramson, From the Board & Staff of JFS
---
Employers
Did you know that JFS can advertise your job openings to hundreds of job seekers at no cost to you.

Send job leads to eprezant@JewishFamilySvc.org.
---
Celebrate Your Simcha with a Mitzvah Beautifully Designed Bimah Baskets

We transport to and from your event.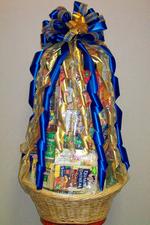 Your tax deductible donation directly supports our Emergency Assistance and Holocaust Survivor Programs.

Mazel Tov on Your Bar and Bat Mitzvahs!

Natalie Sodowich
Sophie Weinberger
Isaac Louis Feinberg
Marissa Pollak
---
Board Officers

President
Helaine Weisberg

Vice Presidents
Joan Handel
Charles N. Singman, Ph.D

Treasurer
Ronni Lederman

Recording Secretary
Debbie Youngerman

Board Members

Bea Abrams, Ph.D
Ted Baker
Debby Feldman
Gary Gartenberg
Heidi Ginsberg
Michael Kalison
Jill Lavitsky
Nancy L. Lee
Roxanne Levinston
Alexander M. Marcus, MD
Lynn Nakashian
Wendy Offen
Greg Rosen
Stanley Schneider, EdD
Helaine Weisberg
Gabrielle Walborsky
Walter Yosafat
Debbie Youngerman
From the President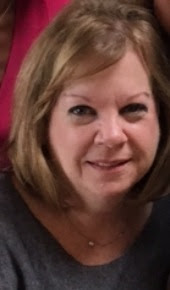 Where does the time go? I remember my mother saying that phrase all the time and I thought it was weird. What time? What is she talking about? A year, a week, a day, an hour, a minute? As a child a minute seemed like an eternity.
"Wait a minute" was something I never wanted to hear, especially when I wanted or needed something immediately. But now I understand what my mother meant.

The months and years are flying by and I wonder, where did the time go? So now is the time to rethink your commitments and make the time count. Find something that is meaningful to you and support it! My something is JFS.

JFS is helping the community NOW. One example is the Betty and Arthur Roswell Family Counseling Center where we see 70 individuals and families every week for mental health counseling and often at a reduced fee to make it affordable to a family struggling to make ends meet. The clinicians work diligently to support the clients and the appropriate programs for them. The staff is amazing and with the support of the board raising needed dollars for scholarships for counseling our agency is stronger for this team effort.

The board has worked especially hard this year to successfully sustain the agency with support and fundraisers, as well as educational opportunities. We successfully held our March Madness fundraising event, as well as the Women's Symposium and the Fitness Challenge fundraiser this spring and soon we will host a Men's Health Awareness event on June 4th and our Annual Meeting on June 7th. All of these events are an opportunity to engage people from around the community in the important work of JFS.
So where does the time go? Make every minute count. We all are responsible to ourselves to be the best that we can be!! Don't waste time…. volunteer, get involved, be a part of what's happening to make JFS even better and stronger. Our community depends on us. Remember, the next person we help could be a family member or a friend.

We welcome everyone. You might not see us or hear our name, but we are there in the background picking up the pieces that could be falling down around someone. Don't let time pass you by. Now is the Time!!

Helaine
---
JFS Annual Meeting


June 7, 2017 at 7pm


at the JCC in Bridgewater
For more information and to reserve a seat please call 908 725-7799 or email: admin@jewishfamilysvc.org
---
JFS Celebrates Women
Ilene Beckerman spoke with humor and poignancy as she addressed a group of 86 women on Sunday, April 30 at this JFS sponsored event held at the Shimon and Sara Birnbaum JCC. She encouraged us to think about who it is we see when we look into the mirror and who it is we WANT to see. In sharing her wisdom and life's lessons, she brought laughter and inspiration. All enjoyed brunch and time to mingle with friends.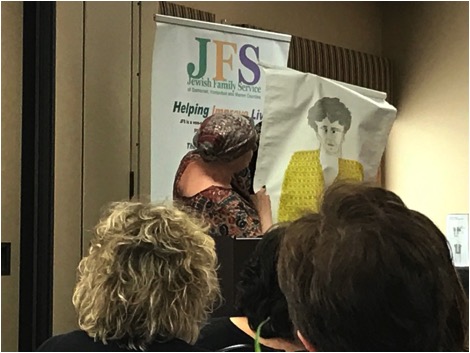 Guest speaker Ilene Beckerman shows her drawing of her grandmother. At 4'10" she was a model of strength and wisdom.
---
JFS Fitness Challenge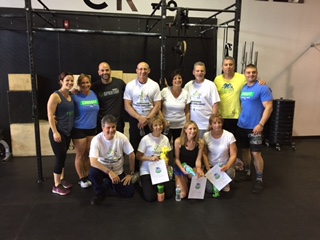 The JFS Fitness Challenge was a big success. Over $6,000 was raised to support programs and services for children, families and seniors including holocaust survivors. Gabby Walborsky and Kate Sugarman won team honors and Joan Handel was our individual winner. Wally Yosafat was the top fundraising raising over $1,400 in support of JFS services. Congratulation to our winners and to everyone who supported JFS. Thanks to CrossFit Chimney Rock for hosting the event.
---
Sponsor Highlight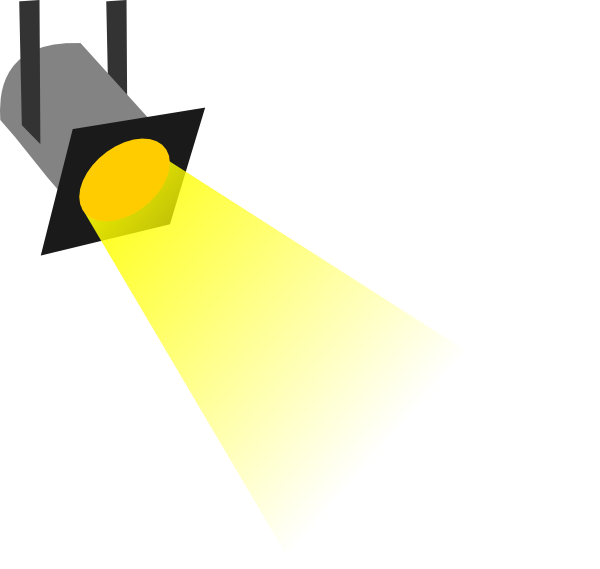 This Month We Highlight
Our Community Sponsors
Jill & Eric Lavitsky
Nancy L. & Arthur E. Lee
Helaine & Allan Weisberg
Joan & Steven Handel
Wendy & Stephen Offen
Dr. and Mrs. Arthur Feldman
Dr. and Mrs. Steven Ginsberg
Steve & Kathy Harris
Wally & Dee Yosafat
Joseph & Nancy Gorrell
An "Anonymous Angel"
---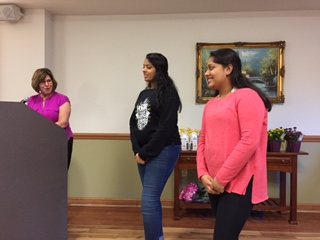 JFS recognizes Good Deeds Corps Volunteers at Annual Volunteer Celebration
L to Right: Ruth Edelman, Aisha and Archi Patel
---
June is Men's Health Awareness Month

JFS in Partnership with the Wilf Campus for Senior Living is offering a Community Program on Men's Health Presentation by Dr. Arthur Feldman

Become Informed for Yourself & for Your Family
Sunday June 4th from 10-11:30
Stein Assisted Living
350 DeMott Lane, Somerset NJ

Seating is limited; please register in advance to reserve your seat
For more information and to register
Call 908.725.7799 or email: Admin@JewishFamilySvc.Org
---
Sharsheret


An organization helping those in the Jewish community diagnosed with Breast and Ovarian cancer needs your help!
They are looking to understand how they can inspire more women to reach out to Sharsheret for support.

Please complete this survey if you have been diagnosed with breast or ovarian cancer or are at high risk due to family history or a genetic mutation. Respondents can enter a raffle to win an Amazon gift card.
---
JFS Upcoming Events
Family Mentor/Senior Friendly Visitor Program is seeking new Volunteers
Volunteers visit 1-2 days per week in the home of the family or senior with whom they are matched. For more information, or to volunteer, contact Jeanne Lankin, LCSW or Young-In Shin at JFS 908 725-7799.
Social Club for Young Adults with Autism Spectrum Disorders or Developmental Disabilities
Monthly Meetings, Tuesday, 4:00-6:00pm
For info or to enroll contact JFS 908-725-7799

Cafe Europa, A Monthly Group for Holocaust Survivors
Wednesday, June 14 2017 10:00 AM
For more information on Cafe Europa click here
Job Seeker Success Group
No JSSG in June

Wednesday, July 5, 2017 at 7PM "The Power of Choice" Denise Yosefat, President, Choice Executive Solutions
Social Learning Group
Held at SSBJCC in Bridgewater
A 10-week program for youth ages 10-13, or 13-16, meets on Sundays, focuses on social, relationship and communication skills for youth struggling with peer relationships. Contact Jennifer Walters, LCSW at JFS 908-725-7799 for information.

Parent/Caregiver Support Group for the parents and/or caregivers of children with special needs. One Sunday afternoon a month. Please contact Jennifer Walters, LCSW at JFS at 908-725-7799 for more information.

Sibling Support Group for the brothers and sisters of children with special needs. Please contact Jennifer Walters, LCSW at JFS at 908-725-7799 for more information.
Preschool Consultation for children with special needs. Staff training and consultation are also available. Please contact Jennifer Walters, LCSW at JFS at 908-725-7799 for more information.

Yearn2Learn, an interactive learning experience for retired persons
For more information on Y2L and upcoming programs click here
---
Around the Community

The Jewish Federation of Somerset, Hunterdon and Warren Counties is pleased to announce the establishment of a new Scholarship Program designed to promote attendance at overnight Jewish camp and Israel programs. For more information, please call Dan Fahrer at 908-758-2001 or email him at dfahrer@jfedshaw.org and he will be glad to assist you.
To find out about local events in the Jewish Community please check out this link
Upcoming Jewish LIFE Events
The 2016-2017 Jewish LIFE brochure is available here.

Golf & Tennis Outing June 5, 2017

---
JFS of Somerset, Hunterdon & Warren Counties
150-A West High Street
Somerville, NJ 08876 | 908-725-7799
Website: www.JewishFamilySvc.Org
Email: Admin@JewishFamilySvc.Org