In This Issue

From the President

Investors Foundation

Jewish LIFE Event

Daffodil Project

Hebrew Free Loan Program

JFS Community Events

Around the Community Events

---
JFS 2019 Sponsors
2019 Sponsors
Platinum Level
Steve and Kathy Harris
Nancy L. and Arthur E. Lee
Dr. Marjorie and Jonathan Slass

Gold Level
Janssen Pharmaceutical Companies of Johnson & Johnson
Jill and Eric Lavitsky

Silver Level
Roundview Capital, LLC
Dr. Arthur and Mrs. Debby Feldman

Bronze Level
The Doctor is In
The Oscar and Ella Wilf Campus for Senior Living
Atlantic Health Systems
Senior Helpers
Somerset Pediatric Group
Robert Wood Johnson University Hospital Somerset
Margulies, Englehart & Veneziale, LLC
Preferred Pension Planning Corporation
PNC Wealth Management
Dr. Steven and Mrs. Heidi Ginsberg
Susan and Steven Darien
Wendy and Stephen Offen

Friends
Suplee, Clooney & Co
The Chelsea at Bridgewater
Skydell contracting, Inc.
Chef Jeff
Helaine and Allan Weisberg
Walter and Denise Yosafat
Richard and Cheryl Fialkoff
SSG Executive Advisory Group of Raymond James
Radiant Webscapes
Millington Bank
MacMillan Financial
Camp Bow Wow Bridgewater
ShopRite of Hunterdon County
Flemington Car & Truck Country
Dogwood Farms

Additional Supporters
Bond, Andiola & Company
Marcus Business Machines
Audi of Mendham & Bridgewater
First Impressions Cleaning Service
For information about becoming a JFS sponsor contact
Jerry Starr at 908 725-7799 or jstarr@jewsihfamilysvc.org
---
JFS Tributes
To share a joyous occasion or acknowledge a sadness, click here.
This Month's Tributes:
To Ms. Ronni Weyl, In Memory of Her Mother Dorothy Bucholtz, From Annette Radick, From the Board & Staff of JFS

To Ms. Claire Horvath, In Memory of her Husband Al Horvath, From Elise & Bob Prezant

To Ms. Blanche Davidson, In Memory of Her Husband Marvin Davidson, From Rhoda & Irwin Blake

To Mr. Peter amd Ms. Deborah Hercky, In Honor of the Birth of Their Granddaughter Nina, From the Board & Staff of JFS

To Ms. Pam Mastro, In Honor of Your Dedication to the Mental Health Community, From the Board & Staff of JFS

To Marjorie Slass, PhD, Congratulations on Achieving your PhD, From the Board & Staff of JFS

To Mr. Walter and Ms. Dee Yosafat, Congratulations on Their Son Jake's Engagement, From Mark and Ronni Lederman
---
The Evan Jaffe Memorial
Hebrew Free Loan Program
One-time interest free loans offered to address a specific financial problem. Loans range from
$500 to $1,500 interest free.

To request an application, contact JFS of Somerset, Hunterdon and Warren Counties at 908-725-7799 or visit our website:
www.JewishFamilySvc.Org
---
JFS Generation to Generation

Do a lifetime of good by making a
Legacy Gift to JFS today
ensuring that programs and services for those in need
will be here for generations to come.
---
Celebrate Your Simcha with a Mitzvah Beautifully Designed Bimah Baskets

We transport to and from your event.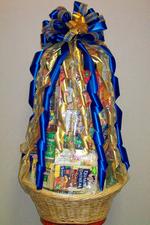 Your tax deductible donation directly supports our Emergency Assistance and Holocaust Survivor Programs.

Mazel Tov on Your Bar and Bat Mitzvahs!

William Cige
---
Quick Links
To support our work in the community, donate now.
---
Donate Your Unwanted Vehicle to JFS through the CARS program


Please call CARS at (877) Jfs-4-Cars or (877)537-4227

Proceeds from your donated vehicle directly support JFS programs and services.
---
Click here to visit JFS of Somerset, Hunterdon, and Warren Counties website and video.





Like us on Facebook.
---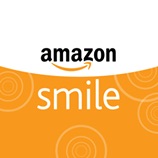 Sign up with Amazon Smile
and JFS benefits when you make a purchase
Click here to see how JFS Changes lives every day.
---
JFS Community Marketplace

Is someone you know having a special birthday, event, or celebration?

The JFS Community Marketplace is the place for you. Click here for more information.
---
Employers
Did you know that JFS can advertise your job openings to hundreds of job seekers at no cost to you.

Send job leads to eprezant@JewishFamilySvc.org.
---
Board Officers

President
Walter Yosafat

Vice Presidents
Nancy L. Lee
Helaine Weisberg

Treasurer
Alexander Marcus, MD

Recording Secretary
Bea Abrams, Ph.D

Board Members
Barbara Drew
Debby Feldman
Heidi Ginsberg
Joan Handel
Eric Herz
Jill Lavitsky
Roxanne Levinston
Sharon Marguiles
Wendy Offen
Charles N. Singman PhD
Monica Skydell
Gabrielle Walborsky

Active Past Presidents
Nancy L. Lee
Helaine Weisberg
Charles N. Singman PhD
Nancy Gorrell
Stephen Harris
Joan Handel
Linda Jerrow
Elizabeth (Betty) Roswell

Advisory Committee
Jerome Zweig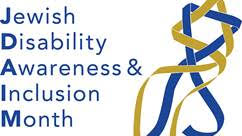 JFS Celebrates February as Jewish Disability Awareness & Inclusion Month
---
From the President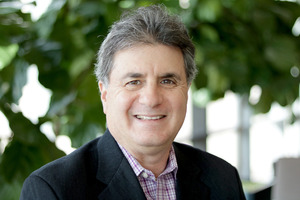 Welcome to winter and February in New Jersey. As January came to a frozen close, it handed off frigidity to a new month and even with a thaw and optimistic groundhog predictions, a cold winter isn't over for sure.

As I watched the news and personally ran around New York City for meetings during that last cold week of January, I saw those in need and out in the cold on and in the streets. The normal harshness of being out of work, out of a home and out of food was made worse by the extreme cold and wind. As I quickly came out of the cold and popped into a local coffee shop in the City, I ordered a cup of coffee and the man (Denzel) behind the counter said "no charge, man". No matter what I did in trying to tip or give him something for the coffee, he just fist-pumped me and said "it's on me… warm up!" So best way I could give back was to donate the money (and more) for that cup to Tzedakah AND also find a way to thank Denzel's employer via eMail and call him out.

I share this snippet because it is a great reminder of a few of the reasons I joined Jewish Family Service in our tri-county community. First, the need is so great in normal times and what we do helps so many. Second, the need only gets greater in harsh conditions… bad weather, bad economic times, unfortunate individual and family circumstances. Third, our agency's services and people are there for the individual and family needs always. And fourth, it's all about people… the ones in need and great ones at JFS, just like Denzel, who find the ways to make a difference and give without needing or wanting anything in return.

Our people deliver in so many ways. We see to it that those in extreme need can get monies through our Hebrew Free Loan program and we made an extra push for folks during the recent government shutdown. We have a career counselor who helps those out of work connect with opportunities. We work with agencies like Grow-a-Row to harvest and distribute fresh food to the needy. We provide counseling and companionship for the very young, teens, adults, families and seniors in the community. And we communicate with, bring together and help address the needs of our local Holocaust survivors.

We have many Denzels that give of their time and their funds and their hearts to make life better for all. And we have you, our friends who have and continue to support(ed) us through your involvement and generosity. You and our agency's great people are wonderful and there always, regardless of weather, prosperity or convenience.

So as we all bundle up, stay warm and are comforted in a warm house with food and companionship for the remainder of winter, remember those in need and be reminded of why JFS is here for them. Your continued support to help us help so many is greatly appreciated.

As always, thanks for listening and I love your feedback and ideas. Please feel free to email me at JFS-President@JewishFamilySvc.Org.

Fond regards,
Wally
---
Investors Bank Foundation Supports JFS Senior Services

Jewish Family Service of Somerset, Hunterdon and Warren Counties is the recipient of a grant from the Investors Bank Foundation. These funds will be used to support the Senior Service Program providing social work home visits to frail older adults and offering supportive counseling, case management, caregiver support and community linkage services.
Investors Bank, headquartered in Short Hills, New Jersey, is a full-service community bank that has been serving customers since 1926. Investors Bank created the Investors Foundation in 2005 to support the communities Investors Bank serves. Investors Foundation supports initiatives in the arts, youth development, health and human services, education and affordable housing. Investors Foundation works to improve the lives of its customers and neighbors.

For more information about JFS Senior Services call 908-725-7799 or visit JFS at www.Jewishfamilysvc.org
---
Adam Price: "He's Not Lazy" – Wednesday, Feb 13 at 7:00pm at the JCC
Co-sponsored by JFS and Jewish LIFE
On the surface, capable teenage boys may look lazy. But dig a little deeper, writes child psychologist Adam Price in He's Not Lazy, and you'll often find conflicted boys who want to do well in middle and high school but are afraid to fail, and so do not try. This book can help you become an ally with your son, as he discovers greater self-confidence and accepts responsibility for his future.
Fee: $10/person
For more information contact the SSBJCC at 908-725-6994
---
The Evan Jaffe Memorial Hebrew Free Loan Program

Are you a Federal Employee who has missed pay checks due to the current government shut down?

We might be able to help.

JFS has a limited number of Short Term Interest Free Loans
available to assist you during this difficult time.

Average Loan $500 interest free.
No Pay back required until you receive your pay checks again .

To qualify for this Emergency Hebrew Free Loan Assistance
Contact Jewish Family Service to complete an application.

Loans finalized quickly
---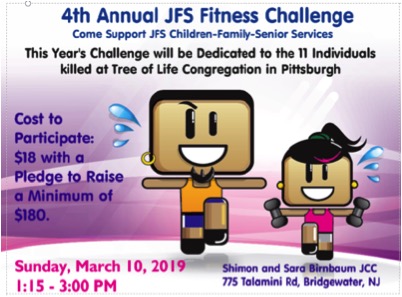 JFS Fitness Challenge organized by Aviv Wagner,
Assistant Fitness Director at the JCC
You don't have to exercise to participate!
Come cheer on your friends and support their efforts by making a donation to JFS
Click Here to Register or Donate
For More Information or to Register:
www.JewishFamilySvc.org
908-725-7799
admin@JewishFamilySvc.org
---

COUNTDOWN: 60 days to BLOOM
February…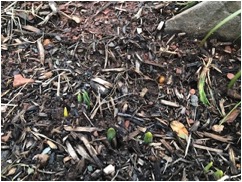 It may be cold out, but look closely –
The daffodils are starting to grow!!
The daffodil project is intended to be a Living Memorial to the children that perished during the Holocaust. The goal is to plant one and a half million daffodils around the world to commemorate the one and a half million children who were senselessly murdered in Nazi occupied Europe and in support of children suffering in humanitarian crises in the world today.

The shape and color of the daffodils represent the yellow stars that Jews were forced to wear during the Holocaust and yellow is also the color of remembrance.Since daffodils are known to be resilient and return with a burst of color each spring they represent our poignant hope for the future. Watch along with us as our daffodils roar back to live… 60 days and counting.
---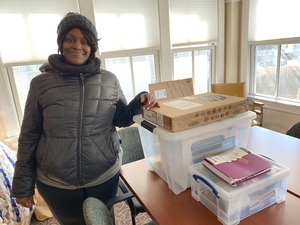 One of the families from the family mentor program was granted $1500 from Courier News Wish Book. She used the money to purchase text books, a computer and necessary items for her college courses. Matilda is excited to be a recipient of the grant to finish her last year to obtain her Associate's degree.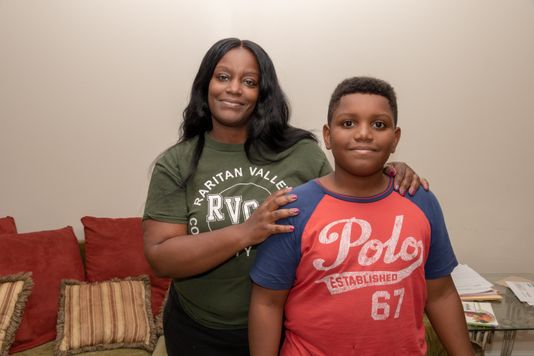 Matilda & Dijon
---
Register for Pink Day
Sharsheret Pink Day is an opportunity for you to raise awareness about breast and ovarian cancer genetics and
help save lives!

Get involved. Here's how:

Wear pink on February 13th, lead a breast cancer awareness or fundraising event at your school or organization and distribute free Sharsheret
resources and giveaways!

Click here for more information.
---
JFS Announces 3

rd

Annual Spring Symposium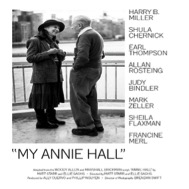 Sunday, April 28 10:00 -12:30
Shimon and Sara Birnbaum JCC 775 Talamini Road, Bridgewater
Brunch and Program $36

My Annie Hall has been playing to sold out audiences in NYC, Teaneck and other venues in the North East. Segments of it have been shown on CBS Sunday Morning. Conceived by Matt Starr and Ellie Sachs, writers and directors of the 35-minute video, viewers are treated to a remake of the 1977 Woody Allen classic starring "older" versions of Allen and co-star Diane Keaton who were in their early 40's for the original. Allen, now 82, gives the film his blessing. "I can only say that it is no fun getting older. It's not that you mellow and get wise. What you get is arthritis." Filmed in the Upper East Side's Lenox Hill area with talented "stars" from the local senior center, the film is a wonderful look at life from an older person's perspective. It's hard not to smile throughout the entire film. Starr and Sachs are joined at the event by John Leland, NYT reporter who often writes about issues related to aging. Leland, who has been appearing at showings of this video, will moderate the event. Come with friends and family of all ages. This is a remarkable work you won't want to miss.

For a sneak preview, go to : https://www.cbsnews.com/live/video/20181202150744-senior-citizens-recreate-annie-hall-film-into-their-own/
---
Cancer Support Community Central NJ Expressive Art Contest
Do you have a connection to cancer?

Are you a Middle School or High School student impacted by cancer? You are invited to express yourself through the creative outlet of your choosing (i.e. essay, poem, artwork etc.).

Submissions will allow contestants to share their personal experience with cancer.

Contest Deadline:
March 29th at 5:00pm

All details available at cancersupportcnj.org/contest
"JOURNEY TOWARDS A NEW DAY"
Co-sponsored by JFS and the Community VNA
A 6 session program to help those grieving the loss of a loved one.
Contact Maris Chavenson, LCSW at JFS 908 725-7799 or Melissa von der Heide, MA, LMFT at Community VNA 908 725-9355 x2230

Family Mentor/Senior Friendly Visitor Program is seeking new Volunteers
Volunteers visit 1-2 hours per week in the home of the family or senior with whom they are matched. For more information, or to volunteer, contact Maris Chavenson, LCSW or Young-In Shin at JFS 908 725-7799.

Social Club for Young Adults with Autism Spectrum Disorders or Developmental Disabilities
Monthly Meetings, Tuesday, 4:00-6:00pm
For info or to enroll contact JFS 908-725-7799

Cafe Europa, A Monthly Group for Holocaust Survivors
Wednesday, February 13, 2019 10:00 AM
For more information on Cafe Europa click here

Job Seeker Success Group
The next group will be held on February 6, 2019 at 7 pm Galvanize Into Action: The 6 elements of a proactive job search" Presented by Terrence Seamon, Career Transition Consultant. Contact Elise Prezant at 908-725-7799 x108 to register or for more information.
Social Learning Group
Held at PeopleCare in Bridgewater
A 10-week program for youth ages 10-13, or 13-16, meets on Sundays, focuses on social, relationship and communication skills for youth struggling with peer relationships. Contact Jennifer Walters, LCSW at JFS 908-725-7799 for information.

Parent/Caregiver Support Group for the parents and/or caregivers of children with special needs. One Sunday afternoon a month. Please contact Jennifer Walters, LCSW at JFS at 908-725-7799 for more information.
Preschool Consultation for children with special needs. Staff training and consultation are also available. Please contact Jennifer Walters, LCSW at JFS at 908-725-7799 for more information.

Yearn2Learn, an interactive learning experience for retired persons
For more information on Y2L and upcoming programs , click here
---
Around the Community

Bias crimes and activities are on the rise. Know what to do if you witness one. Click here for more information.

To find out about local events in the Jewish Community please check out this link
Upcoming Jewish LIFE Events
The 2018-2019 Jewish LIFE brochure is available here.

Wishmakers, A Cheryl Halpern Film, Thursday, February 7, 7 PM at the JCC, Bridgewater. Wishmakers is the story of the Tulip Winery that was established in a residential adult special needs community, The Village of Hope, in Israel. Discussion with filmmaker Cheryl Halpern to follow screening. Fee: $10/Person includes wine and cheese. Register on line at ssbjcc.org or call 908-443-9018.

Temple Beth-El Film Series presents Who the Jew Are You?, Saturday, February 9, 7 PM at Temple Beth-El, Hillsborough. When Alan Goldman's son was born, he was not only faced with the decision of whether to circumsize him, but also with the realization that Sacha was not actually Jewish. So begins a journey that asks, "What does it mean to be Jewish?" Suggested donation: $5/person. To register, call 908-722-0674.

Adam Price, He's Not Lazy: Empowering Your Son to Believe in Himself, Wednesday, February 13, 7 PM at the JCC, Bridgewater.On the surface, capable teenage boys may look lazy. But dig a little deeper and you'll often find conflicted boys who want to do well in middle and high school but are afraid to fail, and so do not try. Fee: $10/person. Register on line at ssbjcc.org or call 908-443-9018.

Jeff Schwartz, This is the Year, I Put My Financial Life in Order, Sunday, February 24, 12 Noon at the Flemington JCC. Join NY Times Correspondent John Schwartz as he shares his financial successes and mishaps, offering an "everyman's" guide to straightening out your money once and for all! Fee: $10/person. To register, call 908-782-6410.

Hamantaschen Bake, Thursday, February 28, 7 PM at the JCC, Bridgewater. Fee: $25/person (by 2/14) and $30/person after 2/14. Register on line at ssbjcc.org or call 908-443-9018.

---
JFS of Somerset, Hunterdon & Warren Counties
150-A West High Street
Somerville, NJ 08876 | 908-725-7799
Website: www.JewishFamilySvc.Org
Email: Admin@JewishFamilySvc.Org