In This Issue

From the Board

Sponsor Highlight

Fitness Challenge

Hebrew Loan Program

JFS Community Events

Around the Community Events

---
JFS 2017 Sponsors
Gold Level
Johnson & Johnson Health Care Systems
Silver Level
The Oscar and Ella Wilf Campus For Senior Living

Roundview Capital

Jill & Eric Lavitsky

The Main Event
Bronze Level
Nancy L. and Arthur E. Lee

The Doctor is In

Joan & Steven Handel

Helaine & Allan Weisberg

PNC Wealth Management

An Angel (Anonymously)

Wendy & Stephen Offen

Dr. & Mrs. Arthur Feldman

Dr. Steven & Heidi Ginsberg

Somerset Pediatric Group

Steve & Kathy Harris

Atlantic Health Systems
Friends
Suplee, Clooney & Company

Wally and Denise Yosafat

Millington Bank

Senior Helpers

ShopRite of Hunterdon County, Inc.

Home Instead Senior Care

MacMillan Financial

KRE Group, Inc.

Flemington Department Store

Joseph & Nancy Gorrell

CROSSFIT Chimney Rock
Additional Supporters
Advantage Voice & Data

First Impression Cleaning Service

Marcus Business Machines

Brown & Brown of Lehigh Valley, LP

Luna Rossa Ristorante

Quantum Floats

Audi of Mendham & Bridgewater

Don Shuman Associates

Flemington Car & Truck Company

Yanina & Co.
For information about becoming a JFS sponsor contact
Jerry Starr at 908 725-7799 or jstarr@jewsihfamilysvc.org
---
Quick Links
To support our work in the community, donate now.
---
Donate Your Unwanted Vehicle to JFS through the CARS program


Please call CARS at (877) Jfs-4-Cars or (877)537-4227

Proceeds from your donated vehicle directly support JFS programs and services.
---
Click here to visit JFS of Somerset, Hunterdon, and Warren Counties website and video.





Like us on Facebook.
---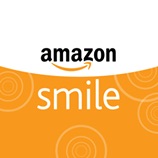 Sign up with Amazon Smile
and JFS benefits when you make a purchase
Click here to see how JFS Changes lives every day.
---
JFS Community Marketplace

Is someone you know having a special birthday, event, or celebration?

The JFS Community Marketplace is the place for you. Click here for more information.
---
JFS Tributes

To share a joyous occasion or acknowledge a sadness, click here.

This Month's Tributes:

To Mr. & Mrs. Kenneth & Jodith Spinner, In Honor of Their Nuptials, From Lance & Leslie Kraemer

To Mr. Robert Singman & Family, In Memory of His Father Paul Singman, From the Kalik Family

To Mr. Charles Singman & Family, In Memory of His Father Paul Singman, From Mark & Ronni Lederman, From Steve & Susan Darien, From Jerry Starr & Pamela Keen, From Allan & Helaine Weisberg, From Dan Oh, From Donna Watson, From the Board & Staff of JFS

To Mrs. Ruth Singman & Family, In Memory of Her Husband Paul Singman, From Alma Brotman, From Emma Best, From Arthur & Nancy Lee, From George & Anne Wagner

To Mr. & Mrs. Robert & Carol Marcus, In Celebration of Passover, From Alexander Marcus

To Mr. & Mrs. Robert & Annette Shaw, In Celebration of Passover, From Joan & Tom Flynn
---
Employers
Did you know that JFS can advertise your job openings to hundreds of job seekers at no cost to you.

Send job leads to eprezant@JewishFamilySvc.org.
---
Celebrate Your Simcha with a Mitzvah Beautifully Designed Bimah Baskets

We transport to and from your event.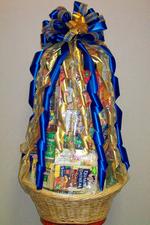 Your tax deductible donation directly supports our Emergency Assistance and Holocaust Survivor Programs.

Mazel Tov on Your Bar and Bat Mitzvahs!

Lucy Madeline Schwartz
Jonathan Locker
Rebekah Anczarki
---
Board Officers

President
Helaine Weisberg

Vice Presidents
Joan Handel
Charles N. Singman, Ph.D

Treasurer
Ronni Lederman

Recording Secretary
Debbie Youngerman

Board Members

Bea Abrams, Ph.D
Ted Baker
Debby Feldman
Gary Gartenberg
Heidi Ginsberg
Michael Kalison
Jill Lavitsky
Nancy L. Lee
Roxanne Levinston
Alexander M. Marcus, MD
Lynn Nakashian
Wendy Offen
Greg Rosen
Stanley Schneider, EdD
Helaine Weisberg
Gabrielle Walborsky
Walter Yosafat
Debbie Youngerman
From the Board
By Ronnie Lederman, Treasurer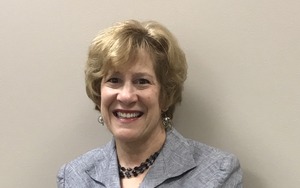 In the story The Weight of the Glass by Marc Chernoff a psychology professor walked around on a stage while teaching stress management principles to an auditorium filled with students. As she raised a glass of water, the professor asked, "How heavy is this glass of water I'm holding?" Students shouted out answers ranging from eight ounces to a couple pounds.
She replied, "From my perspective, the absolute weight of this glass doesn't matter. It all depends on how long I hold it. If I hold it for a minute or two, it's fairly light. If I hold it for an hour straight, its weight might make my arm ache a little. If I hold it for a day straight, my arm will likely cramp up and feel completely numb and paralyzed… In each case, the weight of the glass doesn't change, but the longer I hold it, the heavier it feels to me."
"Your stresses and worries in life are very much like this glass of water. Think about them for a while and nothing happens. Think about them a bit longer and you begin to ache a little. Think about them all day long, and you will feel completely numb and paralyzed – incapable of doing anything else until you drop them."
The moral: It's important to remember to let go of your stresses and worries… Don't carry them through the night and into the next day with you. If you still feel the weight of yesterday's stress, it's a strong sign that it's time to put the glass down.
There may come a time in your life or the life of a friend or loved one when help is needed to "put the glass down". That's the important role that Jewish Family Service plays in our community. The mission of the agency "Providing Support for life's challenges….one person, one family at a time" is to help people get through difficult times; be they the loss of a job or a loved one, the break-up of a marriage, the challenge of raising a special needs child, or any of a host of issues that may lead to anxiety, depression or feelings of helplessness. I believe that JFS is a very valuable resource, that it accomplishes its mission and that it has successfully helped thousands of individuals and families over the years. That is why I joined the Board of Trustees several years ago and continue to support JFS. If you are looking for a rewarding and meaningful way to donate your time, please consider becoming a volunteer for JFS. There are many opportunities for involvement in different capacities (short-term, long-term, often or periodic). Contact the agency and find the best fit for you. You'll be glad you did.



This month is also

Older Americans Month and Mental Health Awareness Month

. JFS has developed programs and services addressing a wide range of issues concerning older adults and our mental health counseling programs continue to service over 350 families each year. For more information about both of these important programs please visit our website,

www.JewishFamilySvc.org

.





Wishing all you Mothers out there a Happy Mother's Day!
JFS Annual Meeting


June 7, 2017 at 7pm


at the JCC in Bridgewater
For more information and to reserve a seat please call 908 725-7799 or email: admin@jewishfamilysvc.org
---
Sponsor Highlight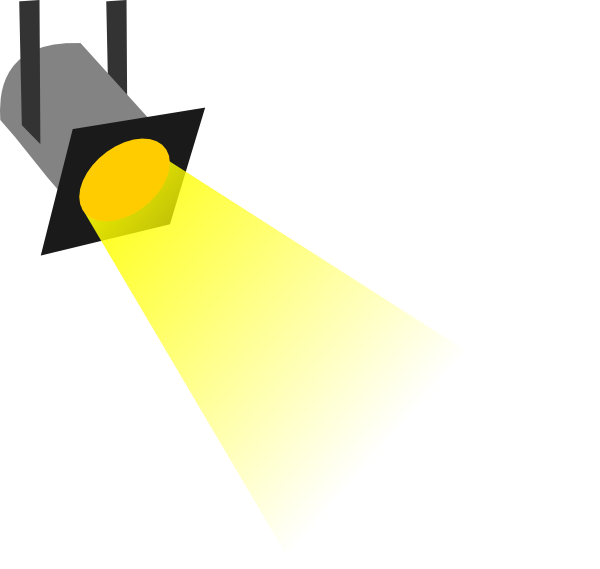 CARING FOR CHILDREN IS NOT JUST OUR PROFESSION, IT IS OUR PASSION.
For over fifty years, Somerset Pediatric Group has been caring for children and young adults in our community.
Our offices are conveniently located throughout the region and we offer extended hours, nights and weekends. At Somerset Pediatric Group, we're always ready and available to handle your questions and your child's medical needs. For more information, click here.

Full-Service Event Entertainment
A family-owned business, The Main Event is the Northeast's
leading event entertainment and photo favor company.
Photo Favors • Photo Booths Pro Photography • Pro Videography
DJ Packages • Lounge Furniture RentalGames • Live Entertainment
800.839.0918 full catalog
---
JFS Fitness Challenge
Supporting JFS Children-Family-Senior Services
Sunday May 21, 2017, 11:30-2:00
Registration Fee: $18.00

CrossFit ChimneyRock
1 Chimney Rock Road, Bldg 1E, Bound Brook, NJ

Challenge Yourself and Raise Funds for JFS
Hosted By:


For more information, to register or donate to Fitness Challenge teams go online at www.jewishfamilysvc.org
---
Kudos to Two Members of the JFS Family

Longtime staff member Ruth Edelman, LCSW is the 2017 recipient of the Richard Z. Voorhees Award for Child Advocacy, presented by the Somerset County Commission on Child Abuse & Missing Children. For more than 30 years Ruth has been dedicated to helping vulnerable children and their families in Somerset County. Since joining JFS over 12 years ago, Ruth has been instrumental in establishing the Family Mentor Program with funding from The Blanche and Irving Laurie Foundation and The Somerset County Board of Chosen Freeholders which partner's community volunteers with families of young children at risk to offer support and companionship as these families struggle through stressful situations.

Eric Harris, LCSW a recent addition to the JFS staff of clinician social workers is this year's recipient of the Cornelia B. Thum Award for Leadership & Vision in Human Services presented by the Somerset County Department of Human Services. Eric is currently providing mental health counseling to clients of JFS but prior to this he was the executive director of Family and Community Services of Somerset County for over 20 years. Eric has dedicated himself to expanding mental health and addiction services for the underserved of Somerset County and he is a strong advocate for affordable quality care for everyone in the community. In his role as director of Family and Community Service of Somerset County and in his many other roles in the community including Chair of the Mental Health Advisory Committee, member of the Human Services Advisory Committee and other committees he has championed the cause of inclusive services to those in need.

Congratulation to our esteemed colleagues
Ruth Edelman and Eric Harris
---
Yearn to Learn Talks About Peace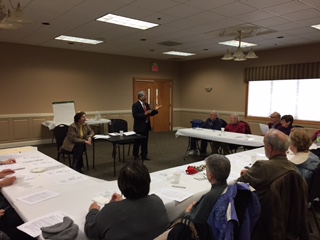 Dr. Ali Chaudry and Rabbi Debra Smith led a recent Y2L discussion on Exploring Peace in Islam and Judaism.
---
JFS Community Chaplain Offers Model Sedars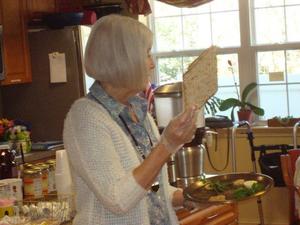 JFS Ohr Tikvah Community Chaplain Lee Coopersmith showing the matzo at one of many model seders she conducted at area Assisted Living facilities during April.
---
June is Men's Health Awareness Month

JFS in Partnership with the Wilf Campus for Senior Living is offering a Community Program on Men's Health Presentation by Dr. Arthur Feldman

Become Informed for Yourself & for Your Family
Sunday June 4th from 10-11:30
Stein Assisted Living
350 DeMott Lane, Somerset NJ

Seating is limited; please register in advance to reserve your seat
For more information and to register
Call 908.725.7799 or email: Admin@JewishFamilySvc.Org
---
Centerpieces for Tzedakah
JFS is pleased to introduce "Centerpieces for Tzedakah, a decorative way to help you celebrate your next special occasion. Funds generated directly support the JFS Emergency Assistance Fund & Holocaust Survivor Support Program. We transport to and from your event or baskets can be picked up at our office

OR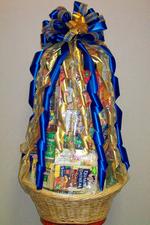 Celebrate Your Simcha with a Mitzvah
Beautifully Designed Bimah Baskets for Rent for your next Bar/Bat Mitzvah

For more information, click here. To reserve your special decorative basket call 908 725-7799 or email Admin@JewishFamilySvc.org
---
JFS Upcoming Events
Family Mentor/Senior Friendly Visitor Program is seeking new Volunteers
Volunteers visit 1-2 days per week in the home of the family or senior with whom they are matched. For more information, or to volunteer, contact Jeanne Lankin, LCSW or Young-In Shin at JFS 908 725-7799.
Social Club for Young Adults with Autism Spectrum Disorders or Developmental Disabilities
Monthly Meetings, Tuesday, 4:00-6:00pm
For info or to enroll contact JFS 908-725-7799

Cafe Europa, A Monthly Group for Holocaust Survivors
Wednesday, May 17, 2017 10:00 AM
For more information on Cafe Europa click here
Job Seeker Success Group
No JSSG in June

Wednesday, July 5, 2017 at 7PM "The Power of Choice" Denise Yosefat, President, Choice Executive Solutions
Social Learning Group
Held at SSBJCC in Bridgewater
A 10-week program for youth ages 10-13, or 13-16, meets on Sundays, focuses on social, relationship and communication skills for youth struggling with peer relationships. Contact Jennifer Walters, LCSW at JFS 908-725-7799 for information.

Parent/Caregiver Support Group for the parents and/or caregivers of children with special needs. One Sunday afternoon a month. Please contact Jennifer Walters, LCSW at JFS at 908-725-7799 for more information.

Sibling Support Group for the brothers and sisters of children with special needs. Please contact Jennifer Walters, LCSW at JFS at 908-725-7799 for more information.
Preschool Consultation for children with special needs. Staff training and consultation are also available. Please contact Jennifer Walters, LCSW at JFS at 908-725-7799 for more information.
---
Around the Community

The Jewish Federation of Somerset, Hunterdon and Warren Counties is pleased to announce the establishment of a new Scholarship Program designed to promote attendance at overnight Jewish camp and Israel programs. For more information, please call Dan Fahrer at 908-758-2001 or email him at dfahrer@jfedshaw.org and he will be glad to assist you.
To find out about local events in the Jewish Community please check out this link
Upcoming Jewish LIFE Events
The 2016-2017 Jewish LIFE brochure is available here.

---
JFS of Somerset, Hunterdon & Warren Counties
150-A West High Street
Somerville, NJ 08876 | 908-725-7799
Website: www.JewishFamilySvc.Org
Email: Admin@JewishFamilySvc.Org