In This Issue

From the Desk of Ruth Edelman

Friends Campaign

JFS Thanks

January is National Mentor Month

Jewish LIFE Event

Daffodil Project

Claims Conference

JFS Community Events

Around the Community Events

---
JFS 2018 Sponsors

Look for 2019 Sponsors in the February Listener!
Gold Level

Janssen Pharmaceutical Companies of Johnson & Johnson
Silver Level
Nancy L. and Arthur E. Lee
Roundview Capital


Steve and Kathy Harris
The Oscar and Ella Wilf Campus for Senior Living
The Doctor is In
Atlantic Health Systems
Senior Helpers
Somerset Pediatric Group
Advantage Promotions, LLC
Preferred Pension Planning Corporation
Joan and Steven Handel
Wendy and Stephen Offen
Dr. and Mrs. Arthur Feldman
Dr. Steven and Mrs. Heidi Ginsberg
Susan and Steven Darien
PNC Wealth Management
Friends
Home Instead Senior Care
Suplee, Clooney & Company
Margulies, Englehart & Veneziale, LLC
The Chelsea at Bridgewater
An Angel (Anonymously)
Chef Jeff
ShopRite of Hunterdon County, Inc.
Flemington Department Store
Camp Bow Wow Bridgewater
Bond, Andiola & Company
Dogwood Farms
Audi of Mendham & Bridgewater
Flemington Car & Truck Company
Yanina & Co.
Advantage Voice & Data
First Impression Cleaning Service
HealthQuest
Oxford Jewelers
Turo Care – Personalized Senior Care
For information about becoming a JFS sponsor contact
Jerry Starr at 908 725-7799 or jstarr@jewsihfamilysvc.org
---
JFS Tributes
To share a joyous occasion or acknowledge a sadness, click here.
This Month's Tributes:
To Mr. & Mrs. Walter and Dee Yosafat, In Honor of their son Jake's engagement to Larissa Garbade, From the Board & Staff of JFS

To Jill Lavitsky,

In loving memory of your mother Joyce Schulman, From Deana Camisa
To Dr. Bruce and Mrs. Roxanne Levinston, In Honor of Your Son Jack's Graduation, From the Board & Staff of JFS

To Sharon Margulies, In honor of our friendship and for being a wonderful and inspiring sister, From Wendy Megerman
---
The Evan Jaffe Memorial
Hebrew Free Loan Program
One-time interest free loans offered to address a specific financial problem. Loans range from
$500 to $1,500 interest free.

To request an application, contact JFS of Somerset, Hunterdon and Warren Counties at 908-725-7799 or visit our website:
www.JewishFamilySvc.Org
---
JFS Generation to Generation

Do a lifetime of good by making a
Legacy Gift to JFS today
ensuring that programs and services for those in need
will be here for generations to come.
---
Celebrate Your Simcha with a Mitzvah Beautifully Designed Bimah Baskets

We transport to and from your event.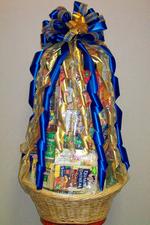 Your tax deductible donation directly supports our Emergency Assistance and Holocaust Survivor Programs.

Mazel Tov on Your Bar and Bat Mitzvahs!

Lila Beth Stark
Samuel Yarkoni
---
Quick Links
To support our work in the community, donate now.
---
Donate Your Unwanted Vehicle to JFS through the CARS program


Please call CARS at (877) Jfs-4-Cars or (877)537-4227

Proceeds from your donated vehicle directly support JFS programs and services.
---
Click here to visit JFS of Somerset, Hunterdon, and Warren Counties website and video.





Like us on Facebook.
---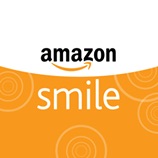 Sign up with Amazon Smile
and JFS benefits when you make a purchase
Click here to see how JFS Changes lives every day.
---
JFS Community Marketplace

Is someone you know having a special birthday, event, or celebration?

The JFS Community Marketplace is the place for you. Click here for more information.
---
Employers
Did you know that JFS can advertise your job openings to hundreds of job seekers at no cost to you.

Send job leads to eprezant@JewishFamilySvc.org.
---
Board Officers

President
Walter Yosafat

Vice Presidents
Nancy L. Lee
Helaine Weisberg

Treasurer
Alexander Marcus, MD

Recording Secretary
Bea Abrams, Ph.D

Board Members
Barbara Drew
Debby Feldman
Heidi Ginsberg
Joan Handel
Eric Herz
Jill Lavitsky
Roxanne Levinston
Sharon Marguiles
Wendy Offen
Charles N. Singman PhD
Monica Skydell
Gabrielle Walborsky

Active Past Presidents
Nancy L. Lee
Helaine Weisberg
Charles N. Singman PhD
Nancy Gorrell
Stephen Harris
Joan Handel
Linda Jerrow
Elizabeth (Betty) Roswell

Advisory Committee
Jerome Zweig
From the Desk of Ruth Edelman, LCSW,
Manager of Community Based Support Services




Award winning NYT writer, John Leland,
Coming to Bridgewater for "My Annie Hall" Showing

As we usher in the beginning of a new year, many of us will reflect on what the past year has brought our way, as well as what we may look forward to in the coming one. What's the secret to living a fuller, more content life? For John Leland, an award-winning New York Times reporter and author of the New York Times bestseller "Happiness Is a Choice You Make: Lessons from a Year among the Oldest Old," the answer came from an unexpected place: from the lives of six people age 85 and up. He expected them to educate him in the hardships of old age. Instead, they taught him lessons of resilience, gratitude, purpose and perspective that apply to people of any age. All had lost something – spouses, mobility, their keen eyesight or hearing. But none had lost everything. And they defined their lives by the things they could still do, not by what they had lost. Sociologists call this the "paradox of aging": as much as our culture obsesses over youth, older people are more content with their lives than young adults. They're less stressed, less afraid of death, better able to manage whatever difficulties come their way – even when their lives are very, very hard. The good news about old age is that there is good news. And the better news is that we can all learn from our elders' wisdom and experience. Whatever your age, it's not too late to learn to think like an old person.



John Leland is a reporter at the New York Times, where he wrote a year-long series following six people age 85 and up, which became the basis for his new book, "Happiness Is a Choice You Make: Lessons from a Year among the Oldest Old," a New York Times bestseller. Before joining the Times in 2000, he was a senior editor at Newsweek and editor-in-chief of Details magazine.

Leland will be the moderator of a showing of the 35-minute video "My Annie Hall" adapted by Matt Starr and Ellie Sachs and featuring assisted living residents in an older version of the original cast's most memorable moments. This film and its creators have been featured on CBS Sunday Morning—you won't want to miss this segment--https://www.cbsnews.com/live/video/20181202150744-senior-citizens-recreate-annie-hall-film-into-their-own/ and in numerous newspaper articles.

Check this out for more information! https://www.huffingtonpost.com/entry/my-annie-hall-senior-actors_us_59a72429e4b010ca2899fa85

JFS is proud to feature this visit to Bridgewater by Mr. Leland. The showing of My Annie Hall at our Annual Spring Brunch Symposium on Sunday, April 28 at the JCC will keep you smiling, and looking forward to more of what life holds in store. Watch your email for more information and registration information. This program is rated "E" --that is, open and of interest to Everyone.
---
JFS Friends Come Through for Those In Need in 2018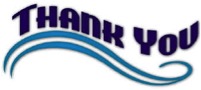 In 2018 with the generous support of our Friends, Contributors and Sponsors, JFS was able to provide over $78,000 in Scholarships and Emergency Assistance including food assistance and other tangible supports to those reaching out to JFS for help. All JFS programs and services depend on support from the community so your donation has made a direct impact on a family living in the tri-county area. From all of us at JFS; the Board, Staff and Volunteers we thank you and hope to earn your support again in 2019.

Wishing you a Happy and Healthy New Year
---
JFS had Much to be Thankful for this Holiday Season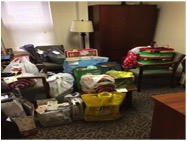 To United Way's Gifts of the Season Program -
95 JFS clients had brighter holidays this year!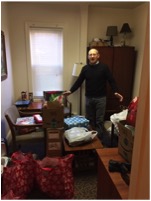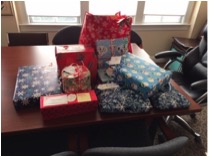 To Congregation B'nai Israel -
3 JFS families had much happier holidays
---
January is National Mentor Month
JFS offers a variety of volunteer/mentor opportunities to provide companionship and support to vulnerable families with young children, homebound seniors, and persons with disabilities of all ages. Training for Mentors is offered throughout the year. In 2018, 50 individuals volunteered and provided over 2,500 hours of assistance to isolated and vulnerable members of the community.

"Take hold of him that he fall not and come to need"
- Maimonides

In Recognition of National Mentor Month JFS Thanks its Mentors for putting these words into action.

In addition to mentoring JFS also offers a "Good Deeds Volunteer Corps" that is seeking youth and adults to match with those needing short term help, such as transportation to medical appointments, light home maintenance, mealtime companionship, grocery shopping after a rehab or hospital stay, or a regularly scheduled phone call to offer reassurance.

If you are interested in mentoring or becoming a Good Deeds Corps member contact Jewish Family Service at 908 725-7799.

To support this program, go to our website: www.JewishFamilySvc.org or contact the office 908 725-7799.

JFS Changing Lives Everyday
---
Adam Price: "He's Not Lazy" – Wednesday, Feb 13 at 7:00pm at the JCC
Co-sponsored by JFS and Jewish LIFE
On the surface, capable teenage boys may look lazy. But dig a little deeper, writes child psychologist Adam Price in He's Not Lazy, and you'll often find conflicted boys who want to do well in middle and high school but are afraid to fail, and so do not try. This book can help you become an ally with your son, as he discovers greater self-confidence and accepts responsibility for his future.
Fee: $10/person
For more information contact the SSBJCC at 908-725-6994
---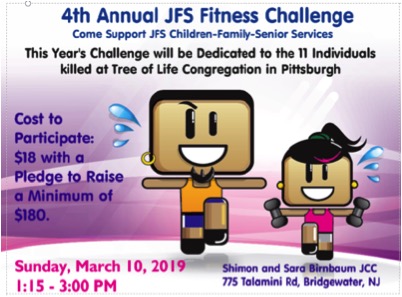 JFS Fitness Challenge organized by Aviv Wagner,
Assistant Fitness Director at the JCC
You don't have to exercise to participate!
Come cheer on your friends and support their efforts by making a donation to JFS
Click Here to Donate
For More Information or to Register:
www.JewishFamilySvc.org
908-725-7799
admin@JewishFamilySvc.org
---

COUNTDOWN: 90 days to BLOOM
January…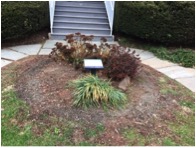 Not much to look at now, but check us out in early April
The daffodil project is intended to be a Living Memorial to the children that perished during the Holocaust. The goal is to plant one and a half million daffodils around the world to commemorate the one and a half million children who were senselessly murdered in Nazi occupied Europe and in support of children suffering in humanitarian crises in the world today.

The shape and color of the daffodils represent the yellow stars that Jews were forced to wear during the Holocaust and yellow is also the color of remembrance.Since daffodils are known to be resilient and return with a burst of color each spring they represent our poignant hope for the future. Watch along with us as our daffodils roar back to live… 90 days and counting.
---
DIG IN!
…..And SAVE THE DATE
You won't want to miss this one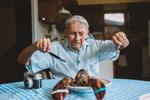 Coming: Sunday April 28, 2019 10:30 AM
"My Annie Hall" a short by Matt Starr and Ellie Sachs
Starring: Real People
Special Guest Speaker, Award winning NYT columnist John Leland
Where: Shimon and Sara Birnbaum JCC, Bridgewater
Check it out!! And be prepared to enjoy!

https://www.nytimes.com/2018/03/02/nyregion/the-woody-allen-reboot-you-wont-see-at-the-oscars-or-maybe-anywhere.html
---
The Conference on Material Claims Against Germany (Claims Conference) is pleased to announce that, resulting from negotiations with the German government, an agreement was reached on the 80th anniversary of the Kindertransport to provide compensation payments for child survivors of the Kindertransport.

The fund will open on January 1, 2019, and payments to those determined to be eligible will begin in winter 2019. Those eligible will be entitled to a one-time payment of €2,500.
This fund is open to Jewish Nazi victims who met the following criteria at the time of transport:
they were under 21 years of age, unaccompanied by their parents and took part in a transport that was not organized by the German government in order to escape potentially threatening persecution by German forces;

they were transported from somewhere within the German Reich or from territories that had been annexed or occupied at the time;

the transport took place between November 9, 1938, and September 1, 1939, or was approved by the German authorities after November 9, 1938, but before September 1, 1939.
The application form for the fund will be available to be downloaded by January 1, 2019, here: www.claimscon.org/apply.
"JOURNEY TOWARDS A NEW DAY"
Co-sponsored by JFS and the Community VNA
A 6 session program to help those grieving the loss of a loved one.
Contact Maris Chavenson, LCSW at JFS 908 725-7799 or Melissa von der Heide, MA, LMFT at Community VNA 908 725-9355 x2230

Family Mentor/Senior Friendly Visitor Program is seeking new Volunteers
Volunteers visit 1-2 hours per week in the home of the family or senior with whom they are matched. For more information, or to volunteer, contact Maris Chavenson, LCSW or Young-In Shin at JFS 908 725-7799.

Social Club for Young Adults with Autism Spectrum Disorders or Developmental Disabilities
Monthly Meetings, Tuesday, 4:00-6:00pm
For info or to enroll contact JFS 908-725-7799

Cafe Europa, A Monthly Group for Holocaust Survivors
Wednesday, January 16, 2019 10:00 AM
For more information on Cafe Europa click here

Job Seeker Success Group
The next group will be held on January 2, 2019 at 7 pm "…and then I painted the garage: Staying focused in your job search" Presented by Larry Finkelstein, Author and President of Transition Management Associates. Contact Elise Prezant at 908-725-7799 x108 to register or for more information.
Social Learning Group
Held at PeopleCare in Bridgewater
A 10-week program for youth ages 10-13, or 13-16, meets on Sundays, focuses on social, relationship and communication skills for youth struggling with peer relationships. Contact Jennifer Walters, LCSW at JFS 908-725-7799 for information.

Parent/Caregiver Support Group for the parents and/or caregivers of children with special needs. One Sunday afternoon a month. Please contact Jennifer Walters, LCSW at JFS at 908-725-7799 for more information.
Preschool Consultation for children with special needs. Staff training and consultation are also available. Please contact Jennifer Walters, LCSW at JFS at 908-725-7799 for more information.

Yearn2Learn, an interactive learning experience for retired persons
For more information on Y2L and upcoming programs , click here
---
Around the Community

The Hopeful Heart
Support Strategy Workshops
Community workshop to encourage a thoughtful and supportive response to current events.
Click here for more information and to register.

To find out about local events in the Jewish Community please check out this link
Upcoming Jewish LIFE Events
The 2018-2019 Jewish LIFE brochure is available here.

What is a Bias Incident or Crime and How to Respond, Wednesday, January 9, 6:30 PM, Conference Center of Raritan Valley Community College, Branchburg. E-mail Peppy Margolis for more additional information and to register: peppy.margolis@raritanval.edu

Irma Horowitz Film Series, Thursday, January 10, 6:30 PM at the JCC, Bridgewater. Enjoy three short films by students of the Ma'aleh School of Television, Film and the Arts in Jerusalem. Discussion to follow each film: The Gravedigger's Daughter, Paperock, Home Made. Fee: $28/person includes falafel dinner.

Jewish LIFE is thrilled to welcome to our community, world-renowned therapist, Dr. Ruth Westheimer, Sunday, January 13, 11:30 AM at the JCC, Bridgewater. Dr. Ruth is the author of the graphic novel, The Amazing Story of Dr. Ruth. Don't miss this opportunity! Fee includes brunch: $18/Person. Call 908-725-6994 x9018 to register.

Aryeh Green, My Israel Trail: Finding Peace in the Promised Land, Sunday, January 27, 12 PM at the Flemington Jewish Community Center. Fee: $10/Person.
Call 908-782-6410 to register.

4th Annual Kosher Cook-off, Thursday, January 31, 7:30 PM at Metropolitan Seafood, Lebanon, NJ. Hosted by Chabad Jewish Center of Hunterdon County. Fee: $36/Person. Call 908-238-9002 to register.

---
JFS of Somerset, Hunterdon & Warren Counties
150-A West High Street
Somerville, NJ 08876 | 908-725-7799
Website: www.JewishFamilySvc.Org
Email: Admin@JewishFamilySvc.Org