In This Issue

From the President

JFS Receives Grant

JFS Thanks

Soup for the Soul

JFS Fittness Challenge

JFS Client Gives Back to JFS

Jewish LIFE Event

Fall Social Learning Group

JFS Community Events

Around the Community Events

---
JFS 2017 Sponsors
Gold Level
Johnson & Johnson Health Care Systems
Silver Level
The Oscar and Ella Wilf Campus For Senior Living

Roundview Capital

Jill & Eric Lavitsky

The Main Event
Bronze Level
Nancy L. and Arthur E. Lee

The Doctor is In

Joan & Steven Handel

Helaine & Allan Weisberg

PNC Wealth Management

An Angel (Anonymously)

Wendy & Stephen Offen

Dr. & Mrs. Arthur Feldman

Dr. Steven & Heidi Ginsberg

Somerset Pediatric Group

Steve & Kathy Harris

Atlantic Health Systems
Friends
Suplee, Clooney & Company

Wally and Denise Yosafat

Millington Bank

Senior Helpers

ShopRite of Hunterdon County, Inc.

Home Instead Senior Care

MacMillan Financial

KRE Group, Inc.

Flemington Department Store

Joseph & Nancy Gorrell

CROSSFIT Chimney Rock
Additional Supporters
Advantage Voice & Data

First Impression Cleaning Service

Marcus Business Machines

Brown & Brown of Lehigh Valley, LP

Luna Rossa Ristorante

Quantum Floats

Audi of Mendham & Bridgewater

Don Shuman Associates

Flemington Car & Truck Company

Yanina & Co.
For information about becoming a JFS sponsor contact
Jerry Starr at 908 725-7799 or jstarr@jewsihfamilysvc.org
---
JFS Tributes
To share a joyous occasion or acknowledge a sadness, click here.
This Month's Tributes:

To Mrs. Jennifer Ellis-Walters, In Honor of Being All Things to Everyone, From Linda Farnham

To Mr. Joseph Fass, To Get Well Soon, From the Board & Staff of JFS

To Mr. David Baum & Family, In Memory of His Father Lawrence Baum, From the Board & Staff of JFS

In Honor of Hannah Sarnoff for Making a Difference, From Miriam Talmud

To Cantor Vadim Yucht, In Memory of His Father David, From the Prezant Family

To Mrs. Rita Sason, In Memory of Her Husband Uziel Sason, From Jerry Starr
---
JFS Generation to Generation

Do a lifetime of good by making a
Legacy Gift to JFS today
ensuring that programs and services for those in need
will be here for generations to come.
---
Celebrate Your Simcha with a Mitzvah Beautifully Designed Bimah Baskets

We transport to and from your event.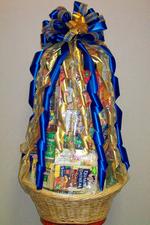 Your tax deductible donation directly supports our Emergency Assistance and Holocaust Survivor Programs.

Mazel Tov on Your Bar and Bat Mitzvahs!

Allison Brenner
Joshua & Tyler Schwartz
---
Quick Links
To support our work in the community, donate now.
---
Donate Your Unwanted Vehicle to JFS through the CARS program


Please call CARS at (877) Jfs-4-Cars or (877)537-4227

Proceeds from your donated vehicle directly support JFS programs and services.
---
Click here to visit JFS of Somerset, Hunterdon, and Warren Counties website and video.





Like us on Facebook.
---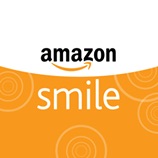 Sign up with Amazon Smile
and JFS benefits when you make a purchase
Click here to see how JFS Changes lives every day.
---
JFS Community Marketplace

Is someone you know having a special birthday, event, or celebration?

The JFS Community Marketplace is the place for you. Click here for more information.
---
Employers
Did you know that JFS can advertise your job openings to hundreds of job seekers at no cost to you.

Send job leads to eprezant@JewishFamilySvc.org.
---
Board Officers

President
Helaine Weisberg

Vice Presidents
Charles N. Singman, Ph.D
Walter Yosafat

Treasurer
Ronni Lederman

Recording Secretary
Bea Abrams, Ph.D

Board Members
Susan Anczarki
Ted Baker
Debby Feldman
Gary Gartenberg
Heidi Ginsberg
Joan Handel
Michael Kalison
Jill Lavitsky
Nancy L. Lee
Roxanne Levinston
Alexander M. Marcus, MD
Sharon Margulies
Wendy Offen
Gabrielle Walborsky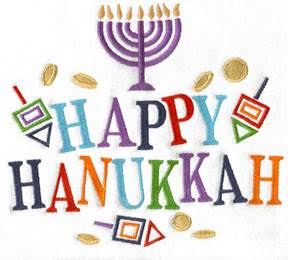 Wishing Everyone a Happy Hanukkah and Seasons Greetings
---
From the President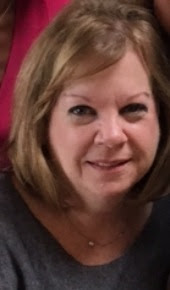 Oy! Oy! Oy! Said the mensch on a bench!! I don't know what to make of this holiday season?

The lights and candles are twinkling everywhere in the "standard time" night. The shoppers have begun making their lists and travel plans. Dinner arrangements (or reservations) have been made for many until the end of the year.

What a responsibility!! Are we all joyous? We just got through being thankful for Thanksgiving! The mensch is all mixed up!! One holiday runs into another….are they for all of us or just the fortunate? Sitting on the shelf the mensch observes. Many will say of course!

The holidays have no bounds or limits. But others will look around and shake their heads. When there is so much need and suffering, why is there waste and frivolity? Could the stores or their patrons donate just a portion of their overdone decorations and budget to feed the hungry or clothe the needy?

The mensch sees some children playing together with dreidels. Some dreidels are gold and some are old plastic. It doesn't really matter…the message is the same….they are playing together and are all playing the same game. Let's see…Nes, Gadol, Haya, Sham. A great miracle happened there. Chanukkah means dedication. The Jews Rededicated the temple on the 25th of Kislev. Together, there they found one small can of oil to light that should have lasted for one night. Miraculously, it lasted for 8. They all were together there and all benefited from that miracle.

Hmmm..the mensch scratched his head! I get these holidays now! Its understanding and working together that we need in this world of ours. Working together for the good of all. We all play the game and strive to have more but we are still all the same. And inside each of us there is a voice….maybe it's the mensch on the bench, telling us to be kind and generous to one another!!!!
Happy holidays to all and a happy, healthy and safe New Year!

Helaine
---
JFS Receives Grant Support from Janssen Pharmaceuticals
JFS is pleased to be the recipient of grant support from Janssen Pharmaceuticals and the PSE&G Foundation for its EXPANDING HORIZONS PROGRAM providing services to children and young adults with Aspergers Syndrome, High Functioning Autism Spectrum Disorders or other social skills challenges. The grants support staffing and as well as scholarships for families and individuals who cannot afford the cost of the program. The program is open to anyone, regardless of religious, ethnic, or financial background. Groups meet in a variety of locations in Somerset County. For more information or to register call 908-725-7799. Visit us at www.Jewishfamilysvc.org
---
JFS Thanks
The Board of Directors and staff of JFS want to express our sincerest gratitude to Chabad of Basking Ridge for their support in partnering with us again in their annual Thanksgiving Food Drive. A special thanks goes to Rabbi and Mrs. Mendel Shemtov for coordinating this effort with JFS. Through the kindness and generosity of Chabad of Basking Ridge congregants, 36 families were able to enjoy a delicious holiday meal on Thanksgiving.
JFS' Job Seekers Success Group Thanks its Presenters

JFS offers a monthly Job Seekers Success Group for people that are unemployed, underemployed or seeking a career change. At each group, speakers from the community present information on a wide variety of job search related topics. In addition to the presentation, job seekers network, share job leads and job search advice.

JFS gratefully acknowledges this past year's Job Seekers Support Group presenters: Allan Weisberg, Madeleine Elmgren, John Hadley, Andy O'Hearn, Dee Yosafat, Jan Goodman, Harold Levin, Anggy Agudelo, and David Schuchman. Through their assistance and support, JFS was able to provide valuable information and resources to individuals struggling with the impact of job loss.

For more information about the Job Seekers Success Group or the Career Services Program, call Elise Prezant at 908-725-7799 X108.
---
Soup for the Soul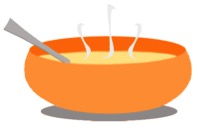 JFS took its emergency food assistance program to a new level as Soup for the Soul was launched on Tuesday, November 28, 2017, the nationally designated Giving Tuesday. The community was invited to join Jewish Family Service of Somerset, Hunterdon and Warren Counties (JFS) in a conversation about food insecurity in our community while sharing delicious soups donated by local caterers and restaurants.

All of the funds donated directly benefit relief of food insecurity in our community. As a special thank you for participating in this program JFS Soup for the Soul Mugs were provided to all who attended.

Fresh produce. Enough to eat…every day. Things most of us take for granted. Yet, annually, JFS distributes $6,000 in emergency food assistance to people who are making choices between medicine and food, or paying their rent and eating. High School senior, Lucie Scaglione of Basking Ridge harvested fresh produce to donate to JFS food insecure clients for two summers. Produce was donated by Hillsborough farmers Jon and Kim Knox of Dogwood Farms. Local congregations donate supermarket gift cards and provide food baskets for holidays. JFS offers may opportunities to become involved as a community partner or volunteer.

JFS thanks Dr. & Mrs. Arthur Feldman and Advantage Promotions, LLC for providing the soup mugs, local chefs and restaurants including Café Picasso, Wegman's, The Chef Jeff, Gali's Gourmet Kosher Catering, Wilf Campus for Senior Living, Zoup Flemington, Bardy Farms and Chili's East Brunswick for providing the soups and breads and The Grotta Fund for Senior Care for supporting the JFS Good Deeds Corps.

For more information about JFS services, please contact JFS at 908-725-7799, admin@JewishFamilySvc.org or www.JewishFamilySvc.org.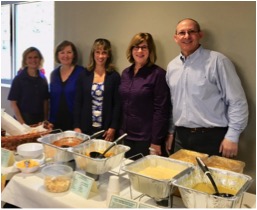 JFS staff thanking the Grotta Fund for Senior Care for their support.
From left: Renie Carniol, Grotta Fund for Senior Care, Maris Chavenson, JFS, Fran Kumar, Grotta Fund for Senior Care, Ruth Edelman, JFS, Jerry Starr, JFS

To see more pictures from this event, click here.
---

3rd Annual JFS Fitness Challenge
Shape Up for the New Year and


Come Out and Support JFS Children-Family-Senior Services

Sunday January 28, 2018, 12:30-2:30
Shimon and Sara Birnbaum JCC 775 Talamini Road, Bridgewater, NJ

Challenge Yourself - Get Fit - Raise Funds for JFS

Registration
Only $18 with a pledge to raise a minimum of $180 in donations
It's Easy - Create your own team page on the JFS Website –
Promote via Social Media and see the good you can do.
or
You can register for $36 and focus on your fitness
Registration is open to anyone 16 years and over

This Year's Challenge is a Two Person Team Challenge
Partners will be provided if needed

See How Many Rounds You and Your Partner Can Complete
10 Reps of Each Exercise = 1 Round
Sit Ups , Push Ups, Step Ups, Ring Rows, Squats
Prizes for the team with the most reps, t-shirts for all participants.

Prepare for the Challenge with Aviv Wagner, Ass't Fitness Director at the JCC
Aviv is offering 10 ½ hr. sessions starting Tuesday, November 21st at 7:45 PM
Get into Shape for the New Year - Get Ready for the JFS Fitness Challenge. Fee: $100
Includes 10 ½ hr. sessions and registration for the JFS Fitness Challenge - Payable to JFS

If the Challenge is Not for You, Come Out to Root on Your Favorite Team
And Support Their Effort by Making a Donation to JFS Online.

For More Information or to Register
Go online to: www.JewishFamilySvc.Org or Call 908 725-7799

JFS Thanks the Shimon and Sara Birnbaum JCC for hosting this year's Fitness Challenge
---
JFS Client Gives Back to JFS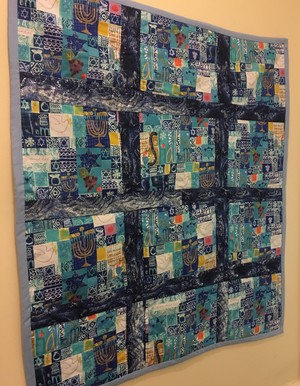 A client of the senior services program recently donated a beautiful quilt that she handmade, as a way to say "thank you for helping me in my time of need". The quilt is now proudly displayed in the entrance hallway.
---
Jewish LIFE Event
Yvette Manessis Corporon: Something Beautiful Happened
(Jewish LIFE Program sponsored by JFS)
Thursday, January 18th at 7pm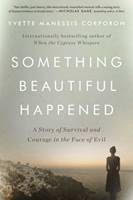 Seventy years after her grandmother helped hide a Jewish family on a Greek island during World War II, a woman sets out to track down their descendants—and discovers a new way to understand tragedy.
To register call 908-725-6994 x9018.
---
Social Learning Group Fall Series
Fall 2017 Series Schedule
10 sessions on Sundays:
December 10, 17

11:30am-1pm- ages 13-16
1:30pm-3pm- ages 10-13

New Location: PeopleCare Center for Non-Profits
120 Finderne Avenue
Bridgewater NJ 08807

Any questions or concerns, please contact Jennifer Ellis Walters, LCSW at 908 725-7799 x 123 or email JenniferW@JewishFamilySvc.Org

Click here for more information.

Program supported in part by the Nancy L. and Arthur E. Lee Fund for Special Needs
---
JFS Upcoming Events
"JOURNEY TOWARDS A NEW DAY"
Co-sponsored by JFS and the Community VNA
A 6 session program to help those grieving the loss of a loved one.
Contact Sharon Chesir, MSW, LSW at JFS 908 725-7799 or Melissa von der Heide, MA, LMFT at Community VNA 908 725-9355 x2230

Family Mentor/Senior Friendly Visitor Program is seeking new Volunteers
Volunteers visit 1-2 hours per week in the home of the family or senior with whom they are matched. For more information, or to volunteer, contact Maris Chavenson, LCSW or Young-In Shin at JFS 908 725-7799.

Social Club for Young Adults with Autism Spectrum Disorders or Developmental Disabilities
Monthly Meetings, Tuesday, 4:00-6:00pm
For info or to enroll contact JFS 908-725-7799

Cafe Europa, A Monthly Group for Holocaust Survivors
Wednesday, December 13, 2017 10:00 AM
For more information on Cafe Europa click here

Job Seeker Success Group

Wednesday, December 6, 2017 at 7 pm "Thriving During Transition and Change" presented by Jan Goodman, Community Outreach Specialist, One Stop Career Center.
Contact Elise Prezant at 908-725-7799 x108 for more information.
Social Learning Group
Held at PeopleCare in Bridgewater
A 10-week program for youth ages 10-13, or 13-16, meets on Sundays, focuses on social, relationship and communication skills for youth struggling with peer relationships. Contact Jennifer Walters, LCSW at JFS 908-725-7799 for information.

Parent/Caregiver Support Group for the parents and/or caregivers of children with special needs. One Sunday afternoon a month. Please contact Jennifer Walters, LCSW at JFS at 908-725-7799 for more information.
Preschool Consultation for children with special needs. Staff training and consultation are also available. Please contact Jennifer Walters, LCSW at JFS at 908-725-7799 for more information.

Yearn2Learn, an interactive learning experience for retired persons
For more information on Y2L and upcoming programs click here
---
Around the Community

The Jewish Federation of Somerset, Hunterdon and Warren Counties is pleased to announce the establishment of a new Scholarship Program designed to promote attendance at overnight Jewish camp and Israel programs. For more information, please call Dan Fahrer at 908-758-2001 or email him at dfahrer@jfedshaw.org and he will be glad to assist you.
To find out about local events in the Jewish Community please check out this link
Upcoming Jewish LIFE Events
The 2016-2017 Jewish LIFE brochure is available here.
Alexandra Zapruder: Twenty-Six Seconds -A Personal History of the Zapruder Film Monday, December 4, 7:00 pm at the Birnbaum JCC, Bridgewater. Fee: $10/person.

Elisha Russ-Fishbane: Jewish-Muslims Relations: Challenges and Opportunities Tuesday, December 5, 7 pm at the Birnbaum JCC, Bridgewater. Fee: $10/person.

Leibel Mangel, former Lone Soldier and a Voice of Israel, Friday, December 7, Chabad
Jewish Center, Hunterdon County. 6:45 pm Services, 7:30 pm Dinner and Speaker. Fee: $18/adult. To register call 908-238- 9002.

Temple Beth-El Jewish Film Series Presents Keep Quiet, Saturday, December 9, 7:00 pm at Temple Beth-El, Hillsborough. Discussion to follow. Suggested donation: $5/person. To register call 908-722- 0674.

Irma Horowitz Film Series Featuring Falafel and Israeli Film presents In Search of Israeli Cuisine, (by Menemsha Films/Sherman Pictures), Thursday, December 14, 6:30 pm at the
Birnbaum JCC, Bridgewater. Fee: $15/person includes falafel dinner. This program is supported by the Irma Horowitz Endowment Fund. To register call 908-725- 6994 x9018.

JCC Family Chanukah Party, Wednesday, December 13, 5:30 pm at the Birnbaum JCC. Dinner, latkes, sufganiyot, fun stations, Chanukiah lighting (bring your candles!). Fee:
$10/person or $35 max/family. To register call 908-725- 6994 x9018.


---
JFS of Somerset, Hunterdon & Warren Counties
150-A West High Street
Somerville, NJ 08876 | 908-725-7799
Website: www.JewishFamilySvc.Org
Email: Admin@JewishFamilySvc.Org