In This Issue

From the President

Sponsor Highlight

Annual Meeting

Sibling Support Group

Margaret Lambert Story

Volunteer Recognition

Thought Provoking Wednesday

Somerset Youth Council

JFS Board Member's Daughter Bakes Cookies for Seniors

JFS Community Events

Around the Community Events

---
JFS 2018 Sponsors
Gold Level
Janssen Pharmaceutical Companies of Johnson & Johnson
Silver Level
Nancy L. and Arthur E. Lee
The Oscar and Ella Wilf Campus for Senior Living
The Doctor is In
Atlantic Health Systems
Senior Helpers
Somerset Pediatric Group
Advantage Promotions, LLC
Preferred Pension Planning Corporation
Joan and Steven Handel
Wendy and Stephen Offen
Dr. and Mrs. Arthur Feldman
Dr. Steven and Mrs. Heidi Ginsberg
Susan and Steven Darien
PNC Wealth Management
Friends
Home Instead Senior Care
Suplee, Clooney & Company
Margulies, Englehart & Veneziale, LLC
The Chelsea at Bridgewater
An Angel (Anonymously)
Chef Jeff
ShopRite of Hunterdon County, Inc.
Flemington Department Store
Camp Bow Wow Bridgewater
Bond, Andiola & Company
Audi of Mendham & Bridgewater
Flemington Car & Truck Company
Yanina & Co.
Advantage Voice & Data
First Impression Cleaning Service
HealthQuest
Oxford Jewelers
Turo Care – Personalized Senior Care
For information about becoming a JFS sponsor contact
Jerry Starr at 908 725-7799 or jstarr@jewsihfamilysvc.org
---
JFS Tributes
To share a joyous occasion or acknowledge a sadness, click here.
This Month's Tributes:

To Ms. Susan Barr, In Memory of Her Father Jack Barr, From Jerry Starr & Pamela Keen

To Mr. Daniel Herman, In Memory of Ruth Herman, From Nancy Gorrell

To Mr. Mattew and Austin Simmerman, In Memory of Their Father Scott Simmerman, From the Prezant Family

To Dr. Alan Salz, In Memory of His Mother Alice Salz, From Amy Doliner, From Doris Dresdale, From the Schuman & Sanderson Families

To Mr. & Mrs. Stephen & Jeanmarie Feldman, In Honor of Their Son Zach Feldman's Graduation from University of Pittsburgh, From the Prezant Family, From the Board & Staff of JFS

To Ms. Nancy Wallenberg & Family, In Memory of Her Mother Esther (Estee) Fisher, From Jerry Starr & Pamela Keen

In Honor of the Guests Attending Their Nuptials, From Alexandra Enny & Dan Arminio
---
JFS Generation to Generation

Do a lifetime of good by making a
Legacy Gift to JFS today
ensuring that programs and services for those in need
will be here for generations to come.
---
Celebrate Your Simcha with a Mitzvah Beautifully Designed Bimah Baskets

We transport to and from your event.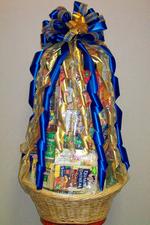 Your tax deductible donation directly supports our Emergency Assistance and Holocaust Survivor Programs.

Mazel Tov on Your Bar and Bat Mitzvahs!

Amanda Jade Hirsch
Norah Holler
Benjamin Maclsaac
Stephen Strauss
---
Quick Links
To support our work in the community, donate now.
---
Donate Your Unwanted Vehicle to JFS through the CARS program


Please call CARS at (877) Jfs-4-Cars or (877)537-4227

Proceeds from your donated vehicle directly support JFS programs and services.
---
Click here to visit JFS of Somerset, Hunterdon, and Warren Counties website and video.





Like us on Facebook.
---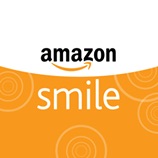 Sign up with Amazon Smile
and JFS benefits when you make a purchase
Click here to see how JFS Changes lives every day.
---
JFS Community Marketplace

Is someone you know having a special birthday, event, or celebration?

The JFS Community Marketplace is the place for you. Click here for more information.
---
Employers
Did you know that JFS can advertise your job openings to hundreds of job seekers at no cost to you.

Send job leads to eprezant@JewishFamilySvc.org.
---
Board Officers

President
Helaine Weisberg

Vice Presidents
Charles N. Singman, Ph.D
Walter Yosafat

Treasurer
Ronni Lederman

Recording Secretary
Bea Abrams, Ph.D

Board Members
Susan Anczarki
Ted Baker
Debby Feldman
Gary Gartenberg
Heidi Ginsberg
Joan Handel
Michael Kalison
Jill Lavitsky
Nancy L. Lee
Roxanne Levinston
Alexander M. Marcus, MD
Sharon Margulies
Wendy Offen
Gabrielle Walborsky
From the President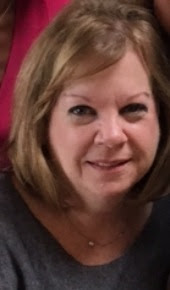 I was listening to the radio, knowing that May was about to begin. We had been through a really rough end of winter, when this song came on. It probably has the most used word, May, of anything I had ever read or heard. But even more than that, it's familiarity and message touched me, as it has done so many times before. Read the words, hum the tune if you know it. It's message never gets old. Be the best that you can be. Give of yourself and you will reap the rewards.
May God bless and keep you always
May your wishes all come true
May you always do for others
And let others do for you.
May you build a ladder to the stars
And climb on every rung
And May you stay
Forever young
May you grow up to be righteous
May you grow up to be true
May You always know the truth
And see the lights surrounding you
May you always be courageous
Stand upright and be strong
And May you stay forever young
May your hands always be busy
May your feet always be swift
May you have a strong foundation
When the winds of changes shift
May your heart always be joyful
May your song always be sung
And May you stay
Forever young
Thank you, Bob Dylan, for giving me the words to welcome in the month of May. Although our end of year annual meeting is just around the corner, JFS will not rest. Our counseling and programs continue throughout the year. We are already planning next years events so stay tuned. Each year gets more difficult to top, but we never disappoint. Enjoy the spring, this reawakening and May you stay forever young
Helaine
---
JFS Annual Meeting


YOU'RE INVITED TO ATTEND OUR 2018 ANNUAL MEETING
and
INSTALLATION OF 2018-2019 OFFICERS and BOARD TRUSTEES
Board Staff Community
Recognition Presentations
Wednesday, June 6, 2018 at
7:00pm

Shimon and Sara Birnbaum Jewish Community Center
775 Talamini Road
Bridgewater, NJ

COMMUNITY MEMBERS WELCOME
REFRESHMENTS WILL BE SERVED
To RSVP: Call 908 725-7799 or Email: admin@jewishfamilysvc.org
---
Sponsor Highlight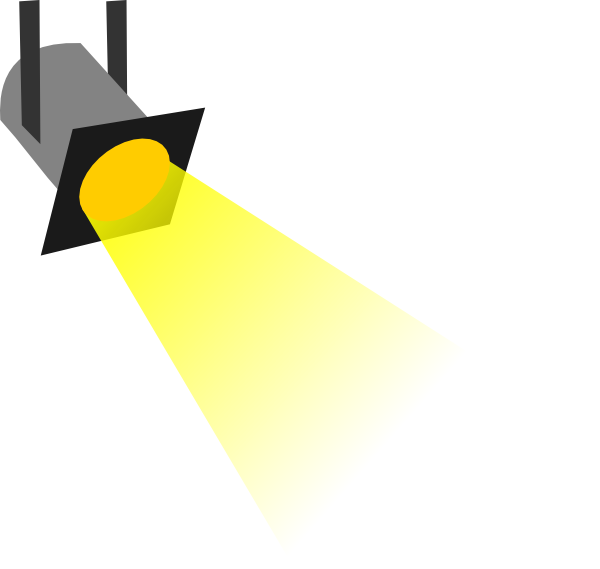 This Month We Highlight
Home Instead
Home Instead Senior Care® in Somerset County offers many different types of in-home care that can be individualized to meet the needs of your family members. Call us at (732) 271-5100 for a free consultation to learn how home care can benefit your family. The Home Instead Senior Care network has been delivering in-home care for more than 20 years. All of our highly trained CAREGiversSM are bonded and insured for your peace of mind. Each CAREGiver completes a comprehensive training program to deliver individualized care with compassion.

Suplee, Clooney & Co.
Suplee, Clooney & Company, founded in 1946, is a firm of Certified Public Accountants, Registered Municipal Accountants and Public School Accountants operating in the State of New Jersey. We provide quality auditing and accounting services to a wide array of governmental and not-for-profit entities.

Margulies, Englehart & Veneziale, LLC.
Regional accounting firm with offices in Bridgewater and Jersey City. We prepare individual, business, and non-profit tax returns and financial statements.
(908) 552-0808
To become a 2108 JFS sponsor please contact Jerry Starr at 908 725-7799 or jstarr@jewishfamilysvc.org
---
JFS Expanding Horizons Program Launches Sibling Support Group
JFS recognizes the importance of peer support for brothers and sisters of children with special needs.

This summer a Sibling Support Group will be held on Wednesdays, July 11, 18, 25 and August 1 at 1:30pm at Jewish Family Service, 150 West High Street, Somerville NJ. The fee is $120 for 4 sessions. This group is for high school and college aged siblings who want to meet other siblings who share similar experiences.

Scholarships are available. A phone intake interview required prior to admission.

For more information or to enroll, please contact Jennifer Ellis Walters, LCSW at 908-725-7799 x 123 or email JenniferW@JewishFamilySvc.Org.
Please visit our website for additional information on JFS and all our services.
---
JFS Spring Symposium a Huge Success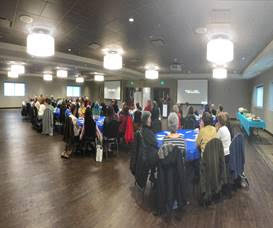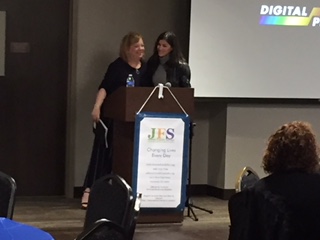 Community members gathered to view The Margaret Lambert Story, a film by director and film producer Nina Meredith, pictured on right with JFS President Helaine Weisberg on April 29. This is the incredible story of a young Jewish athlete in Germany approaching the 1936 Olympics and the injustices done to her. Following the film Nina Meredith spoke about the making of the film and getting to meet and speak with Margaret Lambert. Funds raised at the event support the JFS Emergency Food Program.
---
JFS Volunteer Recognition
JFS held a Volunteer Recognition celebrating all the wonderful volunteers that support the agency. Following a welcome by Helaine Weisberg, President, Ruth Edelman, LCSW Manager, Community Based Support Services Introduced the Staff and gave a JFS Volunteer Overview. The following programs and volunteers were recognized:

Ohr Tikvah, Light of Hope Community Chaplaincy: Linda Glincman, Rana Slosberg. Good Deeds Corps: Mark Barbour, Audrey Berton, Emily Bell, Debra Bort, Ed Buckley, Jeff Holtz, Abdulia Jalloh, Dr. Julienne Kane, Lily Lenehan, Robin Osman, Alan Pavon, Kari Scaglione, Lucy Scaglione, Donnie Walters.

Senior Friendly Visitor Program: Paul Aikens, Suzy Alexander, Matt Baltuch, Cathy Binder, Rose Canali, Kristen Cerbone, Lynn Cipriani Harriet Fass, Joe Fass, Bob Gold, Sharleen Leahy, Alvin Levine, Irene Liebereman, Martin Millman, Jennifer Ortiz, Hannah Sarnoff, Shelly Sobel, Eileen Schwalb, Avis Weeks, Marjorie Weinfeld, Alan Zevin.

Family Mentor Program: Randy Appel, Marion Jenkins, Maria Lopez, Angela Lu, Lauren Panciello, Ellen Roth, Pam Tobman. Special Needs Programs: Cailin Kassick, Jessica Kunz, Jennifer Ortiz, Lauren Panciello. Job Seekers Success Group: Peter Hercky, Harold Levin, Terrence Seamon, Allen Weisberg, Denise Yosafat.

Café Europa: Bea Abrams, Joshua Cohen, Rabbi Arnie Gluck, Peppy Margolis, Rabbi Dan Selsberg.

Yearn to Learn: Bea Abrams, Nancy Bernstein, Mimi Bloom, Dr Ali Chaudry, Lee Coopersmith, Nancy Donohue, Amy Fisher, Linda Glincman, Nancy Gorrell, Norm Greenberg, Peter Hercky, Evelyn Morris, Martin Raffel, Evelyn Rauch, Harvey Rich, Greg Rosen, Rana Slasberg, Rabbi Deb Smith, Jane Verloop, Avraham Yacobi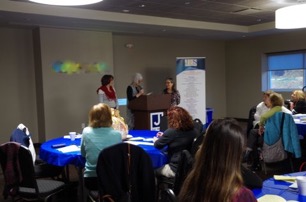 JFS Annual Celebration of our Volunteers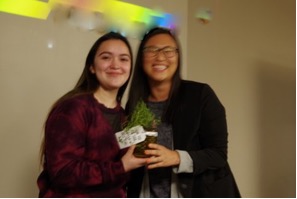 Young In Shin and Family Mentor Volunteer Maria Lopez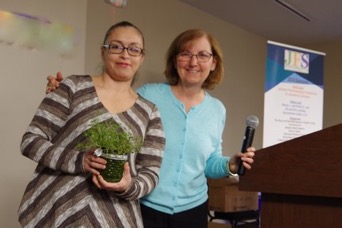 GDC Volunteer Lily Lenahan with Coordinator, Maris Chavenson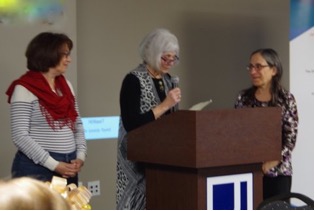 Ohr Tikvah Chaplain congratulates volunteers Linda Glincman and Rana Slosberg
---
Thought Provoking Wednesday
May 9 at 12:000 PM
Fee: $10 at the Shimon and Sara Birnbaum JCC
How Does That Make You Feel
With Author Sherry Amatenstein, LCSW
You will never again have to wonder, "What does my therapist really
think of me?"
This book knocks down the boundaries between the shrink and the one
being shrunk! In this no-punches-pulled collection of riveting
stories, therapist and clients open up and tell all. The book reveals
both sides of the relationship dynamic between therapist and client.
Sherry Amatenstein, LCSW is a clinical therapist, professor and
author.
To register, call the JCC at 908-725-6994 or online at
ssbjcc.org
---
Somerset County Youth Council Youth Summit
May 19, 2018, 9:30 AM - 12:45 PM
1 st Floor Conference Room at 27 Warren Street in Somerville

Deadline to register is Friday, May 11, 2018. Pre-registration is required. Registration is open to the first 70 participants Continental breakfast & giveaways will be provided Certificate Awarded of 2 ½ Hours of Community Service Learning For more information contact 908-704-6307 or murchis@co.somerset.nj.us
click here to register.
---
JFS Board Member's Daughter Bakes Cookies for Seniors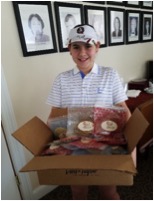 Charlotte Walborsky, board member Gabby Walborsky's daughter, baked cookies for a school project and JFS gave them out to homebound seniors including Holocaust survivors in the community. Since her first batch of cookies were so good and enjoyed by all who were lucky enough to receive them Charlotte plans to make this her Bat Mitzvah Project and plans to continue baking on an ongoing basis especially around holiday time. Charlotte baked this first batch with her friend, Juliet, as an early Mother's Day treat.
---
JFS Upcoming Events
"JOURNEY TOWARDS A NEW DAY"
Co-sponsored by JFS and the Community VNA
A 6 session program to help those grieving the loss of a loved one.
Contact Sharon Chesir, MSW, LSW at JFS 908 725-7799 or Melissa von der Heide, MA, LMFT at Community VNA 908 725-9355 x2230

Family Mentor/Senior Friendly Visitor Program is seeking new Volunteers
Volunteers visit 1-2 hours per week in the home of the family or senior with whom they are matched. For more information, or to volunteer, contact Maris Chavenson, LCSW or Young-In Shin at JFS 908 725-7799.

Social Club for Young Adults with Autism Spectrum Disorders or Developmental Disabilities
Monthly Meetings, Tuesday, 4:00-6:00pm
For info or to enroll contact JFS 908-725-7799

Cafe Europa, A Monthly Group for Holocaust Survivors
Wednesday, May 16, 2018 10:00 AM
For more information on Cafe Europa click here

Job Seeker Success Group
No group in June. Please join us at the JFS Annual Meeting. The next group will be held on Wednesday, July 11, 2018 at 7 pm "Social Security Disability Benefits: When Working is not Working Out for the Unemployed or Underemployed" presented by Sarah Dubinsky, Esq, Social Security Attorney. Contact Elise Prezant at 908-725-7799 x108 to register or for more information.
Social Learning Group
Held at PeopleCare in Bridgewater
A 10-week program for youth ages 10-13, or 13-16, meets on Sundays, focuses on social, relationship and communication skills for youth struggling with peer relationships. Contact Jennifer Walters, LCSW at JFS 908-725-7799 for information.

Parent/Caregiver Support Group for the parents and/or caregivers of children with special needs. One Sunday afternoon a month. Please contact Jennifer Walters, LCSW at JFS at 908-725-7799 for more information.
Preschool Consultation for children with special needs. Staff training and consultation are also available. Please contact Jennifer Walters, LCSW at JFS at 908-725-7799 for more information.

Yearn2Learn, an interactive learning experience for retired persons
For more information on Y2L and upcoming programs , click here
---
Around the Community

Community Mission to Israel October 14-22, 2018
https://www.jfedshaw.org/mission2018

The Jewish Federation of Somerset, Hunterdon and Warren Counties is pleased to announce the establishment of a new Scholarship Program designed to promote attendance at overnight Jewish camp and Israel programs. For more information, please call Dan Fahrer at 908-758-2001 or email him at dfahrer@jfedshaw.org and he will be glad to assist you.

The Hopeful Heart
Support Strategy Workshops
Community workshop to encourage a thoughtful and supportive response to current events.
Click here for more information and to register.
To find out about local events in the Jewish Community please check out this link
Upcoming Jewish LIFE Events
The 2017-2018 Jewish LIFE brochure is available here.
Danielle Capalino, Healthy Gut, Flat Stomach,

Thursday, May 10, 7 pm

at the Birnbaum JCC, Bridgewater.
Jewish people are notorious for having digestive issues – and we LOVE to talk about them! Learn about the right foods to eat. This lecture will break down the science so that you can understand it – and implement it easily on your own. Danielle Capalino is a registered dietitian in a private practice in New York City. She wants you to feel great without having to wear an elastic waistband! Fee: $10/Person.

Temple Beth-El Jewish Film Series presents Two Brothers, Saturday, May 12, 7 pm, Temple Beth-El, Hillsborough. Dan chooses to work on the land, living in a kibbutz in the South of Israel. Aaron, his brother, is a doctor of law and philosophy and a distinguished scholar of the Torah. He comes to Jerusalem from the United States to defend the rights of Torah students. The conflict which arises between the two brothers reflects that of a society torn between its religious and political principles. This film opens a subtle yet essential debate on the question of separation of state and religion in Israel. Discussion to follow the film with Rabbi Arnie Gluck. Suggested donation $5/Person. To register call 908-722-0674.
Tikkun Leil Shavuot, Saturday, May 19, 7:30 pm at Temple Sholom, Bridgewater
We all stood together at Mt. Sinai; for all of our differences, we still stand together today. Join Congregation B'nai Israel, Congregation Knesseth Israel, Temple Beth-El and Temple Sholom at Temple Sholom for a communal celebration of Shavuot. Dessert and youth program included. All ages welcome! Free to the community. To register call 908-722-1339.
Israeli Day Parade, Sunday, June 3 in New York City. In 1965, thousands walked down Riverside Drive in support of the young State of Israel. This impromptu walk evolved into the Salute to Israel Parade on Fifth Avenue. In 2011, the name of the parade was changed to Celebrate Israel to focus on celebrating the vibrant and diverse country of Israel. The Parade features over 40,000 marchers from many organizations. Hundreds of thousands enthusiastic spectators watch American and Israeli community leaders and dignitaries, entertainers, artists, musicians, dancers, celebrities, floats and marching bands. Come show your support of Israel as the country celebrates 70 years of statehood!!
Third Annual Jewish Music Festival & Barbecue, Monday, July 9, 5 pm at the Hunterdon Art Museum Terrace. Hosted by Chabad of Hunterdon County. Fee: $10 pre-paid or $15 at the door.

---
JFS of Somerset, Hunterdon & Warren Counties
150-A West High Street
Somerville, NJ 08876 | 908-725-7799
Website: www.JewishFamilySvc.Org
Email: Admin@JewishFamilySvc.Org